Internet Slams Stepdad for Telling Teen He's Lucky to Live in His House
Commenters criticized a man for his reaction to his son stealing his stepson's collectible sneakers without permission.
The anonymous teen, known as u/throwaway-shoes, posted about the situation in Reddit's popular "Am I The A**hole" forum, where it received nearly 16,500 upvotes and 1,200 comments. The post can be found here.
According to Cowen Equity Research, it is estimated that the sneaker resale market will be valued at close to $30 billion by 2030.
Sneaker collectors—often called "sneakerheads"—earn more money from unworn shoes that still have tags and the original box rather than gently worn shoes. However, it is a personal preference to wear sneakers in the collection.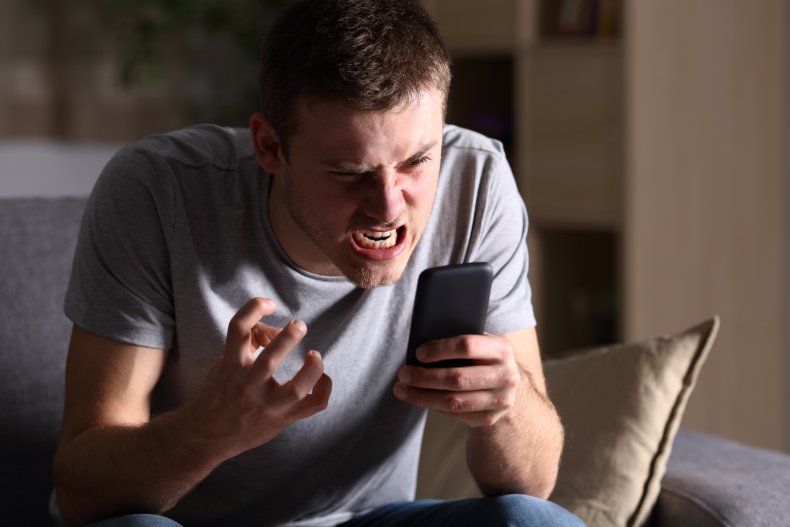 In the post titled "AITA for calling out my stepbrother on his Instagram post and embarrassing him?" the original poster (OP), 17, said his mom moved in with his stepdad and his son, 15, two years ago.
The OP explained that he resells sneakers and has amassed a large collection but said his stepbrother never showed any interest.
But recently, the OP's stepbrother has been going into his room to look at the collection and asking if he could borrow some since he had now grown into the same shoe size.
The OP opposed, saying that his stepbrother is not careful with his shoes and that shoe value decreases significantly after being worn once.
"So every time he's asked I've told him no," the post read. "Recently he told me that he has a very important outing he's going to (he's just going out with friends) and wants to wear one of the shoes."
When the OP said no, his stepbrother "threw an absolute fit" and got his stepfather involved. He said his stepfather told him he was being "greedy" and that he should let him wear a pair since he has so many.
"I told him that I value each and everyone of them and told him the resale value of the pair and SD [stepdad] was absolutely shocked," the post read. "This devolved into an argument about me paying rent, when really I paid for the RETAIL price and not the RESALE price which he does not seem to understand."
Over the weekend, the OP was on the bus home from work when he came across his stepbrother's Instagram post.
"[He] posted a picture of himself wearing the exact shoe that I did not let him wear," the post read. "I was so angry, and I commented 'Why the f**k are you wearing my shoes?"
Even though his stepbrother deleted his comment, he said he was "embarrassed" because some friends saw and knew the shoes weren't his.
The OP said his stepfather got involved, but said he yelled back, saying it was none of his business and that he probably encouraged it. He ended the phone call by saying "f**k the both of you" and hung up.
"When I got home I got full on yelled at. He told me that I should be lucky that I am allowed to live under this roof," the post read. "My mum stepped in to defend me and now they have been arguing for the past day and a half."
His stepbrother gave back the shoes but said the feeling in the house is "really tense" and he is mostly staying in his room.
"So Reddit, AITA for not allowing my brother to wear my shoes, and then embarrass him on Instagram when he did so anyways?" the post read.
Nearly 1,200 users commented on the post, many calling out the stepfather's reaction and supporting the OP for calling out his stepbrother.
"Your stepdad sounds abusive. You're 17, he shouldn't be demanding rent or threatening to throw you out. It's his job as the parent to provide housing," one user commented, receiving nearly 25,000 upvotes.
"Your stepbrother deserved to be called out," the user continued. "He stole something to pass off as his, and it's his own fault he got negative reactions when the truth was out."
"Tell him if he wants to start charging you rent you're gonna start charging his son with theft ... He knew you were part of the package when he married your mom and moved you into his house."
"NTA and just so you're clear your mum and stepdad aren't arguing because of you," another user commented. "They are arguing because of him and his mistreatment of you. I hope you see the difference. You didn't cause it, he did."
"If your stepbrother lowered the value of your shoes, you should charge him. You should also consider keeping your collection someplace more secure," another wrote.
"I would demand the price of the damage for the shoes too if there is any (idk I'm no sneaker person)," another user suggested. "Did he scuff it and it needs to be now cleaned or does wearing them drop the resale value by 15%?"
Newsweek reached out to u/throwaway-shoes for comment.
In another viral "Am I The A**hole" post, commenters were divided after a woman reported her car missing after her husband took it to a wedding, resulting in his arrest.
Commenters also supported a woman who involved the authorities when her fiancé took her car to a party without asking first.
Another user was defended after excluding his younger step-siblings from a cross-country trip meant to celebrate his college graduation.