Internet Slams Teen for Blaming Mom's Cancer on Brother Coming Out
The internet has heavily criticized a teen after he blamed his mom's cancer diagnosis on his older brother coming out as gay.
On Monday, Reddit user NorthBat5313 shared the story on the popular r/AmITheA**hole forum, where it has gained more than 9,000 upvotes and over 2,800 comments.
In the post, the 16-year-old explained: "I have an older brother, 2 years ago before going to college, he came out to our parents as gay which made our dad disown him and cut all contact with him. He tried to force our mom to cut contact with him as well, but she refused, which lead to a huge argument. After a couple of months of almost daily fights, our parents decided to divorce."
The Redditor explained that soon after the divorce, their mom began to feel sick and was eventually diagnosed with stage 3 breast cancer.
"Dad was only paying for my alimony and refused to pay for my mom's treatment as well," explained the poster: "My mom's disease progressed and now the doctors estimate that she only has a year and a half left to live. My mom accepted her fate, but I honestly started to resent my brother for this, as I don't see what was the point of him coming out right before going to college in another city. His coming out only caused problems in the long run."
Recalling a recent phone call with his brother, the poster said that the brother had told him he blames himself for not being able to help their mom. "[I] told him that he should blame himself for coming out to our homophobic dad which destroyed our parents' marriage and probably even got our mom sick due to all the stress caused by the divorce," said the Redditor.
He continued and wrote: "My brother told me that he was still hoping our dad would come around and that he wouldn't have done it if he knew it was going to cause our parents' divorce, but I told him that the harm's already done and it's his fault our mom is sick now."
Statistics from Breastcancer.org report that around one in eight women in the U.S. will develop invasive breast cancer at some point in their lifetime. An estimated 287,850 new cases of invasive breast cancer are expected to be diagnosed in women in the U.S. in 2022, along with 51,400 cases of non-invasive breast cancer.
For women in the U.S., breast cancer death rates are higher than those for any other form of the disease besides lung cancer. But death rates have been steady in women under 50 since 2007 and have continued to drop in women over 50.
In the post, the Reddit user explained that his brother had started crying and got upset on the phone, but he continued: "Honestly, if he hadn't come out, our parents wouldn't have divorced, and even if my mom would have still got cancer in this case, at least dad would have been there to pay for her treatment and might have been able to save her."
Shocked by the story, Redditors flooded to the comments to share their feelings and reactions.
One commenter wrote: "Your brother had no way of predicting that your mom would need cancer treatments and be unable to afford them because of the divorce. It's cruel to blame him for something nobody could foresee. Being in the closet contributes significantly to LGBT suicides. Your brother was finally in a position where he wouldn't have to live with your homophobic father, so he came out because it was finally safe."
A 2020 Morbidity and Mortality Weekly Report shared that LGBTQ youth are more than four times as likely to attempt suicide than their peers. Resource site The Trevor Project's 2021 National Survey on LGBTQ youth mental health found that 42 percent of LGBTQ youth seriously had considered attempting suicide in the past year.
"For one this is not how cancer works. Being sad or stressed isn't the source and reason for this kind of illness," another commenter said on the viral post: "The biggest AH is of course your father. For disowning your brother and for not helping your mother right now. Please apologize to your brother and talk to your mother or maybe to a therapist about your feelings."
Another commenter wrote: "This may be an unpopular opinion, but I'm not going to say YTA (but you certainly are an AH). Teenagers are notoriously emotionally immature, his mom is dying, his dad hates his brother's choices, his brother left the area, and he is stuck alone dealing with all of it. I don't think you are correct by ANY stretch of the imagination; HOWEVER, I think you have been so indoctrinated by your father's hate that you can't see how terrible your statement really is."
Newsweek has reached out to NorthBat5313 for comment.
If you have thoughts of suicide, confidential help is available for free at the National Suicide Prevention Lifeline. Call 1-800-273-8255. The line is available 24 hours every day.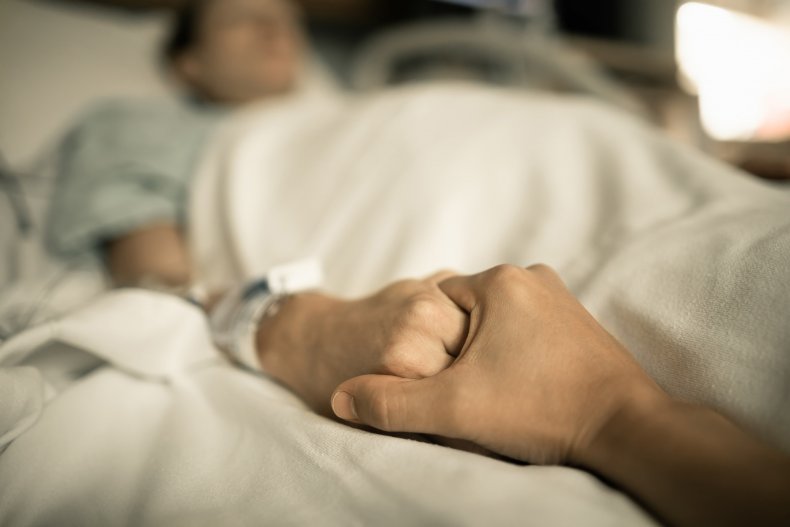 UPDATE 4/19/22 05:10am: This article was updated with a new image.