Internet Split Over Wife Who Secretly Filmed Husband Crying and Posted Online
Social media has been a haven for users to share snippets of their lives, though some have been criticized for sharing too much. Jaclyn Gibson, a social media influencer with more than 200,000 followers on Instagram and nearly 6,000 followers on TikTok, was recently denounced after she posted a video of her husband crying to her accounts.
The video, which was posted to her TikTok and Instagram accounts, showed Gibson's husband Seth wiping his face while in the backyard.
"Sometimes men don't know how to healthily deal with their emotions due to society's expectations. Let's encourage them to feel and release," Gibson wrote in her TikTok caption.
She explained in a longer caption on her Instagram post that she told him to go outside to take some time for himself.
The video garnered more than 5 million views on TikTok and some users duetted the original video where they questioned why she filmed a seemingly private moment.
"If someone posted this of me I'd do the little lad dance on their grave," one caption of a duet read.
Another TikTok user filmed a duet and said, "If I saw my wife crying outside in the backyard because she wasn't comfortable crying in front of me, I think the first thing I would do would be to film it and put it on TikTok."
Under the original TikTok video, a number of people commented that not everything needed to be shared online.
"Let's also record our partners at their most vulnerable. It builds trust and makes them realize they are safe to express their feelings," a sarcastic comment read.
Though Gibson received some backlash on the video-sharing platform, she earned some support on her Instagram post from commenters who wrote that they agreed with her message.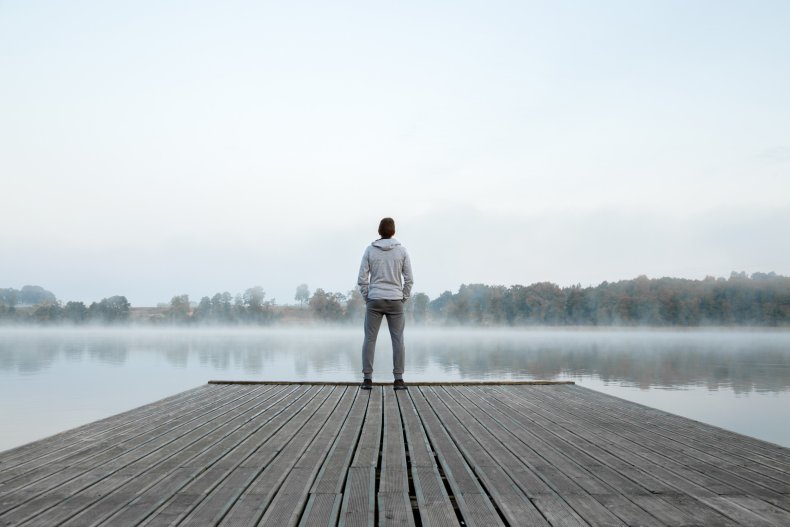 "Love this and so beautifully said," an Instagram user wrote.
Another shared her own experience with her significant other and said they take the time with one another to have a "vent session."
"I always *gently* push my boyfriend to tell me what he's really feeling," the commenter wrote. "It's hard for him to do sometimes, but he always feels so relieved to get things off his chest."
Gibson told Newsweek that the video was a "normal" thing for her to post on her Instagram and did not expect the blowback on her TikTok, which she said she just started a few days ago. She explained that her husband does not have an issue with what she shares on social media and didn't have a problem with her sharing the video of him crying.
Many of Gibson's social media posts feature her husband and two children. In the comment section of her viral TikTok, she wrote that her Instagram discusses her relationship and her marriage.
Family-centered social media accounts have been criticized, particularly when it comes to the children of these families. One influencer who received backlash for her content, for example, was YouTuber Jordan Cheyenne.
Newsweek reported in September that Cheyenne uploaded a video where she talked about adopting a new puppy that may not survive. She included footage in the published video that showed her directing her son to pose for a thumbnail and told him to act like he was crying, to which he responded that he was crying.
She continued to tell him where to put his face and hands.
While there have been some family-centered channels and accounts that were the subject of some controversy, Gibson told Newsweek that she is confident in what she posts.
"The content I create is wholesome and is meant to be encouraging, uplifting and positive," she said.
Gibson continued and said she understood there wasn't much context in her TikTok video, while the full backstory was posted on her Instagram account. She said her intention in sharing the video was to start a conversation about how women can help their partners when they need emotional support but felt there was an opportunity to frame it differently on TikTok, or to not share it at all.
When the video began receiving more attention, Gibson started to wonder how she should respond to the backlash on TikTok. She told Newsweek that she did not want that video to define her TikTok and decided to address the situation.
Gibson responded to the comments on TikTok in a follow-up video to provide more detail.
"I had his permission, even if I didn't have his permission I would never bash him on purpose, that was not the point," she explained. "The point was to just encourage people to help bring out the emotion and make it a safe place for men."
Gibson said she wanted to record what she felt was a "precious" moment. She said that she comforted him throughout the day and did not intend for the post to go in the direction it did.
Her husband, Seth, added that he believes the two have a "unique" relationship and trusts her.
"I know her heart and I know it was pure, and it's funny to see the comments without knowing context," he said. "That moment of getting an opportunity to step away from our daughters and work and just to sit outside in the sun in the afternoon for a minute to have a moment to myself was exactly what I needed."
Updated 11/16/2021, 5:41 p.m. ET: This story has been updated with comments from Jaclyn Gibson and additional background information.