Internet Split Over Woman Saying She Used IBS to Get Disney Disability Pass
A video has gone viral on TikTok after a woman claimed that an Irritable Bowel Syndrome diagnosis allowed her to obtain a "disability pass" at a Disney theme park.
In the video, posted over the weekend, TikToker @kaylaripp showed footage of a group of people entering a Disney ride without the appearance of any line.
"On our way to get our ibs disability pass to cut all the Disney lines," @kaylaripp wrote in text over the video set to Material Girl by Saucy Santana—the background music for a popular TikTok trend.
The video has now been viewed over 700,000 times and commenters have shared mixed opinions over the TikToker's claim. Some found the post relatable saying they wished they knew the passes could be used this way while others found the post "sad" saying there are others who really "need this."
It is not made clear which Disney park the group is attending though it appears to be Disney World in Orlando, Florida.
According to Disney World's website, Disney Access Service (DAS) is intended to help guests who have "difficulty tolerating extended waits in a conventional queue environment due to a disability."
The site clarified that it does not allow people to "cut" the line but rather request a return time for rides and experiences that is "comparable" to the current standby time. This allows for people to spend time elsewhere rather than physically having to stand in the line.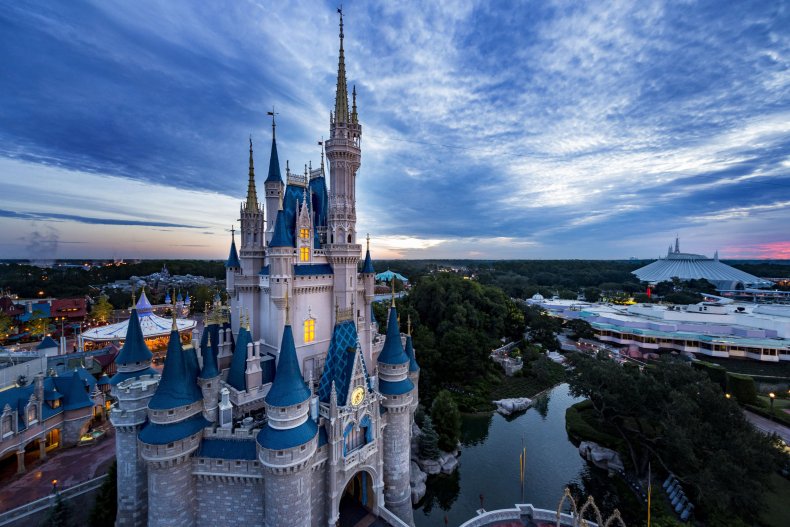 About 61 million American adults live with a disability, according to the Centers for Disease Control and Prevention. About 13.7 percent have a disability that impacts mobility and 10.8 percent have a disability that impacts cognition such as "serious difficulty concentrating, remembering, or making decisions."
The percentage of those living with a disability is highest in the Southern United States, according to CDC data.
IBS symptoms can include abdominal pain, bloating, diarrhea and constipation.
TikToker @Kaylaripp captioned her video "how you rig the system" which left many commenters suspicious of her intentions.
"[W]e know [IBS] is a real condition and needs accessibility. No one is doubting that. [W]hat's giving the ick is 'that's how you rig the system,'" one commenter wrote.
One user claimed to have reported the TikTok to Disney saying the caption "violates their terms and can result in a lifetime ban."
"This doesn't sit right with me, abusing the system when people with actual disabilities need these benefits. Embarrassing how tone deaf," said another commenter.
Others related to the woman saying they wished they had known IBS could qualify them for the service.
"People upset have clearly never had to struggle with the urgency of IBS. Most of us don't eat at theme parks out of fear for a flare up while in line," one person wrote.
"Omg you get it for IBS??!! I have literally waited in so many lines, just to have to skip the ride because it strikes and [I] can't make it," wrote another person relating to the woman.
In the comment section, @kaylaripp explained that she and her sister have had "over 20 surgeries" and that they have "their own disabilities" but that the video was "just for jokes."
Another comment, from a user who appeared to share the same last name, said that @kaylaripp does, in fact, have IBS and there is "no need for the hate."
"These comments need to chill. If you don't have IBS you don't know how debilitating it can be at times. Not up to you to judge what she needs!" said one commenter defending the woman from the negative comments.
Newsweek reached out to @KaylaRipp, Disney World and Disney Access Service for comment.