'Bearly Disturbing You': Internet in Stitches After Bear Takes Nap on Porch
One woman's unusual house visitor has shocked the internet this week after pictures of a bear taking a nap on her porch caught viral attention.
Amy Ostwalt from Asheville, North Carolina captured the incredible images in October 2021. Shared by her friend Meredith on Reddit on Friday, the pictures have received more than 100,000 upvotes and thousands of comments.
In the pictures, the black bear is seen relaxing on the couch on the porch after an evening snack. Ostwalt told Newsweek: "There are some woods throughout the neighborhood, and that time of year in October is when they start to fatten up and eat a lot. There was a lot of noise in the neighborhood about bears eating pumpkins, so I thought, I won't get pumpkins for my kids [for Halloween] until the day before so they won't be sitting attracting the bears.
"I waited until October 30 and they were out for one night. But when we were getting ready to put the kids to bed we looked out of the window and could see a shadow. I looked down and it was a bear sitting on the couch."
The only bear native to North Carolina is the black bear. With fewer than 1,000 of the mammals recorded in the area in the 1990s, the population has boomed in recent years and is now reported to be close to 15,000.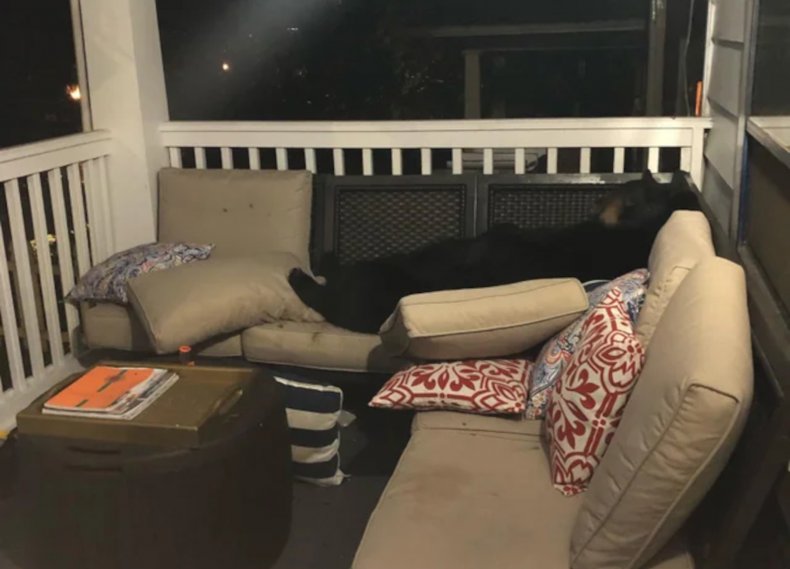 "Of course at first we were terrified," explained Ostwalt: "It was raining that night so he had hopped our fence, up the neighbor's tree, and eaten our pumpkins. After getting real fat and full, he came and laid down on the couch. I've never seen a bear lay like that. It almost looks fake."
Amazed by the pictures, Reddit users headed to the comments to share their thoughts.
"Dude's acting like he pays rent," joked one user. While another comment said that the bear was like a "free security system."
The National Institute of Environmental Health Sciences explains: "Being naturally shy and wary creatures, bears are not inclined to den near urban areas. Occasionally a news report will air about a young bear seeking shelter under someone's house. They will visit such locations if accustomed to, and are drawn by the smell of food."
Before long, news of the visitor spread in the neighborhood: "Then my neighbor called me, she said 'you have a bear on your porch,'" recalled Ostwalt: "I said, I know—we're trying to get him gone. It was crazy."
To capture the now internet-famous pictures, Ostwalt says she stepped outside with the camera: "I was probably about 10 feet from him and took a picture. He didn't care. He kind of looked over like he was trying to sleep and was annoyed that we were disturbing him," she laughed.
"He looks like he just woke up and is taking a minute to process where he's at," said another Redditor. Another commenter joked: "He's bearly disturbing you..."
"He's got the bear necessities," said another Reddit comment. While one viewer said: "That's disgusting. Tell him not to put his bear a** on the cushions."
Before long, Ostwalt and her husband managed to move the bear on. "We didn't want him to sleep there all night," she explained: "We had work and school in the morning and we would have been trapped in our house. It was so funny because we live right on the road and there were people that would drive by and see it."
The National Institute of Environmental Health Sciences says that if a bear approaches, you should make some noise—clap your hands, wave your arms, stand tall and yell. But never run or climb.
As well as online popularity, the bear encounter became big news in the local community. "It's been fun," said Ostwalt: "We actually had a yard sale and there were people that would come up to me and say 'oh this is the bear house!'
"I think it's a good way for people to see and respect bears—and kind of get a little bit closer to them. We cohabitate with them in Asheville for sure."