Internet in Stitches at Dog's Statement Predator Prevention Outfit: 'Sassy'
A dog owner's unusual way of keeping their dog safe on walks has left the internet delighted this week after gaining viral attention on TikTok.
Shared on Saturday by user technical_difficulty, the video has been watched more than 3 million times and has gained thousands of likes and comments.
The video features the chihuahua dog walking along wearing a bright pink jacket featuring colorful spikes as the owner says: "We ain't scared of no hawk!"
"So sassy!" wrote one commenter on the viral video. While another said: "This is awesome."
"So cute I can't handle it," said one viewer. Another commenter said: "Safety precautions at 1,000 I love it."
Many people on the TikTok video asked where the unusual defense mechanism was from, praising the idea: "Omg I need this for my chihuahua," said another viewer.
The innovative jacket comes from a San Diego, California-based company called CoyoteVest. Founded in 2015 by Paul and Pam Mott and Nicole Mellom, the family business was born from tragedy.
Paul Mott told Newsweek: "It started back in 2014 when one afternoon I had taken my three little dogs to the local park. As we were leaving, I'm trying to get all the dogs into the car when a coyote came out of nowhere and killed one of my small dogs. There was nothing I could do. I cried for days. I still feel really terrible and that is guilt I have to carry forever."
Following the shock of losing their dog Buffy, the family poured their heartache into creating something to prevent the tragedy from happening to anyone else and CoyoteVest was born.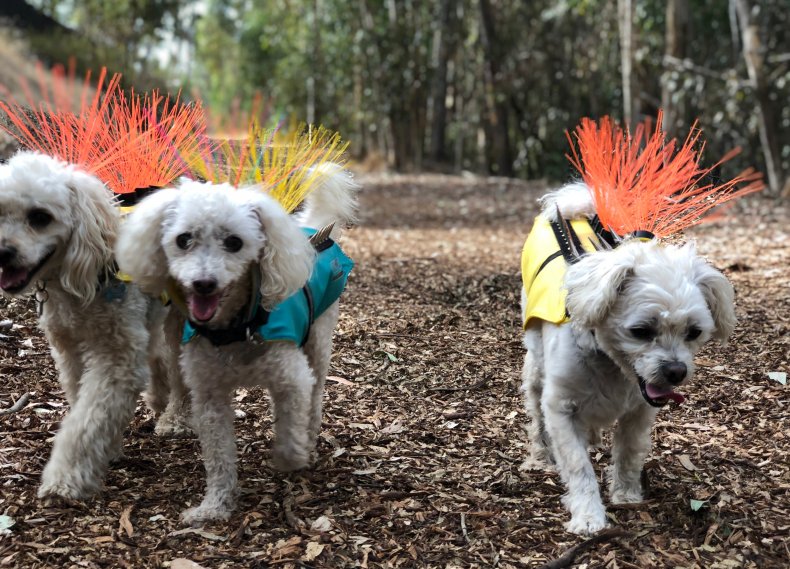 The wrap-around vests are made with Kevlar—the same puncture-resistant material worn by law enforcement—and have short spikes around the collar to prevent neck bites from predators.
The stand-out "quills" showcased in the viral video are an add-on intended to frighten potential attackers with their bright colors and sharp shapes.
Pam Mott explained: "Colorful whiskers have been really helpful against coyotes in that they make your dog look different so they go for easier prey. But also for birds of prey because they don't like those pokey sticks—that's why you see them on the top of buildings too."
​​The innovative CoyoteVest was featured on ABC's Shark Tank in 2019, and today has customers all over the world with users protecting pups across North America but also in Australia and the U.K.
"We're seeing more people with smaller dogs and then here in North America the coyote population is growing and moving into cities," said Paul.
When it comes to birds of prey, it's not just hawks that owners are protecting their dogs from. Paul explained: "Thanks to fantastic conservation efforts in the U.S., the bald eagle population has come back from the brink of extinction. That's fantastic, but then the dogs need protecting too."
After seeing the video of the small pup on TikTok rocking their new CoyoteVest, dog owners were quick to praise what they dubbed the "hawk defense."
"Great idea," wrote one commenter: "I am going to keep it in mind for my small dogs. Thank you."
While another commenter joked at the punk style of the outfit and said: "He's opening for Metallica in half hour, this is his warm up walk."
Newsweek has reached out to technical_difficulty for comment.