Internet Supports Dad Who Demanded Stepdad Pay for Ruined Xbox in Viral Post
One father, who uses the Reddit username Hills-Mountains35, took to the subreddit "Am I the A**hole" to ask readers if he was wrong for demanding his son's stepfather pay for an Xbox that he threw into a pool.
The post, which received more than 18,000 votes and more than 2,000 comments explained that Hills-Mountains35 is the father to 16-year-old "Adam." He said Adam "hates" his stepfather and calls him "controlling."
The relevant issue came after Hills-Mountains35 agreed to help buy a new Xbox for Adam.
"Adam always wanted to buy an Xbox but couldn't afford the full price so I told him whatever he saved I was willing to pay double and he was able to buy a new Xbox for the first time weeks ago," he wrote.
He continued and said that he received an angry phone call from Adam's stepfather who claimed it was not allowed at the house and it was a "distraction" for Adam from his responsibilities. Adam's stepfather suggested that the Xbox be kept at Hills-Mountains35's house instead, but Hills-Mountains35 said it was not up to him.
"Clearly I got him pissed so he 'warned' me about the consequences of seeing Adam playing with that Xbox and ignoring his duties," the post said.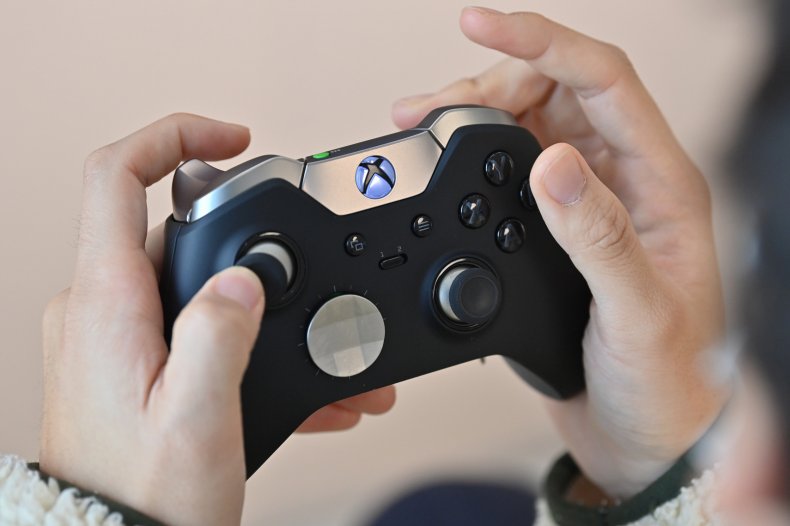 Just a few days after the phone call, Adam told his father that his stepfather threw his Xbox into the pool as punishment to Adam, who he said was playing it rather than mowing the lawn. Hills-Mountains35 confronted Adam's stepfather and said that throwing the Xbox into the pool was "unhinged" of him, whether or not Adam was irresponsible with his gaming time.
"He yelled that he gets to decide what punishment fits and went on about how he was just trying to help Adam become a responsible young man," Hills-Mountains35 wrote.
Adam's stepfather claimed Hills-Mountains35 was preventing him from "performing his duties as a father and authority figure." Hills-Mountains35 then demanded that he pay for a new Xbox, which he refused.
Hills-Mountains35 then argued with Adam's mother who claimed what his stepfather did was "tough love." Afterward, he told her that Adam would be staying with him and they were expecting a new Xbox.
Hills-Mountains35 said he still wants Adam's stepfather to replace the Xbox, despite receiving an apology over the phone.
Overwhelmingly, commenters supported Hills-Mountains35. Some urged him to take it a step further and pursue legal action.
"That man is abusive," one commenter wrote. "Get the custody agreement changed, and take your ex's husband to small claims if he doesn't pay up. I would also go to the police and [report] the damages done to the Xbox so you have a paper trail. Protect your son."
Another Redditor offered Hills-Mountains35 some advice on how best to approach the police and suggested that he tell them that he is interested in some advice on how to pursue the matter.
"Say 'I know there's a difference between what people expect and how things actually work, I'm looking for the best way to get from A to B,'" the commenter wrote.
A commenter chimed in and said the punishment was not proportional to the crime.
"If stepdad had unplugged the thing and confiscated it until the chores were done, or confiscated it until the child went back to the other parent's home, that would be different," the Redditor wrote. "But he destroyed it in a fit of rage."
An article written for Parents Magazine stated that a stepfamily could open up the possibility of "love and family life."
"A stepfamily is a fundamentally different structure and it makes a different foundation for relationships than a first-time family," psychologist, Patricia Papernow, Ed.D., told the outlet. The piece outlined a few boundaries that should be considered.
One of these boundaries is to avoid assuming a position of authority. It stated that younger children may be more willing to accept authority from a stepparent, but older children and teenagers are more likely to reject these attempts.
Dr. Pedro-Carroll told Parents Magazine that stepparents need to earn the respect of their stepchildren. To achieve that, stepparents can act as a supportive friends to the child and a supportive resource to their partner.
"Basic respect is a must, but you'll need to put time and effort into the relationship with your stepchildren if you want more," the article reads.
Newsweek reached out to Hills-Mountains35 for further comment.