Internet Terrified by Nightmarish Clown Doll Found in Yard: 'Burn It'
A frightening discovery has wowed the internet after being shared on Reddit on Sunday.
Posted by Lily—who uses the Reddit handle swampwitch_69—on the popular subreddit r/oddlyterrifying, the picture of the find has received more than 12,000 upvotes. The picture features a terrifying clown-like figure with just one leg, rolling eyes, and huge teeth.
Lily lives in the Netherlands and explained that her parents recently moved back to Arizona.
The doll was named Geneva by Lily's 15-year-old sibling. Lily told Newsweek: "We are planning on keeping him, even though a few people have asked to buy him. We are emotionally attached now. Right now he is on the porch as my younger sibling does not want him to enter the house yet. Maybe after we sage him."
Sparking hundreds of comments from entertained Redditors, the internet shared in the shock: "Oh don't mind him, he's just your new nightmare visitor," said one commenter.
"That's definitely called 'burn it and cleanse your house with sage,'" said another Reddit user.
Thanks to the hive-mind of the internet, the identity of the terrifying figure wasn't a mystery for long. One commenter wrote: "It's a toy of a character from the game Five Nights at Freddy's: Sister Location. The character is called Ennard."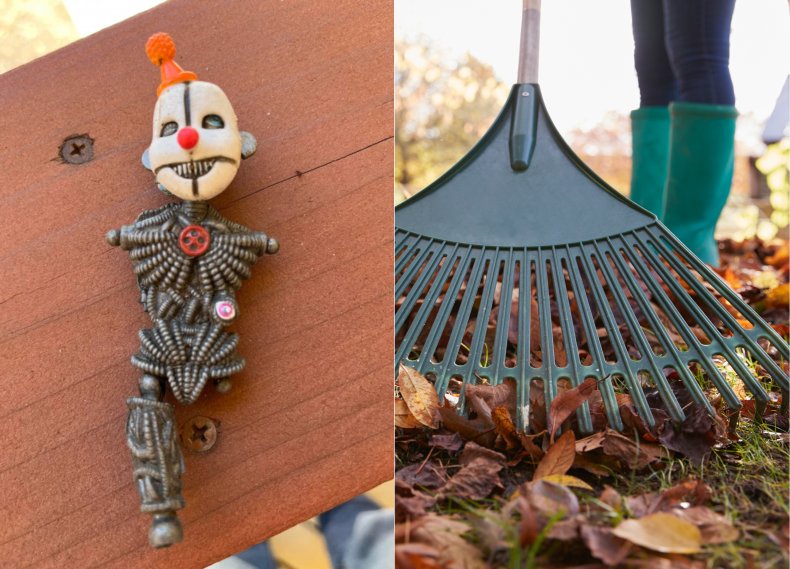 The nightmarish clown is from the 2016 point-and-click survival horror game by Scott Cawthon. The character Ennard—sometimes known as Molten Freddy—is a horrifying animatronic that disembowels the player to use their body as a disguise.
"Creepy at first," agreed one Reddit user. "But that's very cool to find an Ennard toy." Another joked: "Ennard has been found. We must stop him before he escapes again."
"I've had a few people message me getting a little cranky that we call him Geneva and not Ennard," said Lily: "But I am not going to go against the wishes of the little freaky clown boy, so Geneva it is."
"It's his house," said one commenter. "Congrats. You've just summoned a demon and most likely offended him," wrote another.
"I think this is the thing you take home when you want a REAL haunted house," said one Redditor.
Last week another unusual home discovery shocked the internet when a family in Germany found a Ford Transit van built into the walls of their vacation home. More frightening, in April new homeowners shared a terrifying discovery after pulling up their carpets and finding a pentagram symbol which prompted the internet to tell the homeowners to "run."
When it comes to what happens to Geneva next, the family have some ideas. Lily explained: "My mom is planning on moving him around the house and hiding him in unexpected locations. We did something similar with a huge cardboard cutout of Kate McKinnon for a while, it keeps things spicy."
Other viewers of the frightening post shared that the toy could actually be quite a special find, with one noting: "He is rare because you need to build him up with other toys. Possible sell." In fact, good quality and completed versions of the toy are currently listed on eBay for almost $100.
"We were all very amused at the huge reaction," Lily said: "Reddit says Geneva has been viewed over one million times, which is bonkers."
UPDATE 05/09/2022 08:15 a.m.: This article was updated with new images and comment from the Reddit user.