Exclusive: Illegal Unpaid Internships Still Advertised in the U.K.
Unpaid internships are still rife in the U.K. despite them being illegal under U.K. law, a Newsweek investigation has found.
Internships offering roles as marketing executives, activity teachers and graphic designers have all been advertised online, despite being against the rules.
One company said it was looking for a part-time intern for 12 to 24 weeks working between 20 and 40 hours a week before transitioning into a full-time position while another was offering an unpaid internship for a luxury fashion brand.
This comes as unemployment soars, with the U.K. economy likely set to suffer its worst economic performance in 99 years and graduates enter one of the most difficult job markets in recent history.
According to research by the social mobility charity the Sutton Trust, most internships in retail, the arts and the media are unpaid. The figures stand at 89 percent for retail, 86 percent in the arts and 83 percent in the media.*
With living costs high, only those with other means of money like family support, sponsorship or a second job can usually afford to do unpaid internships.
Unpaid internships can last anywhere between a few weeks and a year and have been called exploitative by campaigners and the government.
Unless more is done to clamp down on them, campaigners say, those from disadvantaged backgrounds will fall further behind, especially as the economic fallout from COVID-19 continues.
As the law currently stands, unpaid internships are illegal as long as the intern carries out work that is considered to be of value to their employer and has set hours and responsibilities. This would mean they qualify as an employee under U.K. employment law and entitled to the minimum wage, currently between £6.45 ($8.65) for 18 to 20-year-olds up to £8.72 ($11.70) for people aged 25 or over.
They also have the right to a minimum wage if they are promised a contract for future work. Even if an intern has agreed to work for free, if the work they are carrying out fulfills the criteria of an employee, their employer is legally required to pay them.
For full transparency, the U.K.'s tax body HMRC ruled that Newsweek had underpaid some of the interns it engaged in 2017 and earlier, which was paid to HMRC without a penalty charge. Newsweek engaged unpaid interns to shadow, where no work is carried out, and conducted student internships in 2018, both valid exceptions to regulations.
Newsweek found a number of examples of unpaid internships still being offered on job sites.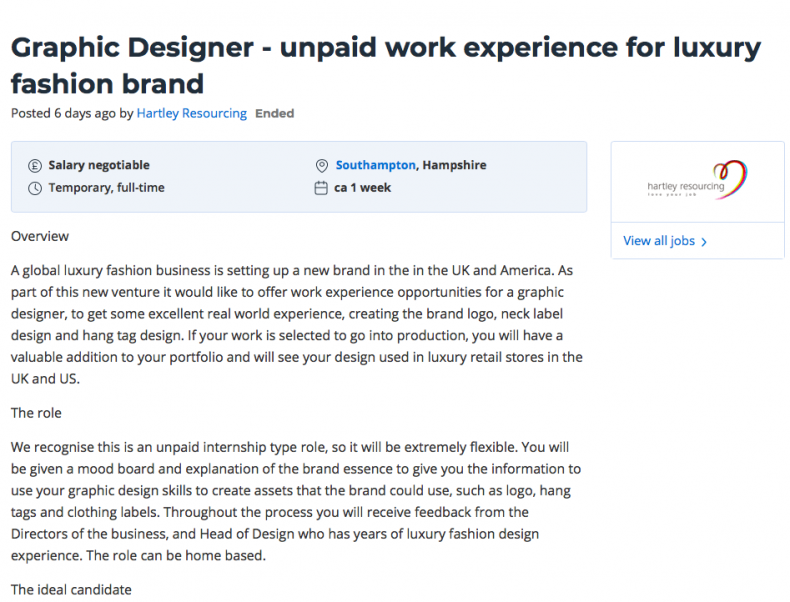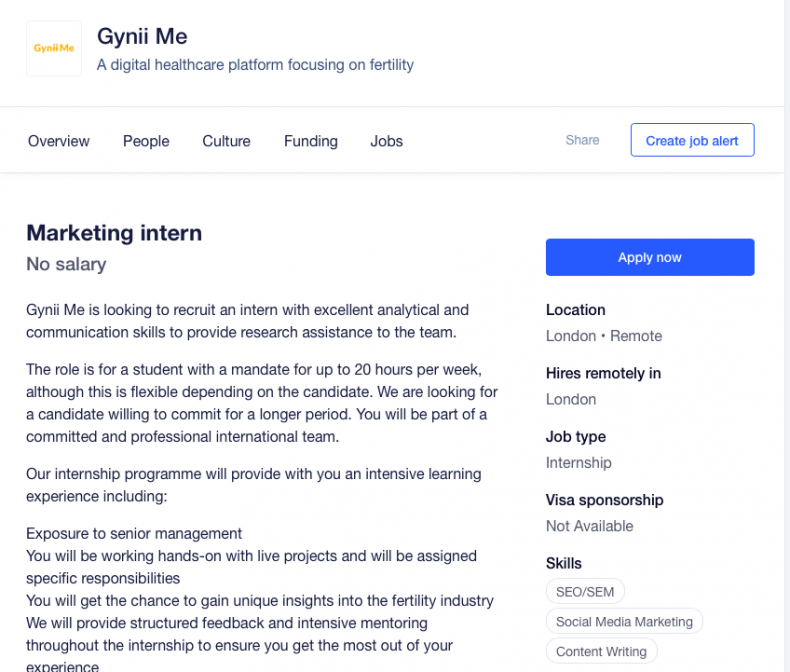 Recruitment agency Hartley Resourcing was advertising an "unpaid internship type role" as a graphic designer for a global luxury fashion business as it sets up a new brand in the U.K. and U.S. Although the advert did not specify the length of the internship, it offered the successful applicant "some excellent real-world experience" as well as feedback from the director of the business.
Hartley Resourcing has said it has removed its advert for the unpaid role after being contacted by Newsweek.
A spokesperson for the company said: "We understand the concerns and support highlighting the issues surrounding unpaid internships so have removed the advert for this role while we investigate further to establish whether the opportunity being offered by the hiring company is strictly compliant with worker legislation. Certainly, the spirit of their intention is positive as we were briefed they would like to invest time and effort into helping to increase the future employability of people who are finding themselves out of work due to Coronavirus, by giving invaluable guidance and exposure."
Fertility clinic Gynii Me was looking for a marketing intern who would be mandated to work up to 20 hours a week and someone who could "commit to a longer period" while offering the chance to get a unique insight into the fertility industry.
The job role has been removed after Newsweek International contacted the company.
An unpaid internship role for an activities teacher is also being advertised by the company Fidanto which describes itself as an English school based in Oxford Street, central London.
The Department for Business, Energy and Industrial Strategy and Gynii and Fidanto have been contacted for comment.
Former intern Olivia, who asked Newsweek not to use her surname to protect her future job prospects, who has a postgraduate qualification in counseling and psychotherapy, said she had to spend months in unpaid internships in a bid to secure experience in her field.
"I wanted to work with people with chronic health conditions, so I had no choice but to volunteer somewhere for a year, even though I was qualified," she told Newsweek.
"I was extremely lucky because I have a husband who has been supportive."
Olivia said the system was exploitative.
"I studied for seven years in university to be asked to work for nothing. We are professionals, not volunteers," she said.
This continued use of unpaid interns could be for a variety of reasons - lack of cashflow, wanting to give inexperienced people an opportunity but unable to afford it but most of all, according to the Sutton Trust, is that many employers are ignorant of what the law says.
"It's time the government acted," James Turner, CEO of the Sutton Trust told Newsweek.
"I understand there are lots of other priorities which is why this [a bill clamping down on unpaid internships] has probably fallen down the list, at a time when social mobility is going to be facing a lot of problems, the opportunities available need to be fairly available to all young people not just those who can afford it, who are in the know and have the networks."
Around 84 percent of people do not know that companies offering unpaid or expenses-only paid internships may be breaking the law, According to a YouGov poll.*
Turner said: "Any internship over four weeks should be paid because a young person is doing a job, they're getting experience, they're getting exposure to the world of work but they're also doing something which is of value to employers, we think therefore they should be paid."
Joe, who also asked for his surname not to be used, was one of those who was faced with the choice of working for free in an internship or sacrificing his career in journalism after he graduated with a degree in English and Journalism in 2012.
He told Newsweek that he was offered an unpaid internship at a national newspaper in London after he graduated in Scotland but that he simply could not afford it.
He said: "We didn't quite get to talking specifics on it because the concept of living in London on nothing or paltry expenses was completely unthinkable."
Joe says nobody in his graduating class works in journalism and that he had to turn his back on the profession. He currently works in the beer industry and says he is happier than he could've been.
The bill Turner mentions was introduced by Labour Party MP Alex Cunningham
Cunningham told Newsweek that he found it shocking that unpaid internships are still continuing.
He said: "The government aren't going to line up to support the bill which is very disappointing. The whole motivation behind it is the fact that the vast majority of young people never get the opportunity of having these unpaid internships simply because they can't afford them so it's very much an equality issue as far as I'm concerned."
Cunningham said that the only people who could afford unpaid internships were those who are within a network or who can rely on the bank of mum and dad.He suspects that the inequality of opportunity will worsen in light of COVID-19, and like Turner, believes now is the time to act.
"There's going to be fewer jobs and training opportunities than there would be normally before COVID is taken into consideration. It means those with the networks and those with the means to work for nothing get an even greater advantage because they're given better chances of picking up free roles."
The bill reached its second reading in the House of Commons on September 11, where Cunningham told MPs: "The pandemic has also led to 61 percent of employers offering work experience placements having to cancel those at short notice. Unfortunately, that is likely to push some people into undertaking unpaid work to try to get ahead and getting into debt before they receive their first wage.
"This is not how we should envisage young people getting on to the employment ladder, yet 39 percent of graduate employers say that they expect to hire fewer graduates or none at all in the next 12 months. What a dire job market young people are entering into right now. This is even more reason why we should remove the ability for employers to exploit eager and desperate young people who feel that they have to work for free in order to secure a properly paid job."
According to the Sutton Trust, 46 percent of undergraduates felt that the pandemic had a negative effect on their ability to gain graduate employment.
Rather than offering a wage, a number of companies have turned to covering travel expenses and lunch money, a move condemned as "insufficient" by both Turner and Cunningham.
"An internship in London costs a young person over a thousand pounds a month to take on and that's excluding travel costs," Turner said.
"Even if the employer was paying you travel costs and paying for some lunch, the big expenses are of course rent, and unless of course you're living in London, which most of the population aren't or living in a big city where internships are, you need the rent covered."
But why not fully ban unpaid internships rather than imposing a four-week limit?
Cunningham believes it's important for young people, whether school-age or graduates, to have the opportunity to experience the workplace and says four weeks is a sufficient length of time for them to gain an understanding of how an organization works.
"It doesn't affect students on placements either if it's part of their university course," he said.
Campaigner Tanya de Grunwald, founder of graduate careers advice blog Graduate Fog, says young people and their families deserve answers as to why the practice has been allowed to go on for so long.
She told Newsweek: "Unpaid internships are effectively the final hurdle for young people to manage to jump once they've been through education so this really needs to be sorted out otherwise all of that is for nothing, they're not going to be able to get into their chosen industries if they can't afford to work for free for months and months first."
Tanya believes that the more graduates did unpaid internships, the more normalized they became.
"Not to blame young people, but the fact they have done it has effectively meant that goalposts are moved further and further away from them, paid jobs are moving away from them because they're all prepared to work for free," she said.
"They've managed to gaslight a whole generation of young people into thinking that they are being 'given experience'. Really these employers are actually taking your labor, they're not giving you anything, you gain more experience when you do any job.
Tanya also believes that the law is not being properly enforced, allowing unpaid internships to proliferate.
She believes that it is highly unlikely that people who had done an unpaid internship would report it to HMRC, because those affected would need references and the experience and nor could one report it anonymously.
"People don't know how to report it, that it's illegal and they don't know they can get their wages in back pay, the ones who do, find it extremely slow and at most get back pay at minimum wage which is a slog to get it," she said.
The Parliamentary Under-Secretary of State for Business, Energy and Industrial Strategy, Paul Scully, told the House of Commons at the second reading of Cunningham's bill that it was wrong to exploit workers through unpaid work experience.
He said: "The rights of workers to be paid at least the minimum wage must always be upheld. An individual's entitlement to the minimum wage depends on whether they are deemed to be a worker for minimum wage purposes. If someone is deemed to be a worker, their employer must pay at least the relevant minimum wage rate from their first day of employment."
*Study methodology and notes
The Sutton Trust survey on unpaid internships in professions was based on 2,800 graduates, aged between 21 and 29.
The YouGov survey was based on 1,858 people in which individuals were asked about their views and experiences of internships. Many of those asked had worked in companies that take on interns.
Editor's note: Neither Newsweek International nor Newsweek's London office currently have any unpaid interns in the U.K. For full transparency, the U.K.'s tax body HMRC ruled that Newsweek had underpaid some of the interns it engaged in 2017 and earlier, which was paid to HMRC without a penalty charge. Newsweek engaged unpaid interns to shadow, where no work is carried out, and conducted student internships in 2018, both valid exceptions to regulations.