'Octoroon,' 'Aryan': Three Couples Sue Over Virginia Law Requiring Use of Racial Categories to Wed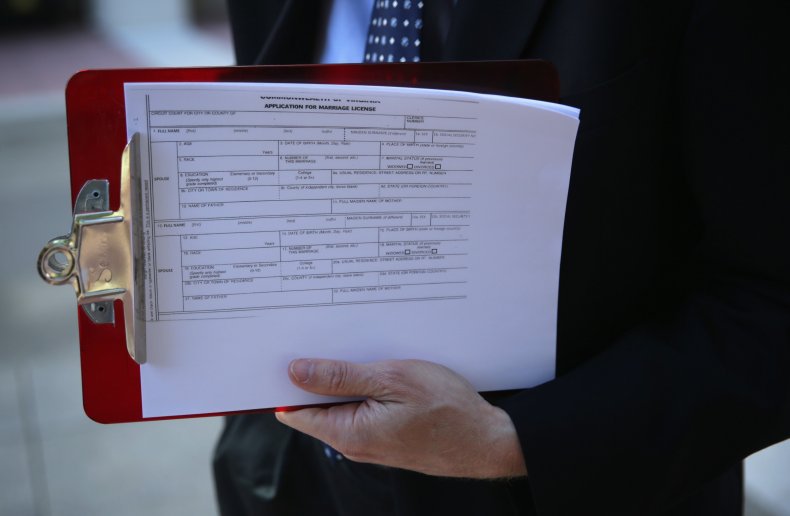 Three Virginia couples filed a lawsuit in federal court on Thursday seeking to strike down a rule that requires marriage license applicants to identify themselves from a pre-determined list of race categories on their registration form.
The lawsuit calls the categories, established by the state's various circuit court clerks, "unscientific, highly controversial, misleading, useless, and tainted," further alleging that the requirement infringes on applicants' free speech and due process rights under the U.S. Constitution.
In addition to the procedural complaints brought forth by the Virginia couples, their action also disparages the categories as rooted in a history of racial subjugation, describing the process where racial labels were added to Virginia marriage licenses in order to help enforce laws banning miscegenation.
In one circuit court where marriage licenses are processed, there are 230 available races to choose from, including historically outdated terms such as "Mulatto," "Octoroon" and "Aryan."
Virginia is requiring marriage license applicants "to label themselves according to malignant racial categories that reflect a history of racist doctrines and policies victimizing dark-skinned persons resident in Virginia following the abolition of slavery," the lawsuit alleges.
As recently as 1967, Virginia had active laws on the books banning interracial marriage. The U.S. Supreme Court ultimately took up the case, which resulted in one of the most historic civil rights decisions of the 20th century, Loving v. Virginia.
The state's lengthy history of race-regulation and judicial recalcitrance, as laid out in detail in the lawsuit, contribute to this day in how seemingly innocuous rules, such as the racial identification requirement, are enforced in Virginia.
The lawsuit asks U.S. District Judge Rossie D. Alston, Jr., to declare the controlling Virginia statute unconstitutional and compel circuit court clerks to process their marriage licenses without penalty.
In a supplemental filing, one of the couples, Sophie Rogers and Brandyn Churchill, asked the court to pre-emptively issue a ruling blocking the requirement as the case proceeds. Rogers and Churchill are set to be wed in Fincastle, Virginia, on October 19, the filing notes, and have little time to litigate the case before the marriage applications need to be submitted according to current rules.
"They will be getting married whether or not they receive the requested relief," their filing states. "The question at [hand] is whether this court should support Virginia's right to condition their getting married on abiding by the state's requirement that they label themselves, against their will, according to racial terms with a malign past and a useless present as regards marriage license applications."