Interstate Closed in North Carolina After Truck Carrying Radioactive Uranium Crashes
A vehicle accident caused significant closures along Interstate 95 in North Carolina on Wednesday, after a truck crashed near the roadway's Exit 58 around 11:30 a.m., eastern time, according to local reports.
Part of the truck's cargo—four 1,000-gallon receptacles carrying uranium hexafluoride—was displaced from the vehicle during the crash. WRAL, an NBC-affiliated news station licensed to Raleigh, reported that two of the four gallons were dislodged from the truck as a result of the incident.
Uranium hexafluoride is a radioactive chemical compound primarily used for diffusion processes that produce enriched uranium, a fuel component for nuclear reactors and power generators. Acute exposure to the compound can harm human lungs, in addition to other organs, while brief exposure generally causes nose, throat and lung irritation, along with shortness of breath.
Multiple local and state agencies deployed personnel to evaluate the 1-95 crash on Wednesday, WRAL and WNCN, a CBS-affiliated station licensed to Goldsboro, reported. The response involved hazmat crews, as well as members of the North Carolina State Highway Patrol and Department of Transportation. Representatives from the emergency management bureau in Cumberland County also helped manage the interagency response.
State highway patrol representatives reportedly told WNCN that they did not believe the displaced uranium containers posed any public threat several hours after the crash took place.
Gene Booth, director of Cumberland County's emergency services department, additionally told WRAL that none of the radioactive material appeared to have drained from displaced containers.
"[They're] formulating a plan for cleanup and removal of those containers safely out of the highway," Booth said of the cooperating agencies involved in response efforts, according to the news outlet.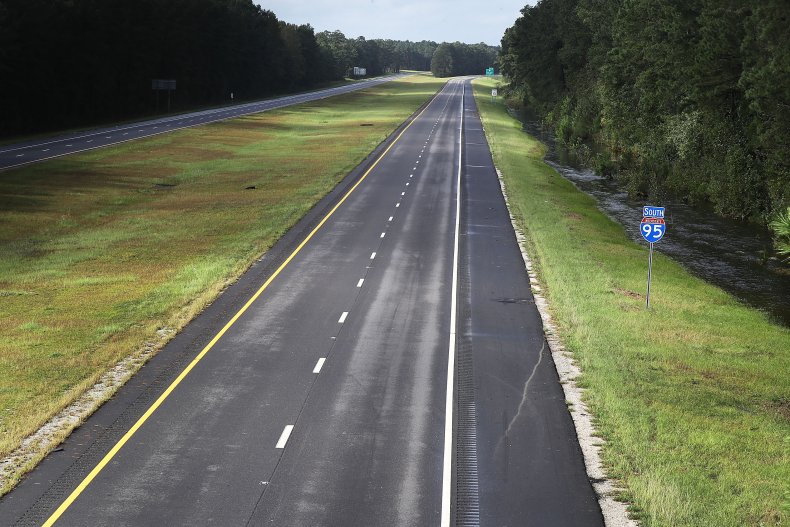 An advisory notice posted by the North Carolina Department of Transportation, which confirmed lane closures along the interstate highway and directed traffic along a different route, remained active during the latter part of Wednesday afternoon.
"All lanes of 1-95 south are closed, between Exit 61 (Wade-Stedman Road) and Exit 55 (Murphy Road), due to a crash," the advisory started. "Detour: Motorists must use Exit 61 to Wade-Stedman Road and turn right to Wade-Stedman Road. Continue on Wade Stedman Road then turn left on US 30 South. Continue on US 301 South then turn left on Murphy Road. Continue on Murphy Road then turn right to return to I-95 South."
Newsweek reached out to North Carolina State Highway Patrol and Cumberland County Emergency Services for additional information and comments, but did not receive replies in time for publication.