A famously awkward interview clip of actress Dakota Johnson calling out TV host Ellen Degeneres resurfaced on Wednesday as fans joke that Johnson caused the show's demise.
In November 2019, Johnson appeared on an episode of Degeneres' show during which the host asked the actress about her recent 30th birthday.
"How was the party? I wasn't invited," Degeneres joked.
Johnson disputed the host's comment, responding, "Actually, no. That's the truth, Ellen. You were invited. Last year—last time I was on the show, last year, you gave me a bunch of s**t about not inviting you, but I didn't even know you wanted to be invited."
Degeneres said that she would have wanted to be invited, adding that she liked Johnson and had her on The Ellen Degeneres Show a number of times in the past.
"But I did invite you, and you didn't come," Johnson replied.
Degeneres asked her if she was sure she invited her. Johnson said, "Ask anybody. Ask Jonathan, your producer."
Her producer is seen shouting, "You were out of town" when Degeneres asked why didn't go.
Degeneres then asked Johnson about comedian Tig Notaro, who performed at the actress' birthday party.
"She's my favorite comedian," Johnson said, before adding, "Other than you."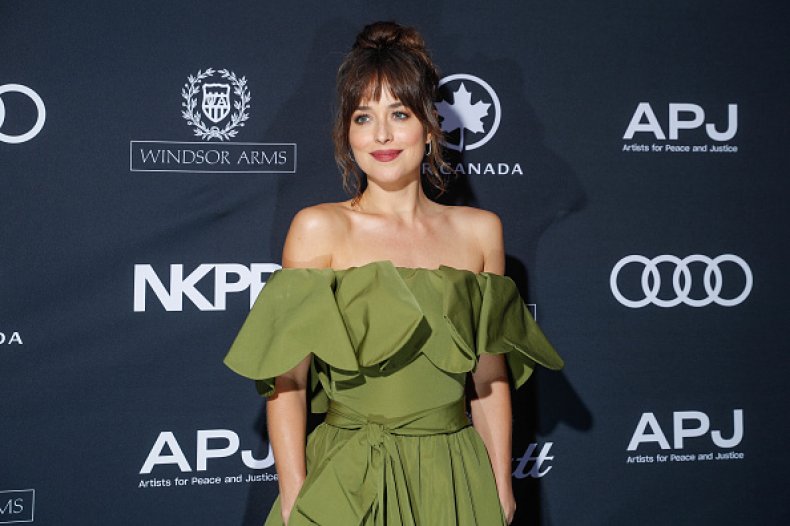 Many Twitter users joked that Johnson derailed the show with her interview after Degeneres announced on Wednesday that she would be ending her show after its current and 19th season.
"Somebody get Dakota Johnson on the phone I must by her a drink IMMEDIATELY! IMMEDIATELY!" one user tweeted alongside the news, which was first reported by The Hollywood Reporter.
"[D]akota johnson has done more for society by ending ellen degeneres than most of your faves have in their careers and it shows," another user wrote.
The same clip with Johnson also circulated just over a year ago when Degeneres faced controversy after some of the show's staff alleged that they had been harassed by Degeneres and made claims of a toxic and hostile workplace. Fans had once again credited Johnson with catalyzing the controversy.
In the summer, the show's parent company, WarnerMedia, launched an internal investigation into the show's workplace culture, after which three senior staff exited. Degeneres apologized and vowed to make the show a workplace where "everyone would be treated with respect."
The allegations also caused a decline in viewers. According to a New York Times report, the show's viewership dropped by 1.1 million people when the show returned in the fall—a 43 percent decline from the previous season.
However, Degeneres said the recent controversy was not the reason for her decision to end the show this year.
"[The allegations] almost impacted the show. It was very hurtful to me. I mean, very. But if I was quitting the show because of that, I wouldn't have come back this season," she told The Hollywood Reporter.
"When you're a creative person, you constantly need to be challenged—and as great as this show is, and as fun as it is, it's just not a challenge anymore," Degeneres added.