Donald Trump Shows His Drive and His Putter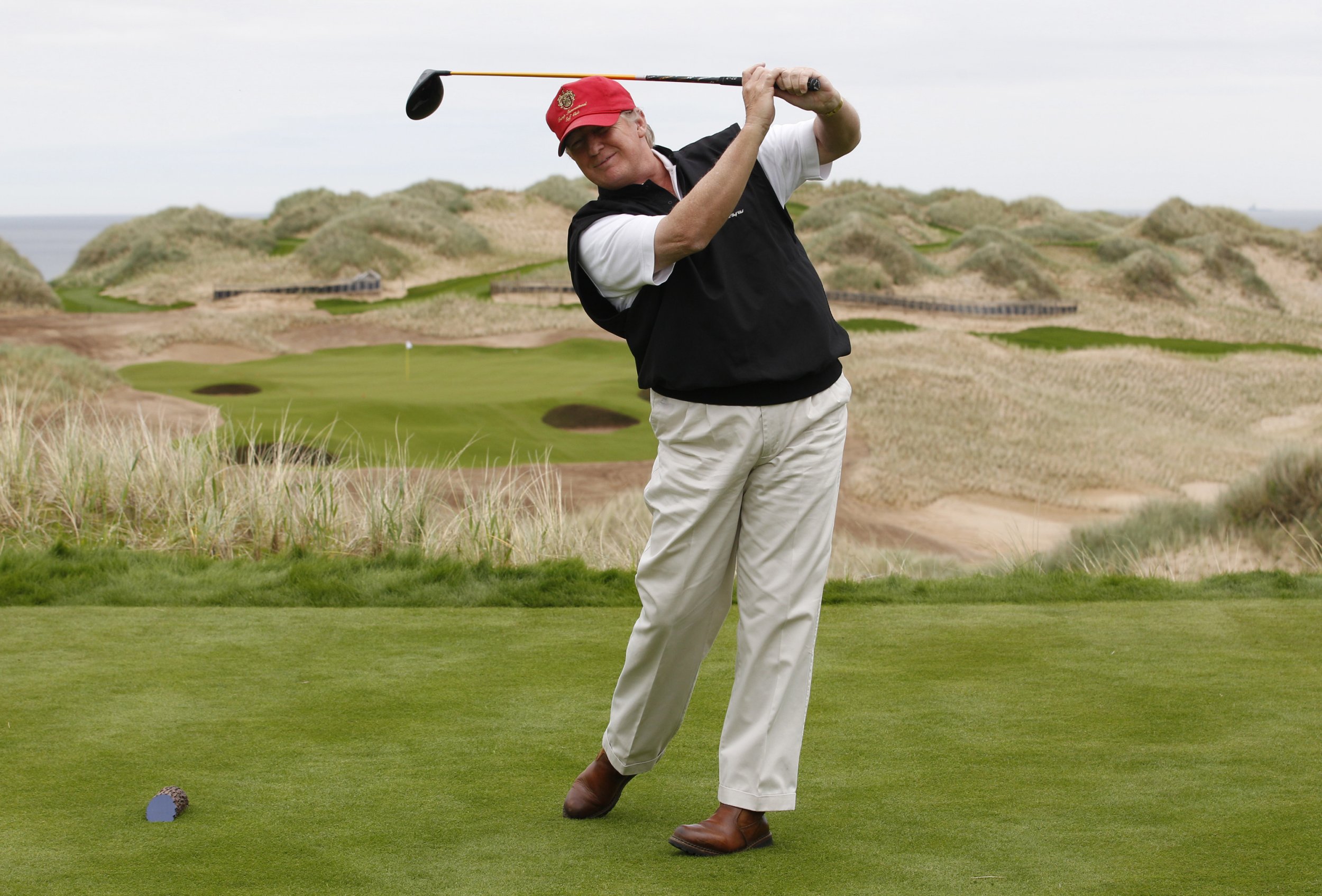 On Wednesday, The Washington Post published an investigation into a long-standing question: Does real estate mogul, 2016 presidential hopeful and all-around golf stan Donald Trump cheat at his favorite sport?
The reports are mixed. Rick Reilly, a sportswriter who teed off with Trump for his 2004 book Who's Your Caddy?, claims that "when it comes to cheating, [Donald Trump] is 11 on a scale of one to 10." Rock star Alice Cooper, too, hinted at Trump's, erm, interpretation of golf rules. And former Sports Illustrated managing editor Mark Mulvoy once claimed that after catching Trump dropping a ball in a more favorable spot, the Donald told him: "Ahh, the guys I play with cheat all the time. I just have to cheat to keep up with them."
Trump, of course, vehemently denies the many cheating accusations. "I don't drop balls. I don't move balls. I don't need to," he said about the incident with Mulvoy. As for Reilly's accusations, Trump shot back that not only had he "always thought he was a terrible writer" but that he also "absolutely killed him" at the game.
The jury's still out on Trump's golf ethics, but the slow-moving sport has no doubt been central to his many business wheelings and dealings; he recently told Newsweek that he even "bought the land under which Trump Tower sits while playing golf." Shortly before he announced his plans to run for president, we interviewed Trump about the opening of his own Trump Golf Links in the Bronx, New York.
So what drew you to this project? This property has historically been contentious, to say the least.
Tremendously contentious. Tremendous amounts of litigation, tremendous amounts of, you know...decades of disputes, bad contractors. Many bad contractors. Really, really bad contractors. And lots of, you know, overruns and lots of problems. What drew me was, I mean, I have clubs all over the world, and they do very well. It's not my primary business, but it's been a good thing and I like doing it. And golf is a great sport. The city's, you know—30 years ago they really wanted to do it. This has been going on for so long, anywhere from 20 to 30 years. Nobody really knows when it all began. But I just felt that it was something that I could get done, and it was something that the city really wanted to get done.
And it was very unfair to the neighborhood, because it's a great group of people and they've been suffering with this mess of construction projects for decades. You know, if you live off of there—think of it! Trucks pulling in and out all the time, for years and years and years. And I just felt I could do it, and we proved that. We actually beat our schedule substantially, and yesterday was the first day—and it was a tremendous opening. Full. It's going to be great.
A very big thing, you know, Jack Nicklaus did a fantastic job, he's the golf architect. And he's not only the greatest player, but he's a great golfer and architect. It's a Jack Nicklaus signature course, and he's very proud of it. And so it's something that I felt that we would do a good job with, and we've been given that credit. It's nice. Jack actually said that if Donald Trump didn't get involved, it would have been opened many years ago. He was the architect for decades, and he watched what was going on, and he was very nice when he said that. I really had it done in July, pretty much, of last year. But it was subject to certain things. And so now we opened it.
When was it projected to be finished originally?
Yeah, I would say we finished it probably a year ahead of schedule. We were able to do it sooner than anticipated. And a lot of problems with contractors. We had a lot of difficult contractors on the site. But we were able to get it open really ahead of what we thought we would do, which is always nice.
Do you have a regular foursome you play with?
Interestingly, I've had such requests to play that course. Everybody wants to be there; everybody wants to play. But you know, I have professional golfers, and everybody's going to be there. And I think ultimately, one of the things that's going to happen is that we're going to have major championships there. The course is great, the location is totally unique.
You've mentioned in the past that "most golf organizations" have been in touch about Trump Links. What event would you ideally host there?
The majors, yeah. I have the PGAs, I already have several at my clubs. I have the Women's U.S. Open [in 2017] in New Jersey at Bedminster, and the PGA championship coming to one of my courses which is a Major. I have the British women's open this year, another in Scotland. It's incredible. But there's nothing like those big major tournaments.
That'll also bring a lot of money into the city. So you know, we have the product for it. But I give the city a lot of credit for working so hard. When you want to go over, just give us a call and we'll send you over, OK?
I actually emailed your assistant to see if you would give me golf pointers on the green at Trump Links, because I am admittedly not the best golfer…
Oh?
...and she politely declined the question.
[Laughs] She was smart.
So what's the best business deal you've made while playing golf?
I would say that I bought the land under which Trump Tower sits while playing golf. I became very friendly with the people that owned the land. And I did that while playing golf. You wouldn't have Trump Tower as you know it, next to Tiffany, unless I played golf. So that was pretty good.
You make a lot of great deals on a golf course. You can make a lot of them you can't do over lunch. You develop relationships that are fantastic. Especially in golf.
Why do you think that is?
It's just a camaraderie. The beauty of the game, the beauty of the courses, the outside. I don't know. It's always been that way, and a lot of people think that.
Do you smoke cigars while you play?
No. I don't smoke cigars.
You think Tiger Woods will make it to the majors this year?
I hope so. He's a friend of mine, a very good guy. He's great for golf, a great player. I think he'll work things out eventually and he'll be fine. I hope.
What's the best golf course you don't know of?
That I don't own?
Sure.
Well I think Augusta is one of them. A great course. I have played it a couple of times, but Augusta is one, certainly a place that I love. I love Wingfoot, I'm a member of Wingfoot. It's a great course. I mean, if you ask me if my courses are better I will tell you that in many instances, they are.
Off-topic, but do you write all of your own tweets?
I do most of them. Sometimes I don't, but most of them I do write myself.
Do you have a must-visit website on the Internet?
No. Not really. There's a sea of them.
What the last thing you listened to that truly electrified you?
[Long pause] Um…the opening number at the Radio City Music Hall Spring Spectacular. As danced by the Rockettes. Fantastic.