Interview: Kristen Wiig vs. Jason Sudeikis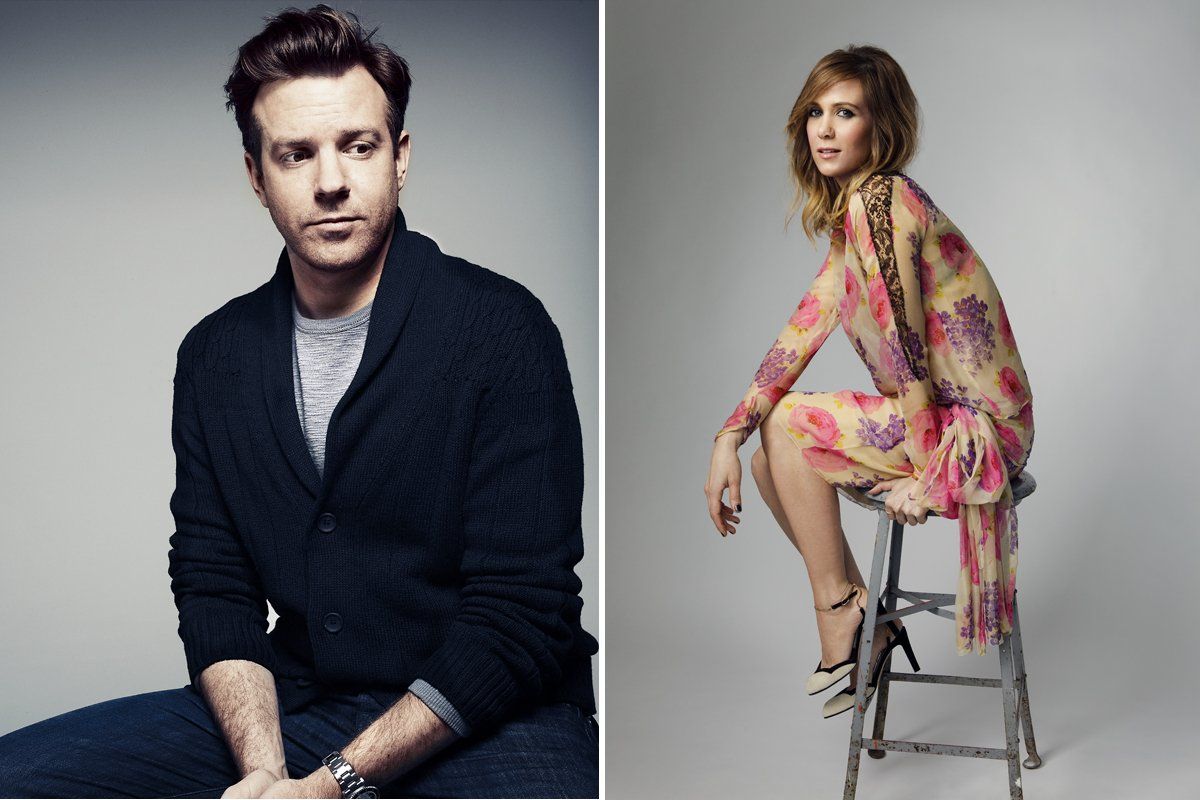 After six years together on Saturday Night Live, comedic standouts Kristen Wiig and Jason Sudeikis are making a break for the big screen. Wiig is charming audiences as the lead in Bridesmaids, the summer's most unexpected hit, and Sudeikis is doubling down, hosting this weekend's MTV Movie Awards and starring in July's revenge comedy Horrible Bosses. "They're both at full power now," says SNL creator Lorne Michaels, who's shepherded dozens of comedians to stardom. The longtime friends riffed across the country on Wiig as feminist icon, the Gaga-fied SNL finale, and how long they'll stick it out on television.
On the runaway success of Bridesmaids… Wiig: When we were writing it, [Annie Mumolo and I] weren't like, "Oh, yeah! Now it's the ladies' turn!" It's 2011; I don't even know why it's an issue. There are so many funny women in the world, and there has been for so many years, so I'll be happy when people can just move on from that, and things can just be "comedies" and not "female" or "male," and everyone gets an equal opportunity.
Sudeikis:I'm 35 years old and, as far as I can tell, women have been funny for that entire portion of my life. I don't get it.
Wiig: For movies to get greenlit solely based on the success of other movies that have a lot of women in them? It's so ridiculous to me.
On being starstruck … Sudeikis: We were filming an opening parody [for the MTV Movie Awards] and asked Robert Redford to be in it. He said he couldn't but was flattered to be asked. I was like, "Wow! Robert Redford was flattered. I'm flattered he's flattered." Kris, who's gotten ahold of you because of Bridesmaids?
Wiig: Jerry Seinfeld wrote me a note. A little handwritten note.
Sudeikis: How did it get to you? Michael Richards came bursting through your apartment door and delivered it?
Wiig: He was very flustered!
On getting tips from formerMTV Movie Awardshosts … Sudeikis: I asked Andy [Samberg] and Sarah Silverman, who said to book talent early, which I did not do. Hence me trying to get Robert Redford on 18 hours' notice.
On awards-show stage crashers … Sudeikis: I'll just embrace it. Get behind Kanye [West], and be his hype man and say, "That's right, what he's saying is true. Listen up."
Wiig: So you're going to agree with the people that storm the stage? That's a good tactic! Why fight it?
On wild rumors in the tabloids … Wiig: There was a story that I went home with Joe the Plumber. So random! He wasn't even at that [SNL] show. There are people out there that think I went home with Joe the Plumber after an after-party—an after-party that [John and Cindy McCain] were at, supposedly.
Sudeikis: Going home with Joe the Plumber is such a curveball. It was weird when people were thinking I was dating Jennifer Aniston. Where did that come from?
Wiig: That's bizarre.
On their favorite SNL skits that never made it on air … Sudeikis: Remember "Tiny Temps"?
Wiig: Basically, we were hired as temps in an office, but we were three inches tall, and didn't we, like, kidnap Alec Baldwin's daughter?
Sudeikis: Alec Baldwin was the host, and we talked in little tiny voices, and we became quite devious. I don't know if there was murder involved, but there was certainly kidnapping and a ransom note. It was goofy, and then it got really dark. We had a theme song!
Wiig: "Tiny Temps, Tiny Temps, they'll fax your fax, get your letters sent. Their business suits are small, they're only three inches tall … Tiny Temps!"
On the season finale's record-breaking ratings … Sudeikis: I went gaga for [host Justin] Timberlake and Timberlake for Gaga.
Wiig: We're not allowed to say what Lady Gaga is really like …
Sudeikis: Or you'll get banished. You get put into an egg and sent into space.
On meeting the real-life people they parody every week … Sudeikis: I haven't met Joe Biden. Have you met [Nancy] Pelosi yet?
Wiig: I have not.
Sudeikis: I saw her backstage at The Book of Mormon. It was kind of hilarious.
Wiig: I love that she went to see The Book of Mormon. The first time I met Suze Orman we had just done a joke where we said she only tans from the neck up. Then when I saw her, she opened her jacket really wide and was like, "See? I'm tan all over!"
On balancing success and SNL … Wiig: I wouldn't leave only because I was doing movies. If and when I leave, it will just be because it's time to leave. I haven't set a time. I know I am coming back next year, and I do think it's the best job in the world.
Sudeikis: Well said. I feel the same way.