Intimacy Coordinators a 'Must' for Film and TV Sex Scenes, Says TikTok Star
Intimacy coordinators are an absolute must for any type of filmed sex scenes these days, according to TikTok star Jessica Steinrock.
Steinrock is a professional intimacy coordinator across film and television, and she's gained a social media following of millions for her hilarious and educational videos that explain how sex scenes are now shot. She's worked on projects like Animal Kingdom, Little Fires Everywhere and Moxie, but she's best known to audiences for her TikTok account, @intimacycoordinator.
The Chicagoland-based ad major-turned-intimacy choreographer spoke to Newsweek about her social media following, what a day in the life of someone in her profession entails, and why she believes her job is more important than ever—especially in the post-#MeToo era.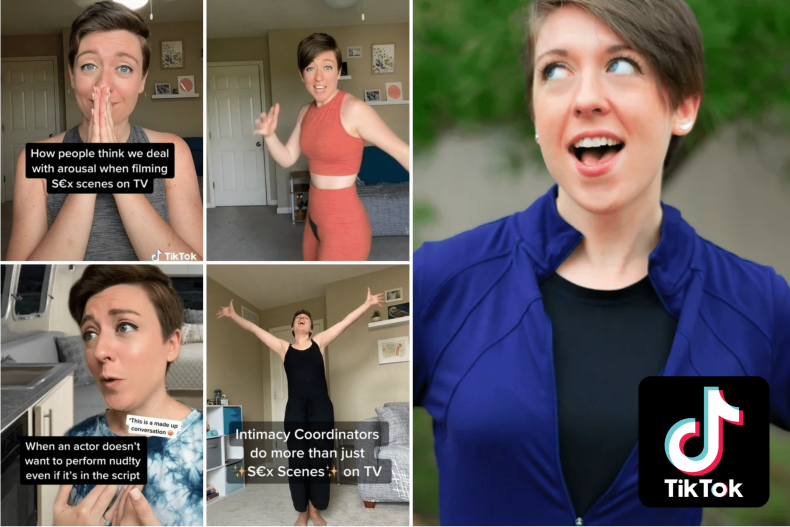 Talking Sex Scenes on TikTok
Jessica Steinrock Ph.D is one of only 40 people in her field to be listed on the SAG-AFTRA's registry of qualified intimacy coordinators. Thanks to her massive TikTok following, which had a like count of 9.2 million at the time of writing, she may be the most well-known.
"When the TikTok thing kind of blew up, that was a lot of people's first interaction with what this work is. So it was pretty cool to see and yeah, it's been nuts," Steinrock told Newsweek. She joined the platform at the end of April and has already amassed over 400,000 followers.
Steinrock reveals industry secrets as to how sex scenes, nudity and intimacy are shot for the screen. She showcases the equipment she uses, takes audience questions, and dissects famous sex scenes (most notably 50 Shades of Grey) and reveals how they were shot.
"Sometimes people are like, 'wow, I've been so afraid to do intimate scenes, and having this information makes me feel so much comfortable to try something new'. I think is so powerful."
Steinrock has fielded questions like: "What happens I an actor becomes aroused when filming sex scenes", "Do actors actually kiss?" and "If both actors are OK with it, do they have to fake the sex scene?"
As one of the few people on this planet with this role, Steinrock shared the general reaction she receives from people when they find out she's an intimacy coordinator.
"People are often excited and so curious," she said. "People have had common experiences of watching a spicy TV show, of watching sex scenes and not really understanding how that would work."
"The media only really talks about it when it goes poorly or when a real romance arises from the depths of a television show, so often I'll be bombarded with questions."
She continued: "Sometimes I'll tell my Uber driver I 'choreograph movement' so they think I'm a dance choreographer and I try to pivot away from the topic. It depends what audience I'm talking to."
On a set, Steinrock and the relatively new role of an intimacy coordinator is usually met with "open arms" and curious people, but she admitted there is a spectrum.
"Any kind of change is difficult. And when there is a new role, there is a negotiation of where does this person stand? When do they talk? How do they function?"
She admits that professionals who have been in the profession for 50 years will be cautious of her. "When I walk in, and I say, 'Hey, I'm changing things' that can be threatening. Because they're working to protect their work, right? They're usually working to protect something that they feel so deeply and passionately about, that it's really on me to make sure that I am listening and validating that I see how important that is to them.
"Sometimes there's a confusion that we might be like, a HR representative on set and that's just not how we operate. We're a collaborator, a choreographer, and a creative team member," Steinrock said.
When Is an Intimacy Coordinator Needed?
A recent post on Steinrock's TikTok implied that something that will still "p***" her off is the fact that some "spicy shows" don't used intimacy coordinators. HBO on the other hand makes her happy because they "require" intimacy coordinators on all of their spicy scenes.
"I think about it really as similar to a stunt coordinator. A stunt coordinator is there for more than just the actors right. They're there for the stunt doubles, and for the rest of the cast and the crew, supporting the director and making sure that dangerous, risky scenes get done safely. It's the same with intimacy coordinators."
Not every movie and TV show calls on intimacy coordinators for projects that focus around sex. Newsweek recently spoke to the director of Good Luck To You, Leo Grande, starring Emma Thompson. Sophie Hyde revealed how she and the actors involved in nude scenes worked through their own ways of remaining safe and respectful on set without the need of an intimacy coordinator.
This project and its content is an example, in Steinrock's opinion, of something that needed an intimacy coordinator. "My general guideline is that if there's simulated sex, simulated genital contact, or nudity, or hyper exposure, those are a must for having an intimacy coordinator."
She elaborated: "There's a line there, perhaps like 'heavy makeout zone' where it could potentially be okay to not have [an intimacy coordinator], usually I'll say I recommend it.
"But if there is a power dynamic at play, having say, a star actor alongside a very new actor, that's something that we want to be really cautious of, because that's a space where coercion can really easily happen. Beyond that, I think it's at your producers discretion," Steinrock said.
Intimacy Coordinator's post-#MeToo
The entertainment industry has been forced to reinvent itself in the wake of the #MeToo movement, which was kickstarted by the revelations of multiple counts of sexual assault against Harvey Weinstein. A number of actors spoke out about the rampant sexual misconduct in Hollywood, which has led to the rise of intimacy coordinators as a profession.
"It is absolutely a new role, really. But let me caveat that a little bit in that a lot of other people have been doing different parts of this role in different ways for a long time." Steinrock notes how in the past, costume departments would help with disguising nude scenes, directors have acted as allies for actors and were a support system.
"When we saw the #MeToo movement really go viral in 2016, which was a movement which goes all the way back to Tarana Burke in 2006, the virality of it shone a spotlight on consent and how people had been harassed, particularly in the film and television industry."
Steinrock credits actress Emily Meade who asked HBO for an intimacy coordinator on the set of The Deuce during Season 2. Intimacy Directors International (IDI), a not-for-profit organization at which Steinrock was an associate director at the time, had provided this role in theater, and adapted it for TV.
"By having this role and having a specific safety person," Steinrock explained, "it acts as a pin point for where other people in the production can go to for information and act as an advocate that helps mitigate some of the power dynamics on set that can lead to coercion or prevent issues like consent. Having that role gives it more agency, more authority and more ability to actually function."
Steinrock joined IDI where she worked with the founders Tonia Sina, Siobhan Richardson and Alicia Rodis, and credits them with having a huge impact on her career and in intimacy work for stage. Rodis was called on as the intimacy coordinator for The Deuce, and she is now the lead intimacy coordinator for HBO Studios.
"Lots of different things all happening at the same time led to this profession existing. The thread of #MeToo, Time's Up, Harvey Weinstein, it all lent credibility and voice volume to what we're trying to do."
You can check out Jessica Steinrock's TikTok videos here. She is the CEO of Intimacy Directors and Coordinators, Inc. and you can find out more information about her company here.
Update 08/09/22, 7:47 a.m. ET: This article was updated with details about Tonia Sina, Siobhan Richardson and Alicia Rodis at IDI.