Ugly Cover-Ups and Intimidation in Sexual Assault Cases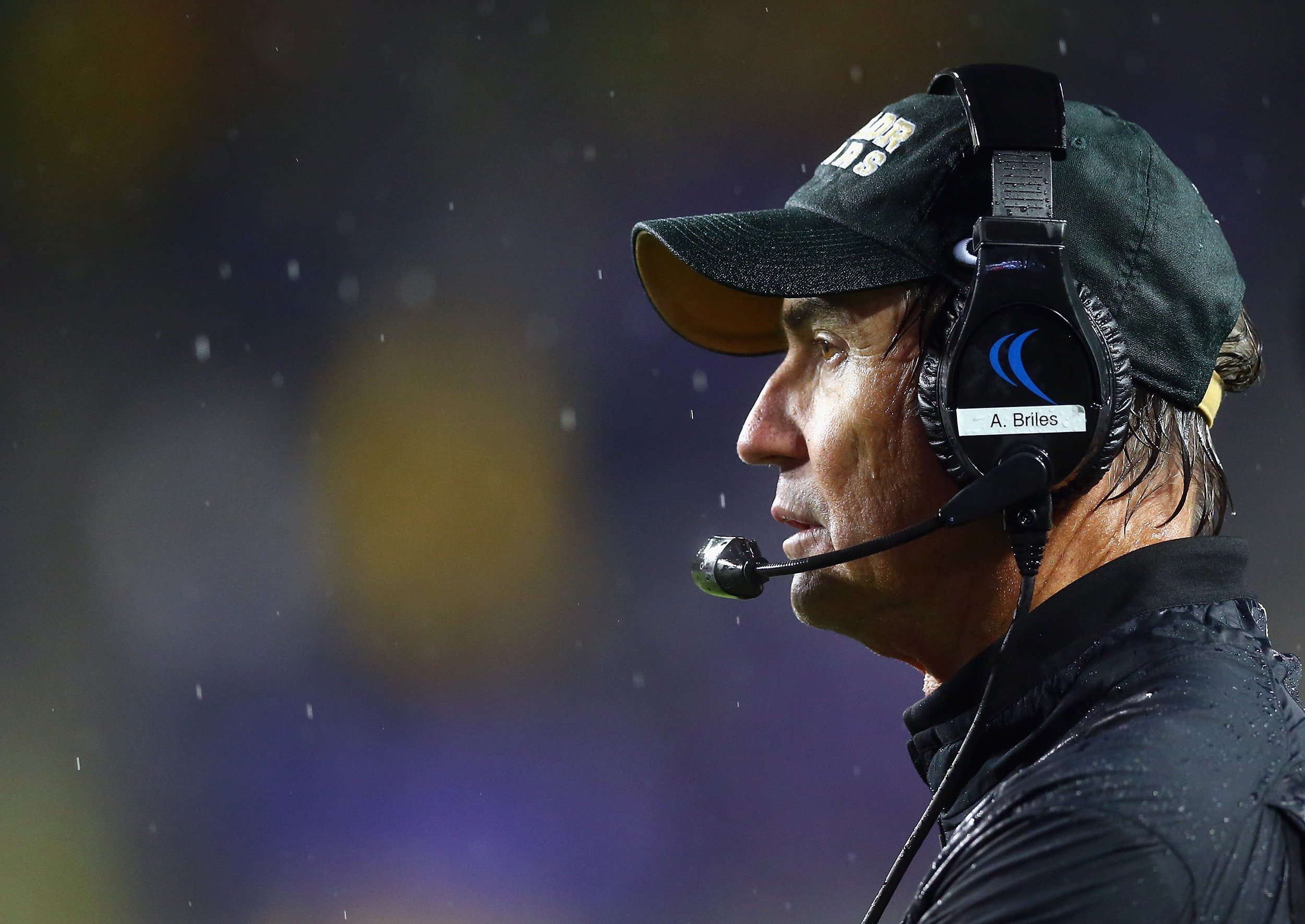 In the wake of a devastating independent investigation, Baylor University demoted president Ken Starr on Thursday and suspended football coach Art Briles, saying it intended to fire him. The Finding of Facts report, a 13-page summary of the investigation conducted by Philadelphia-based law firm Pepper Hamilton, noted that "football was above the rules" at the private Christian institution.
The report noted that the Bears football program conducted its own inquiries into claims of sexual assaults by its players and in some instances even attempted to discredit women claiming they'd been attacked. Baylor football operated outside the jurisdiction of the university in terms of investigating these claims and even meting out discipline (and even when it did punish a player, it failed to publicly explain why player was being disciplined). The summary said that Baylor "failed to consistently support" students who leveled sexual assault accusations against players and that two administrators "directly discouraged" reporting such incidents.
Last autumn, Baylor hired Pepper Hamilton to review the school's handling of sexual assault cases dating back to the 2012-2013 academic year. This action was taken in the wake of the Sam Ukwuachu fiasco. A defensive end who had transferred to Baylor after being dismissed from Boise State in May 2013 after a violent incident involving his girlfriend, Ukwuachu sexually assaulted a Baylor female soccer player in October 2013. He was indicted by a grand jury in June 2014 but spent the entire 2014–2015 season both enrolled at Baylor and on scholarship.
Ukwuachu never played a down during the 2014 season, but Baylor never provided a reason for that other than to say he was dealing with "some issues." It was not until August 2015, just weeks before Ukwuachu's trial was to begin, that word of his then-alleged sexual assault became public. Ukwuachu was found guilty and sentenced to six months in jail (he served two months before posting bond as he appeals his sentence). At the time of his conviction, Ukwuachu had been attending classes at Baylor for some 22 months after the felony he was convicted of occurred.
The Ukwuachu case was not the only alleged sexual misconduct complaint concealed by Briles and his staff, and it prompted reporters to investigate further. Last September, Shawn Oakman, a defensive end who was considered to be a probable first-round NFL draft pick, was suspended for the season opener due to an undisclosed violation of team rules. While Oakman's transgression was never disclosed, he was arrested last month on a sexual assault charge for an incident on April 3.
There were myriad similar cases, as this timeline illustrates.
Briles, 60, is a leather-skinned West Texas native straight out of a Friday Night Lights story arc. He was a high school coaching legend before finally getting his shot at college football at the age of 44. Baylor hired him in 2008. At the time, the Bears were a moribund program, having endured a dozen consecutive losing seasons.
In less than a decade, Briles led the program to unprecedented and previously unimagined heights on the gridiron. In 2011, Robert Griffin III became the school's first Heisman Trophy winner. Two years later, the Bears won the Big 12, their first outright conference title since 1980. And in 2014, Baylor moved from second-rate Floyd Casey Stadium to a spectacular state-of-the-art venue, McLane Stadium, on the banks of the Brazos River.
Briles took the program to these heights thanks to an unorthodox spread offense that led the nation in scoring each of the past three seasons. The Bears went 50-15 over the past five years, due primarily to the fact that his is (or was) the most progressive offensive mind in college football. When it came to issues that arose outside the film room, though—matters that directly impacted both his program and the welfare of Baylor's students—the Pepper Hamilton report reveals him to have been a troglodyte.
While the Baylor mess represents the ugliest intersection of big-time college football and sexual assault since the Penn State pedophile scandal of 2011, it's not even Baylor's most sordid transgression this century. In 2003, Bears basketball player Patrick Dennehy disappeared and it was later discovered that his teammate, Carlton Dotson, had murdered him. During the ensuing investigation it was revealed that Baylor's basketball coach had committed numerous NCAA infractions and ordered his players to lie on his behalf.
The NCAA did not hand Baylor's basketball program the death penalty (a year or more suspension), but it could have. It did place the team on seven years probation, though, and issued a 10-year show-cause penalty to then-basketball coach Dave Bliss. Likewise, NCAA sanctions should be coming to Baylor for this scandal, but because Baylor commissioned the Hamilton report and chopped off some very prominent heads, the football team will almost certainly avoid the death penalty.
A tragic irony of the situation is that in the late 1990s Starr famously spent years and millions of dollars of taxpayers money as the special prosecutor pursuing president Bill Clinton on charges of sexual misconduct. Starr was relentless in his crusade against the 42nd president in a matter of consensual sex. As president of Baylor, as accusation after accusation of sexual assault or violence was levied by students against some of his school's athletes, Starr remained relatively dormant.
On February 7, in a public letter, Starr wrote, "Let me be clear, sexual violence emphatically has no place whatsoever at Baylor University."
The preponderance of evidence over the past few years indicates otherwise.