A Mysterious, Possibly Apocalyptic Foam Blob Has Overrun Santa Clara, California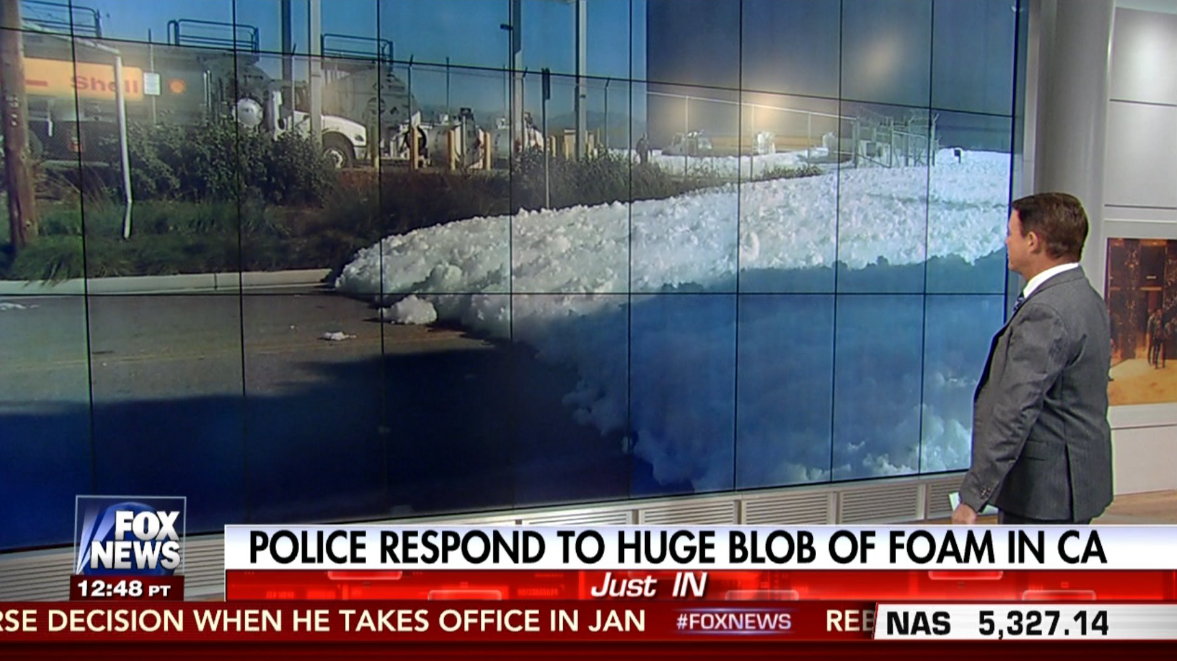 Don't get your hopes up, global warming deniers. Though pictures and videos circulating the internet may indicate otherwise, Santa Clara, California, did not receive multiple feet of snow Thursday night. The fluffy white substance that covered the San Francisco suburb Friday morning was actually foam. Glorious, undulating, possibly delicious foam.
When the white blob first started to overtake Martin Avenue around 12:30 p.m., its origin was a mystery. Is this the first of a series of plagues meant to wreak havoc on the nation's suburban centers to punish white America for electing an orange blob to the presidency? Should we be heading to our survival bunkers? Could the foam be the answer to the energy crisis? Should we be harvesting as many buckets as possible and bringing them with us to the bunker?
No, unfortunately there was a totally logical explanation for the substance that appeared to be emanating from the west side of the San Jose International Airport.
For a few glorious hours, though, playing in foam spewing from a fire suppression device became the new playing in water spewing from a fire hydrant. A few people even rode bikes through it.
"Yeah, someone had to do it," one of the foam riders told a local Fox affiliate. "We were on the other side and the officers over there were like 'you should ride through.' And I was like, 'OK you guys don't mind?' So we decided to do it,"
The man's intrepid venture into uncertainty—which he said stood 10 feet high—was not without its costs. He added that at one point he ran into a sign.
Residents who weren't willing to interact with the foam documented its hypnotic spell.
And of course, Twitter had jokes.
Santa Clara's day of foam is soon to come to a close, though. Just before 3:30 p.m. local time, the fire department tweeted that the "#FOAM" cleanup was underway, and that the city's streets would be back to normal in "several hours." Until then, Santa Clarans, unchain your bicycles and hit the streets. The city belongs to you and the #FOAM. Just make sure to wear a helmet.