Intrepid Museum Hosts Memorial Day Ceremony to Honor the Fallen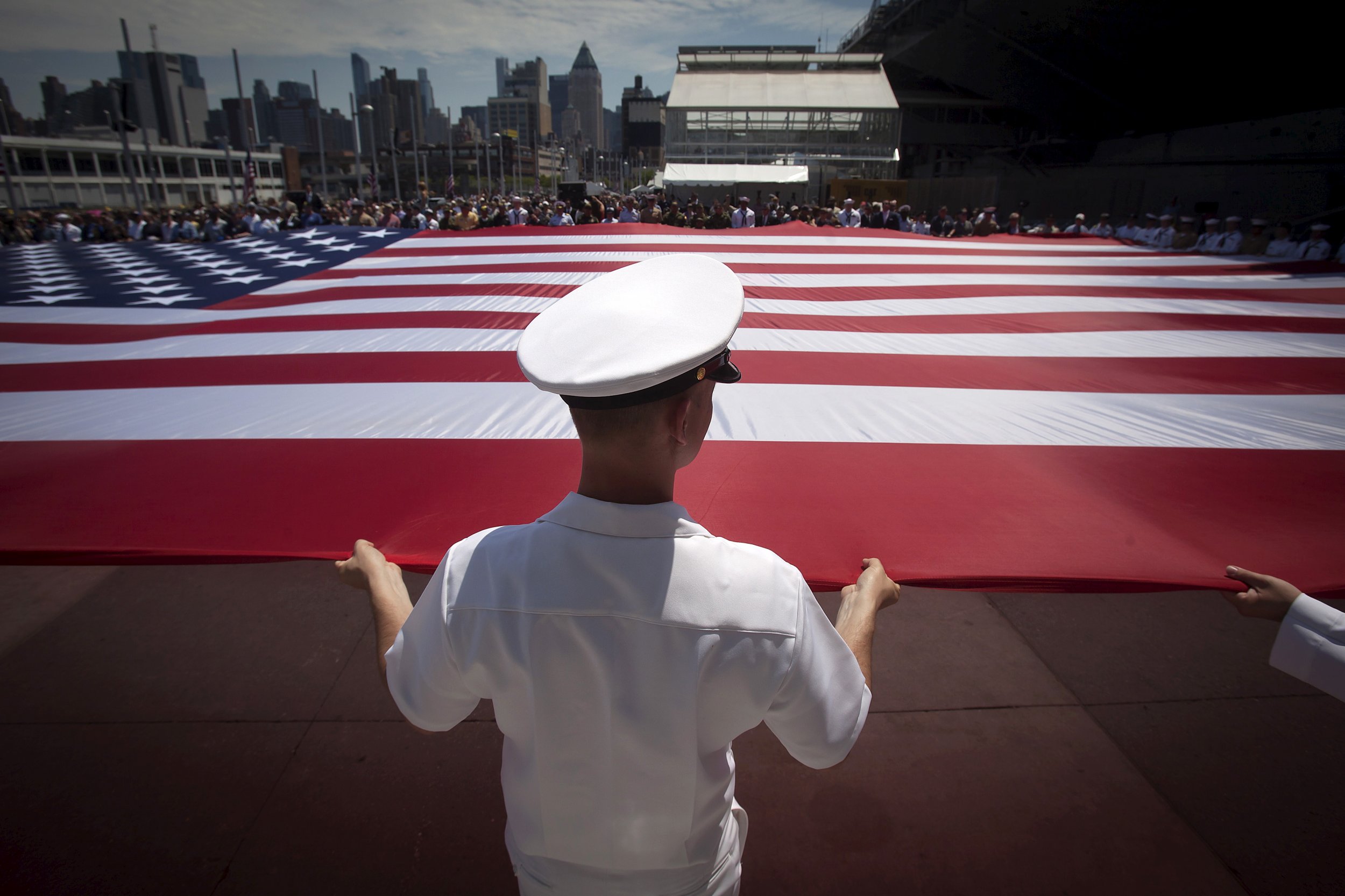 The Intrepid ship loomed large in stature and in history on Monday as active military, veterans and civilians gathered for a Memorial Day ceremony to honor those who died while in service to their country.
On one side of the ship, which is now anchored permanently at Pier 86 in Manhattan, white chairs stood in neatly placed rows. Beside them, a line of American flags blew in a light breeze while reflections from a hot sun danced on the Hudson River beyond the pier.
The Intrepid Sea, Air & Space Museum—so named for the aircraft carrier that is now the centerpiece of the museum after a long life serving in World War II, the Cold War, and Vietnam and then acting as a recovery vessel for NASA—hosts an annual Memorial Day ceremony on the pier.
"Today at this sacred event...we acknowledge the fallen," said U.S. Marine Corps Commander General John F. Kelly, who has undertaken various military assignments since the 1970s, including in the recent war in Iraq, and whose son was killed in Afghanistan while serving as a Marine in 2010.
"Memorial Day is often just a long weekend, but we should be ashamed of ourselves if we don't stop and think about the men and women" to whom we "owe a debt we can never repay," Kelly said. Those who choose to serve in the U.S. military, he said, "are ordinary young people performing extraordinary acts of bravery," who have "endured things in our defense that will haunt them for the rest of their lives."
Families of those killed while serving need no reminder of their loss, Kelly said, but are connected through the shared scenes that changed their lives: an officer waiting outside their homes for the first lights to flicker on before heading to the door. "The minute the door opens and they see the officer framed in the doorway, they know," Kelly said. "Before he says a word, they know." Some collapse in grief, some slam the door hoping to turn back time, and others quietly invite the officer in to hear about the death of their loved one.
"But if we did not have citizens willing to act in our defense," we'd have lost the fight for independence, the Nazis would have triumphed and Communism would never have been "thrown into the dustbin of history," he said, listing a litany of consequences.
Sitting in the front row, Max Marco (originally Marcovitch) watched as the speakers honored active military personnel and those who, like him, had served in wars past and had comrades who didn't return. Marco, a Jewish recruit whose parents had emigrated from Romania and Odessa and eventually settled in East Los Angeles, landed on Omaha Beach in Normandy for D-Day on his 21st birthday on June 6, 1944, his son Daniel Marco explained.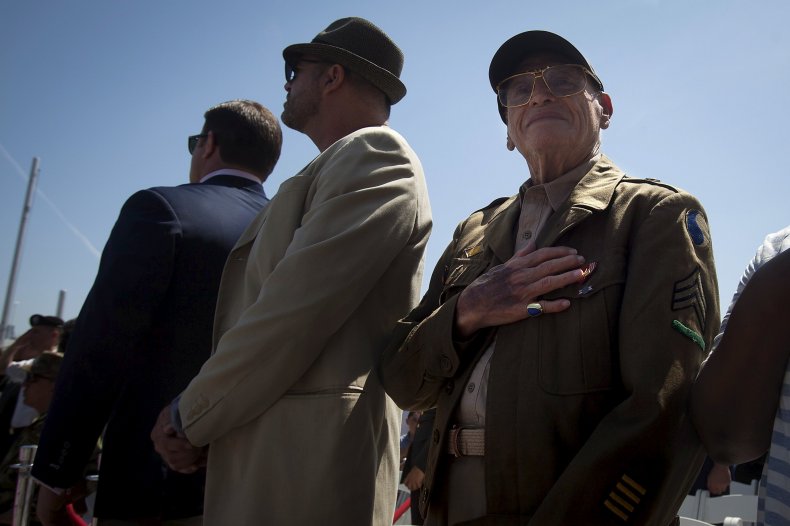 On the 50th and 60th anniversaries of the end of World War II, Marco attended ceremonies at Normandy. But on Monday, seven decades after the end of a war that devastated most of Europe and just a couple of weeks before his 92nd birthday, Marco insisted on attending the ceremony at the Intrepid and had donned his uniform for the occasion.
Marco is one of the last surviving veterans who touched down in Normandy, Daniel said, and "feels it's his duty to keep the memory alive."
President Barack Obama spoke of Marco and his fellow WWII vets in remarks at the Arlington National Cemetery in Washington, D.C. on Monday. "This year, we mark a historic anniversary—70 years since our victory in World War II. More than 16 million Americans left everything they knew to fight for our freedom. More than 400,000 gave their lives," he said.
"For 147 years, our nation has set aside this day to pay solemn tribute to patriots who gave their last full measure of devotion for this country that we love. And while the nature of war has changed over that time, the values that drive our brave men and women in uniform remain constant: Honor, courage, selflessness," Obama said. "Those values lived in the hearts of everyday heroes who risked everything for us in every American war—men and women who now rest forever in these quiet fields and across our land."
These values, he added, are shared by all American soldiers: those who have served 70 years ago in Europe and the Pacific, along with those who fought in Korea, Vietnam, Iraq, Afghanistan and more. Obama also pointed out that "this Memorial Day is especially meaningful; it is the first since our war in Afghanistan came to an end. Today is the first Memorial Day in 14 years that the United States is not engaged in a major ground war."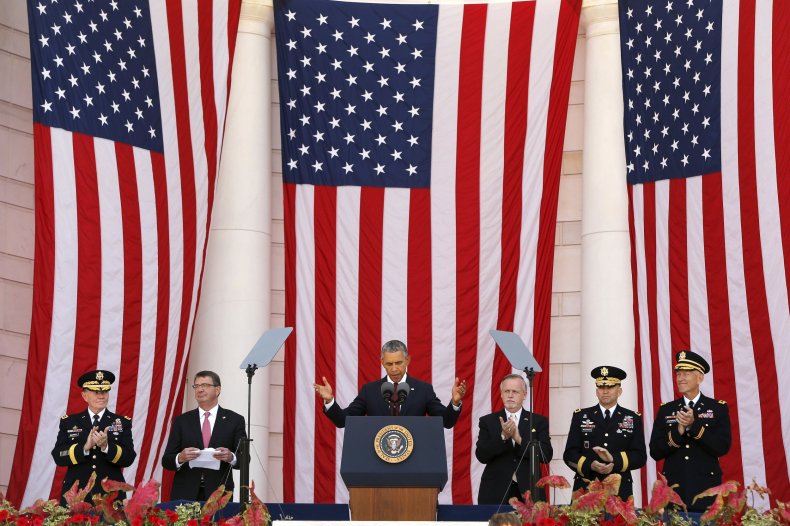 In Focus
On May 25, Memorial Day, American citizens at home and abroad honor the country's fallen military members.
Launch Slideshow

12 PHOTOS
Back on Pier 86 in Manhattan, New York City Mayor Bill de Blasio took the stage after General Kelly and Bruce Mosler, co-chairman of the Intrepid Sea, Air & Space Museum. "Wars don't end for [veterans'] families, they continue in a different way" upon their return, said de Blasio, whose father and father-in-law both served during WWII. "They come back with physical scars and mental health challenges," he said, following up with a pledge to devote resources to help veterans dealing with physical and mental health issues and to end veteran homelessness in New York City.
Following the remarks, de Blasio helped with the Intrepid ceremony's tradition of laying four wreaths on the Hudson. As each of the four fell to the water, a voice over the speakers announced they were for U.S. military personnel lost in current conflicts; U.S. military personnel lost in previous wars, such as WWII and Vietnam; for former crew members of the Intrepid; and for military personnel of allied nations.
Other traditions followed, including the ceremonial unfurling of a 100-foot American flag (which all military personnel and veterans were then invited to surround, as well as a rifle salute) the playing of Taps by the Navy Band Northeast, and three fighter planes rumbling above attendees in missing man formation (which in this iteration had three planes with a notable gap in the middle, as though a fourth were missing).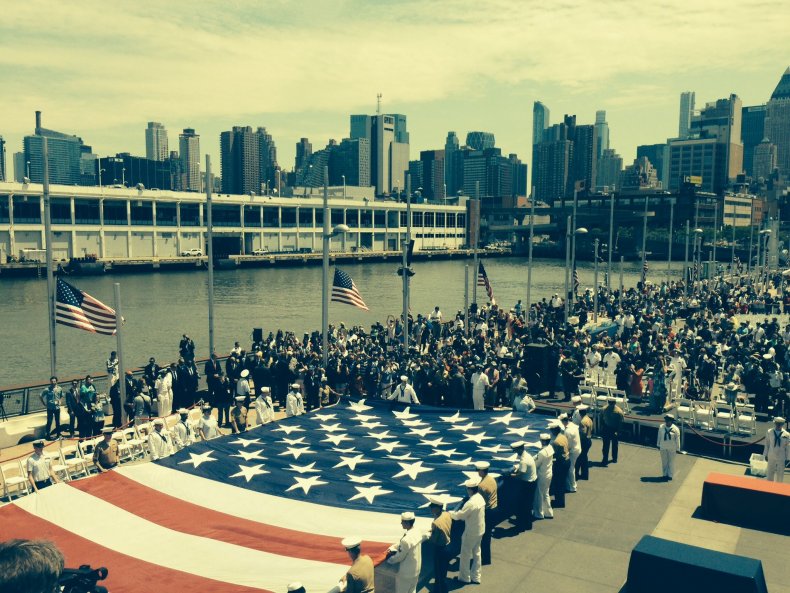 A long line of visitors snaked down the path that runs along the Hudson waiting to enter the museum, which offered free admission to U.S. veterans for the day. Yave De Los Santos, standing among the crowd waiting to enter, could be mistaken for active military personnel in uniform. But up close, it's clear he's not—at least not yet. The 13-year-old from Brooklyn has a stepfather and stepbrother who are currently serving and although he is only in eighth grade, he has already joined a youth cadet program in the hopes of becoming a Marine.
While many of his classmates, and many Americans, might see Memorial Day as merely a day off from school or work and an opportunity for picnics and family outings, De Los Santos came to the museum with his mother "to remember what [the military] did to serve our country and learn more," he said.
"We've got to look back and see why we're here right now and why we're living how we're living," De Los Santos said. "We have to appreciate what they're doing for us.They [gave] their lives for us just to walk down the street."