Introducing the Sinema Standard: If You're Not Progressive Enough, Your Gender Card Is Revoked | Opinion
Is there room for debate on whether it's okay to follow a woman into a public restroom and film her? That's where we are in 2021 with the Kyrsten Sinema bathroom protest, which is currently making, as it were, a big splash.
Progressive activists angered by Sen. Sinema's (D-Ariz.) failure to support for President Biden's "Build Back Better" agenda and $3.5 trillion spending bill accosted her on Sunday in a hallway at Arizona State University, where she teaches. The protestors demanded an opportunity to talk with Sinema. When she said she was leaving, several of them followed her into the bathroom and continued to harangue her—while filming—even when she was inside a stall. Then they posted the video online.
Sen. Sinema has since called the protesters' actions "unacceptable" and "not legitimate protest." Yet these tactics have their defenders. "Which is worse: your grandparents being deported or being followed into a bathroom (bc you refused to stop and listen) by ppl desperate for your help? This is not a trick question," tweeted political analyst Kirsten Powers. "Absolutely Bully Kyrsten Sinema Outside Of Her Bathroom Stall," ran a Jezebel headline.
But there was also a significant backlash against the protestors, much of it focused on the fact that Sinema is a woman harassed in a women-only intimate space. (At least one activist heard in the video is a man, though it's not clear whether he entered the bathroom or stood at the door.)
Is this really much ado about nothing? Well, reverse the target's politics and imagine it was left-wing icon Rep. Alexandria Ocasio-Cortez (D-NY) being stalked by right-wing protesters. Does anyone doubt that Ocasio-Cortez and her supporters would decry this is as a misogynistic assault?
Let's not forget that after the January 6 Capitol Hill riot, the congresswoman said that she feared she would be raped (citing her prior experience of sexual assault) and spoke of the "misogyny and racism" animating the attack. Earlier, in July 2020, Ocasio-Cortez was widely praised for taking to the House floor to denounce a culture of "acceptance of violence and violent language against women" after a confrontation in which her Republican colleague Ted Yoho of Florida called her "disgusting" and "crazy" for suggesting crime is driven by poverty. (According to one report, Yoho referred to Ocasio-Cortez as a "fucking bitch" after the exchange; he denied it, claiming that the word he used was "bullshit.")
But unlike Ocasio-Cortez, Sinema is not a progressive but a moderate Democrat—which apparently means she's conservative enough to get her gender card suspended, even revoked. She doesn't get "nevertheless, she persisted" plaudits when she stands her ground, and bullying her in the ladies' room is okay—just like, in 2008, it was okay to fantasize about punching Republican vice presidential candidate Sarah Palin in the face.
The political double standard is obvious. Of course, it also exists in reverse, among conservatives who decry Sinema's ill-treatment but condone right-wing harassment of Republicans perceived as disloyal to Donald Trump. But a gender-based double standard is also at work: No one seems very concerned with bullying and harassment of men, unless things escalate to the point of someone getting shot.
Last month, some 50 people held a raucous abortion-rights march outside the home of Supreme Court Justice Brett Kavanaugh, who is no stranger to violent threats. While Republicans and even some Democrats condemned this protest, the Sinema incident is eliciting much stronger emotions.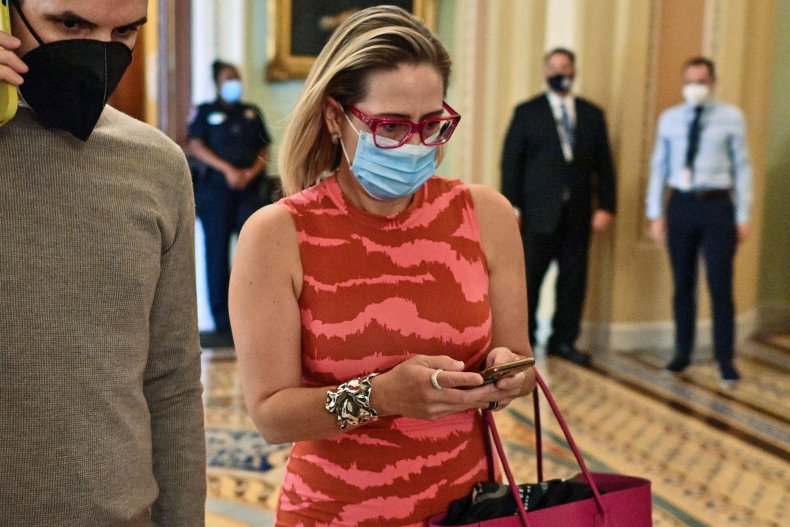 The standard narrative is that women in public life—politicians, journalists, activists, or ordinary citizens with opinions—are targeted for terrifying abuse. But this is simply not supported by evidence. A 2017 Pew Research Center survey found that men were twice as likely as women to report being harassed online for their political views. It's not that men are singled out (the disparity is largely due to more men participating in political discussions); rather, gender just isn't much of a factor. While the survey found that more women who experienced online abuse were very upset by it, they were not at higher risk for negative real-life repercussions, including threats to safety.
Harassment toward women tends to be treated as a bigger deal because women are perceived as more vulnerable. And both conservatives and progressives have ideological shibboleths to justify this stereotype: paternalistic chivalry on one side, belief in pervasive violent misogyny on the other. In reality, though, female vulnerability can become a self-fulfilling prophecy.
Yes, women are physically weaker than men, and women are much more likely than adult men to be victims of sexual violence. But female-victimhood narratives ignore the fact that 80 percent of murder victims and 55 percent of aggravated assault victims are male.
The patriarchal tropes of "woman in jeopardy" and "damsel in distress" have found a new feminist life.
So it's double standards and hypocrisies all around. Meanwhile, the real problem is getting short shrift: the toxic trend of tolerating harassment, physical intimidation, and the obliteration of boundaries protecting public figures' private lives, as long as the targets "deserve it."
Cathy Young is an associate editor for Arc Digital and Contributing Editor for Reason.
The views in this article are the writer's own.