'Inuyasha' Sequel Announced Starring Daughters of Inuyasha — Kagome and Sesshomaru
A sequel series based in the world of the iconic Inuyasha manga/anime is in production and will feature the daughters of Inuyasha, Kagome and Sesshomaru.
Japanese production company Sunrise will bring back the franchise in the upcoming new series, Yashahime: Princess Half-Demon. Viz Media owns the rights to handle digital streaming, electronic and home video sales in North America and Latin America.
"The three heroines are beautifully designed. I am looking forward to their adventures," said Rumiko Takahashi who designs the main characters in a press release.
Teruo Sato will direct Yashahime: Princess Half-Demon, along with Katsuyuki Sumisawa on screenplay. Yoshihito Hishinuma is responsible for animation character design, and Kaoru Wada will handle the music.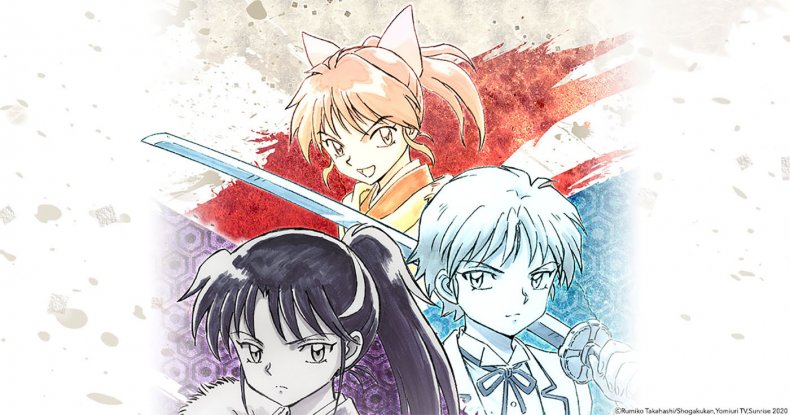 "We couldn't be more thrilled to announce the acquisition of Yashahime: Princess Half-Demon. The Inuyasha universe has been a true pinnacle when it comes to delighting fans of all generations and we're seeing that now, two decades later, with original Inuyasha episodes streaming on Netflix and Hulu. We're excited for fans to revisit this magical world created by the iconic Rumiko Takahashi." said Brad Woods, CMO VIZ Media in a press release.
Here's the official description of the upcoming sequel to the Inuyasha series:
In Feudal Japan, Half-Demon twins Towa and Setsuna are separated from each other during a forest fire. While desperately searching for her younger sister, Towa wanders into a mysterious tunnel that sends her into present-day Japan, where she is found and raised by Kagome Higurashi's brother, Sota, and his family.
Ten years later, the tunnel that connects the two eras has reopened, allowing Towa to be reunited with Setsuna, who is now a Demon Slayer working for Kohaku. But to Towa's shock, Setsuna appears to have lost all memories of her older sister.
Joined by Moroha, the daughter of Inuyasha and Kagome, the three young women travel between the two eras on an adventure to regain their missing past.
The Inuyasha manga ran from 1996-2008 in 56 volumes. It would go on to spawn a popular anime series, also produced by Sunrise, whose original run had over 160 episodes from 2000-2004, but infamously never finished the story.
Inuyasha: The Final Act was released in 2009 and finished the story of the manga in anime form.
What do you think of the world of Inuyasha returning? What do you hope to see? Let us know in the comments section.