Invasive Blue Crayfish That Reproduce Prolifically Discovered in Texas
An invasive crayfish species that can reproduce around 1,000 eggs up to five times a year has been detected in Texas, according to state officials.
Scientists from the University of Texas Rio Grande Valley collected several specimens of the Australian redclaw crayfish (Cherax quadricarinatus) in the Brownsville area this year, the Texas Parks and Wildlife Department (TPWD) said in a statement.
Between January and February, the researchers collected three specimens from an apartment complex pond that connects to a nearby resaca—bodies of water found in parts of Cameron County that are former channels of the Rio Grande.
After these findings, TPWD aquatic biologist Archis Grubh examined several sites in the area in July, finding an additional three redclaw crayfish, which are also known as tropical blue crayfish, among other names.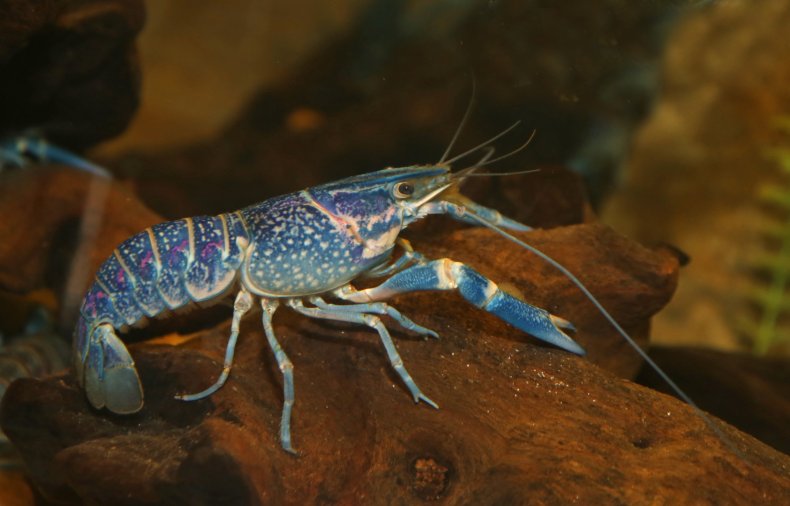 Prior to these sightings, this crayfish had been officially reported only once before in the state. In 2013, an individual filed a report to iNaturalist—a public biodiversity database that is a joint initiative of the California Academy of Sciences and the National Geographic Society—after seeing a female with three babies in Brownsville.
The fact that the species has been seen before in the same area indicates that it has been present there for some time, according to the TPWD.
The only other place the species has been detected in the wild in the United States is in California, although no established populations have been found in the country. Nevertheless, experts believe the species has the potential to spread and cause harm to native ecosystems and, thus, should be monitored appropriately.
"We don't know when these invasive crayfish were first introduced or how far they have spread, but we do know they can have a negative effect on local species and biodiversity," Grubh said in the TPWD statement. "Spreading the word about this invasive species and reporting sightings to TPWD can help us better understand where it is distributed and potentially take steps to help prevent its spread."
Australian redclaw crayfish are native to parts of northern Australia and Papua New Guinea where these crustaceans can be found in a variety of freshwater habitats, according to the Great Lakes Aquatic Nonindigenous Species Information System (GLANSIS).
The species prefers stagnant water bodies, like resacas or still ponds, and slow-moving streams, in addition to rocky habitats with plenty of caves. But it can also be found in fast-flowing rivers, lakes, lagoons and a range of other freshwater bodies. They are also capable of moving over moist vegetation on land and can travel between different bodies of water.
The species is a large crayfish that tends to be blue-green to green in color with red and maroon highlights. Mature males exhibit distinctive red patches on the claws, which is where the species' name originates from, according to the government of New South Wales (NSW), a state in eastern Australia.
These crayfish reach lengths of up to around 10 inches and can weigh as much as two pounds, according to GLANSIS and the TPWD.
The species has a high rate of reproduction, meaning redclaw crayfish populations can grow quickly in a relatively short period of time. The females are able to produce clutches of around 1,000 eggs up to five times a year.
In addition, the crayfish themselves grow at a rapid rate and can reach their maximum size in under a year. The species is also highly adaptable to different environments and is capable of consuming a wide range of foods.
This combination of traits means the redclaw has the potential to become a successful invasive species in a variety of locations around the world. According to the NSW government, once populations of redclaw crayfish have become established, eradicating them is almost impossible.
The redclaw has so far managed to establish populations outside of its native range in countries such as Ecuador, Israel, Mexico, Jamaica, Paraguay, South Africa, Singapore, South Africa, Thailand, and Zambia, as well as in Puerto Rico, according to the CABI Invasive Species Compendium.
But while the species is highly adaptable, it prefers warmer temperatures and has not become established in any regions outside of the tropics or subtropics, according to GLANSIS.
Both male and female redclaws were recently collected in Texas, meaning they could potentially be reproducing in the state, the TPWD said.
Experts say these crayfish could have the potential to negatively impact local ecosystems by competing with native crayfish, preying on native fish populations and altering natural habitats. They can also carry crayfish plague, among other viruses, bacteria, fungi and parasites, which could be transmitted to native crayfish.
Australian redclaw crayfish are a popular aquarium species and can be easily purchased in several countries around the world. In Texas, however, it is illegal to purchase, sell or possess this species—alongside all other members of the crayfish family Parastacidae—for use in aquariums.
"Release of aquarium life is unfortunately a key means by which invasive species such as these crayfish are introduced," Monica McGarrity, TPWD senior scientist for aquatic invasive species, said in the department's statement.
"Well-meaning, uninformed aquarium owners sometimes release their pets thinking they're doing the best thing for them, but if they do survive, they can become invasive and harm the native aquatic species and ecosystem. Aquarium owners should research alternatives to aquarium dumping and help prevent introductions of the next invasive species."
Anyone who spots an Australian redclaw crayfish in Texas should report the sighting to the TPWD, providing images and information about the location to aquaticinvasives@tpwd.texas.gov.
Newsweek reached out to the Texas Parks and Wildlife Department for comment.