Slimy Invasive Fish Explosion Clogs Water Supplies After Huge Floods
Swarms of slimy gray fish are clogging up irrigation water filters in Australia thanks to a flood-triggered boom in their population.
"#BreakingNews another unprecedented boom in class 1 noxious pest in #MurrayDarlingBasin," the NSW Irrigators' Council, a group representing Irrigation Farmers in New South Wales, tweeted.
"[Picture of] weatherloach having got past fish screens at Western Murray Irrigation to choke pump filters."
Weather loach are an invasive species in Australia, especially in rivers like the Murray.
"The weather loach are an invasive species that were introduced to rivers as ornamental releases," Lee Baumgartner, an executive director and professor of Fisheries and River Management at the Gulbali Institute of Charles Sturt University in Australia, told Newsweek. "They are sold in aquarium shops as an ornamental species, but owners have introduced them to our rivers. Over time they have established wild populations."
These fish have a long cylindrical eel-like body, and are usually a mottled yellow-brown color with black spots. They can grow up to around 10 inches in length.
"They are a very successful invasive species that have high tolerances to all conditions, and can survive in mud under the floodplain surface, then reappear later," John Koehn, a freshwater fish ecologist also at Charles Sturt University, told Newsweek. "They have gradually had an invasion of the [125-mile] Murray river over the past 20 years or so. Their impacts on native fish in Australia are not well-documented."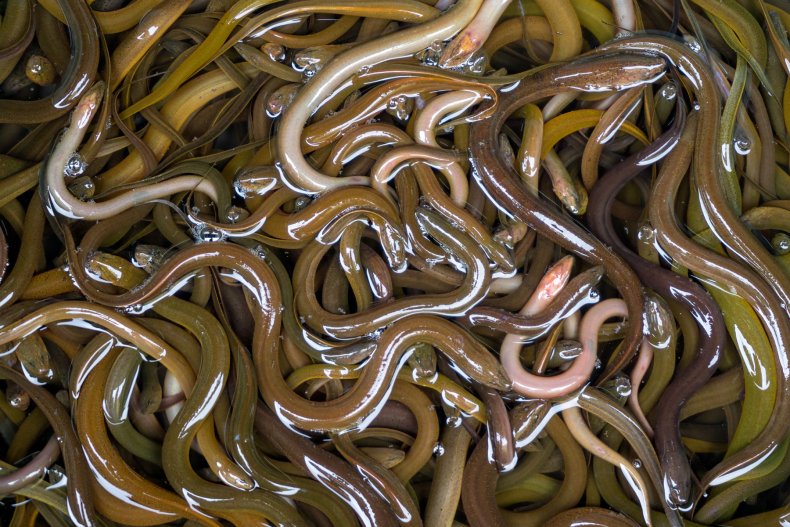 A high level of dietary overlap has, however, been recorded with the native Mountain Galaxias, which could lead to the loach outcompeting it for food and resources. The weather loaches may also eat the eggs of native species, and are known to carry several parasites not native to Australia.
"WMI [Western Murray Irrigation] reports they have never seen this problem before, even with previous floods. The fish can tolerate low oxygen levels, and one female can lay up to 100,000 eggs in her lifetime," NSW Irrigators' Council wrote in a reply to its original tweet.
The Murray-Darling River basin, which covers 14 percent of Australia's massive land area, has seen massive flooding in recent weeks, impacting over 3,000 homes in South Australia alone. Floods like these can cause numbers of weather loach to explode, especially if they happen to occur during the species' breeding season.
"They boom every time there is a flood," Baumgartner said. "We've seen increased numbers of them across the Murray-Darling basin this year and we have also seen this with previous floods. The floodplain creates perfect conditions for spawning and for survival of the egg larvae. This year the floods coincided with their breeding season."
Each female can lay as many as 8,000 eggs in a singlespawning. There were so many loach in the river this year that they got past fish screens and managed to gather in irrigation water pumps, the NSW Irrigators' Council said.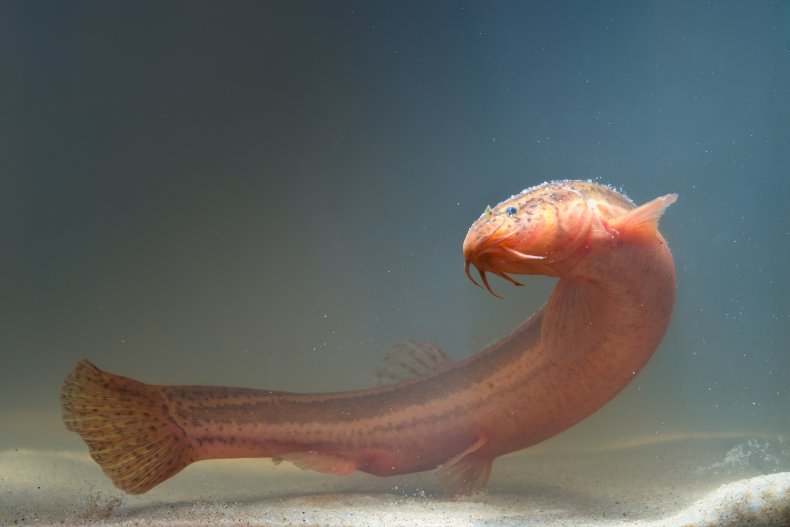 The clogging of the pump seen in the picture raises a much bigger issue of fish in the Murray-Darling and their involvement with fish filters.
"There is a big body of work to build fish friendly screens that protect farmers' pumps, and fish, and stop this from happening," Baumgartner said. "There are a group of scientists who have been working to solve this problem and many solutions are now available and being rolled out across the [Murray-Darling]."
The flooding of the River Murray also led to an influx of other invasive fish species, namely the European carp. These invasive fish have taken over the River Murray basin in recent decades: it is thought that there may be at least 357 million of these carp across Australia, with the species comprising up to 90 percent of all fish biomass in certain areas of the River Murray.
The flooding also came during the carp's breeding season, which ended up washing thousands of the freshwater fish downstream into the sea. Not being able to survive in the salty ocean water, these displaced fish all died of dehydration, and ended up washing up en masse on beaches in South Australia.
The effects of these invasive fish and their flood-triggered population booms may also be compounded by the water use of the Murray-Darling basin. According to a paper published by Koehn in the journal of Fisheries Management and Ecology in 2015, the basin's native fish species are at 10 percent of their pre-European colonization levels, and many of the threats are "related to water use and associated infrastructure."
Essentially, the river basin has seen massive drying and water quality degradation due to extraction of water for use in irrigation and other means.
"We need to reduce water extractions and reallocate water on this iconic river to ensure minimum river flows for downstream communities and critically important environments," Richard Kingsford, director of the center for ecosystem science at the University of New South Wales Sydney, said in a statement in late 2022. He was speaking on the release of his Transactions of the Royal Society A: Mathematical, Physical and Engineering Sciences paper about the water issues.
However, while the flooding may have helped invasive species flourish, it has also helped the native species that had been struggling due to the basin's water allocations.
"This flooding, however, has been hugely beneficial to native fishes such as golden perch and also to waterbirds, plants and other native biota," Koehn said. "It has brought rivers and floodplain back to life. This is part of the drought-flood cycle of Australia: something the U.K. and Europe is not that familiar with or used to."
Do you have an animal or nature story to share with Newsweek? Do you have a question about invasive species? Let us know via science@newsweek.com.