An Invasive Menu: Eating Termites and Water Rats to Save New Orleans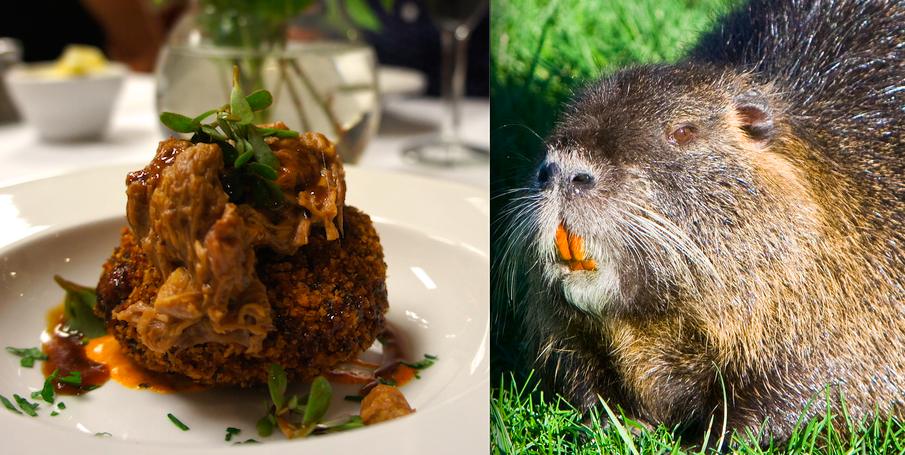 In almost all cases, eating meat is environmentally unfriendly. It takes vast amounts of water and greenhouse gas emissions to get that hamburger on your plate. But what if the meat comes from pests?
It's easy to see how eating invasive species that destroy crops and choke out native species could be considered an environmental mitzvah. So, naturally, when hundreds of environmental journalists descended on New Orleans for the annual Society of Environmental Journalists conference last week, eating invasives was on the agenda.
Around 30 journalists sat down to a four-course meal designed by Chef Johnny Blancher of the legendary Ye Olde College Inn, a New Orleans landmark since the 1930s. Instead of the farm-to-table dishes that normally emerge from his kitchen, one might call the evening's menu "ditch-to-table," in the case of the nutria, or maybe "exterminator-to-table," in the case of the termites.
Controlling invasive species by dining on them is hardly a new concept. Experts have tried for years to rebrand the invasive Asian carp, which is clogging the Mississippi, as an appealing dinner-menu item, and leaves from kudzu, a highly invasive vine rapidly overtaking swaths of land in the South, have made their way into a variety of vegetable dishes. But in Louisiana, where invasive species are a major problem, the invasive-eating movement is still trying to find its footing. As much as the state government would like to see everyone eating nutria, for example, its popularity has yet to take off—perhaps due to the fact that the huge rodent resembles a dog-sized rat.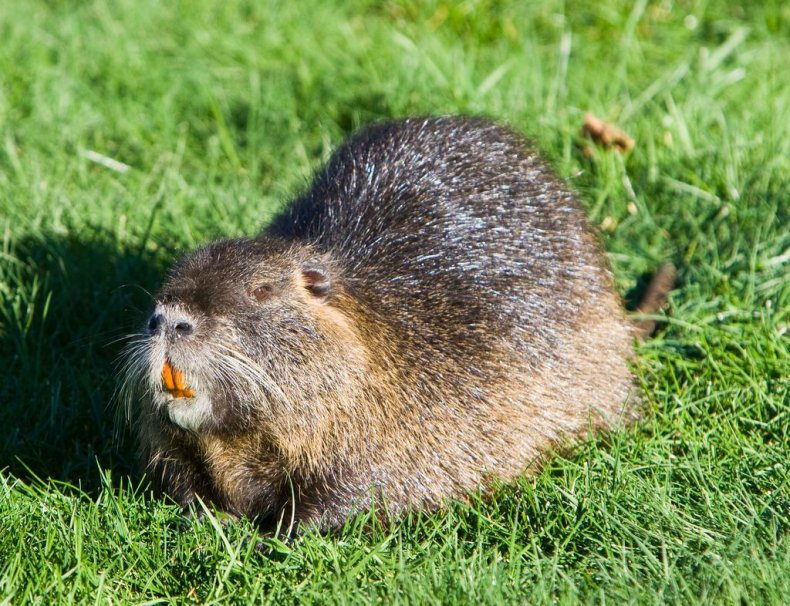 Nutria average 12 pounds, and sport a long, rat-like tail and huge, curved front teeth tinged a nauseating orange. Basically, nutria is a super-sized water rat of the type you might expect will take over the world when the humans are gone.
"How does it compare to muskrat?" asked journalist Cheryl Hogue as the nutria course was served. "I imagine much the same," Blancher replied. Now you know.
Legend has it that Tabasco sauce magnate E.A. McIlhenny introduced nutria to Louisiana in the hopes of expanding the fur trade. In 1938, 20 nutria escaped their pen, multiplying rapidly as rodents tend to do. Within 20 years, the nutria population exceeded 20 million.
Now, nutria are everywhere in the state, munching large holes in Louisiana's already rapidly-declining marsh vegetation, and burrowing into canal walls, causing the Jefferson Parish Drainage Department to spend $500,000 to $700,000 a year on repairs, according to the New Orleans Times-Picayune. They're even outsmarting sharpshooters who stalk the canals to cull the nutria population: they've learned to hide in algae and flee when they hear specific noises related to the hunt.
Louisiana Chef Philippe Parola, known for proselytizing about the virtues of eating invasive species, championed nutria as the "best red meat you've ever had," in an interview with Modern Farmer. But as long as the U.S. Food and Drug Administration continues to ban the sale of animals hunted in the wild for human consumption, nutria meat isn't likely to show up in the hamburger isle. However, a website dedicated to nutria information managed by the Louisiana Department for Wildlife and Fisheries features recipes for "heart healthy crock-pot nutria," and "smoked nutria and Andouille sausage gumbo." A chart with nutria nutritional information notes the high protein content of the meat (22 grams of protein per 100 grams of meat, compared to under 17 grams in beef) as well as a cheerful note that nutria can be bought for "less than $1 a pound." Where nutria is being sold, however, is left unidentified.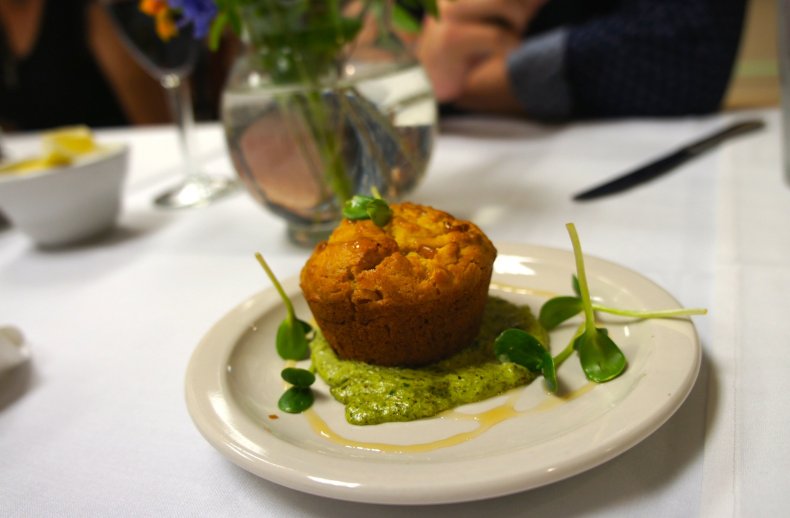 For our meal at the Ye Olde College Inn, Blancher soaked the nutria meat in milk ("It milds the flavor out.") before baking it into individual corn cakes. The "nutria tamale pie" was drizzled with honey from the restaurant's nearby beehives and placed atop a dollop of pale green cebollita cream for a dainty, if a little gamey, first course.
Next came an enormous tiger prawn sprawled across nearly the full diameter of a dinner plate. The huge shrimp is native to parts of Asia, and is speculated to have arrived in the Gulf after it escaped from an unidentified shrimp farm in the Caribbean Sea during Hurricane Katrina or Rita in 2005. Tiger prawn can grow up to a foot and weigh a pound or more, and are known to cannibalize Louisiana's native shrimp species, which are typically anywhere from four to nine inches long. Plus, each female tiger shrimp can produce around 1.5 million eggs per year versus the 500,000 typical of native Gulf species. At that rate, there is concern among fishermen that the bigger, more aggressive species will outcompete the smaller Gulf shrimp for resources, reducing its numbers.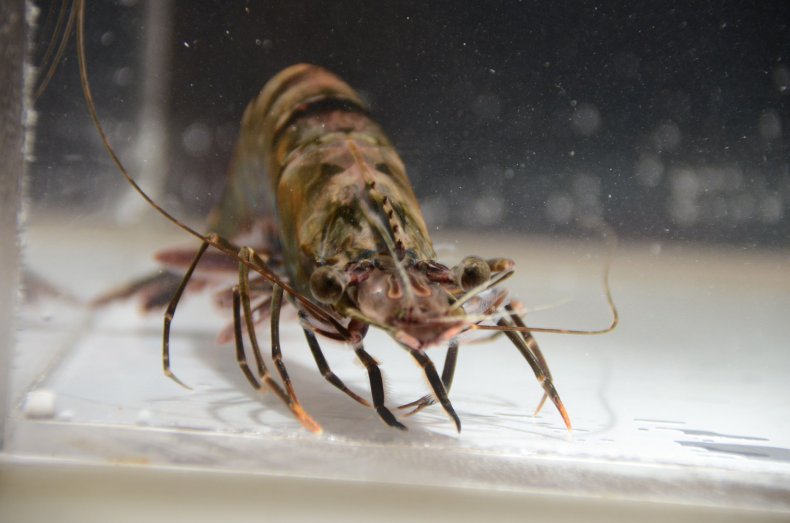 Thankfully, tiger prawn are edible. They are slightly tougher and less sweet than their native Gulf counterparts, but are widely eaten near their native waters off the coasts of Australia, South East Asia, South Asia and East Africa.
So far, though, tiger prawn are rare or absent in New Orleans restaurants and supermarkets, though it is unclear why. But if they one day overtake the native shrimp population in number, that could change.
"[I]t probably wouldn't matter, as long as they taste good. It would be kind of like how cows have replaced buffalo. No one is complaining as long as there is meat," Greg Lutz, an aquaculture specialist at Louisiana State University, told the Times-Picayune.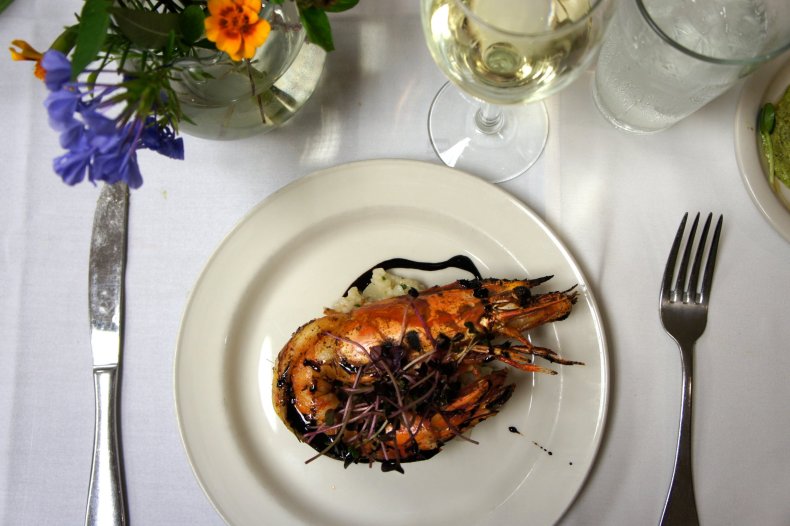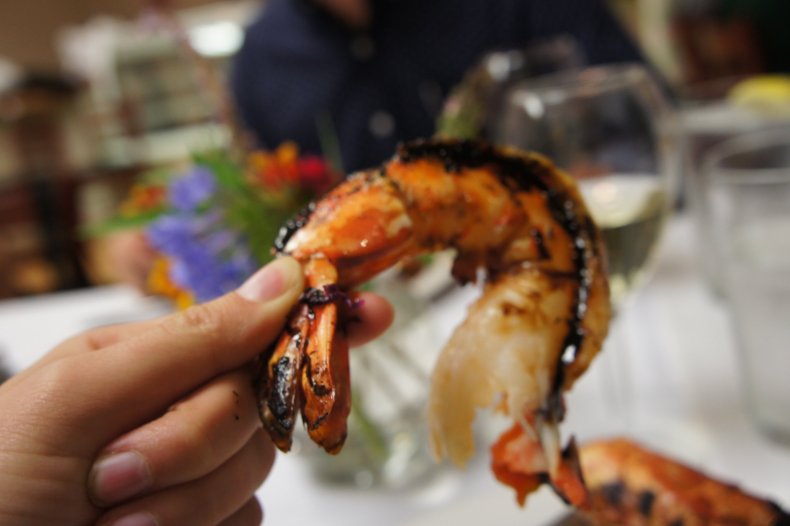 Wild boar, another highly edible Louisiana invasive, are known to rip out rice, soy and other crops while rooting for underground nibbles like roots and nuts. They're estimated to cause upwards of $1 billion in damage across the U.S. each year, mostly in lost agricultural yields, according to Modern Farmer. But they're still pigs, and Americans like pork. In places like Texas and California, where wild boar is also a problem, ranches are popping up that slaughter and dress the feral pig meat according to state regulation for sale to restaurants and consumers.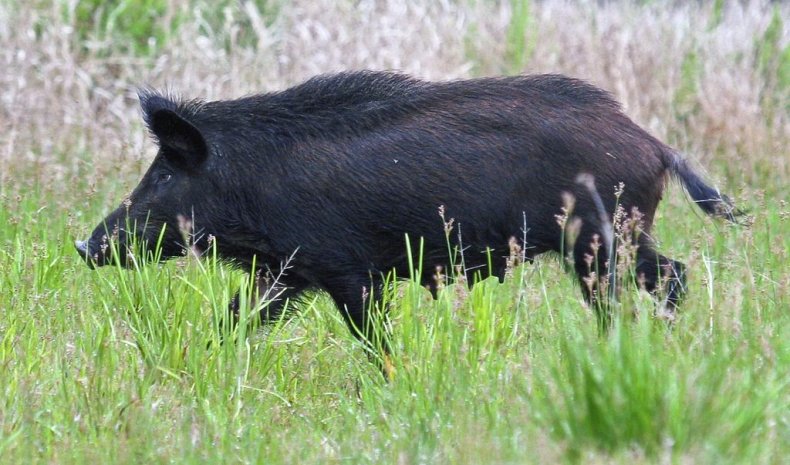 Our chef, thanks to diligent Googling, found that feral pigs can carry several nasty human-transferable diseases. Rather than butcher the first wild hog he came across, he instead procured a 125-pound animal from "a gentleman named Virgil" who vaccinates and houses the beasts.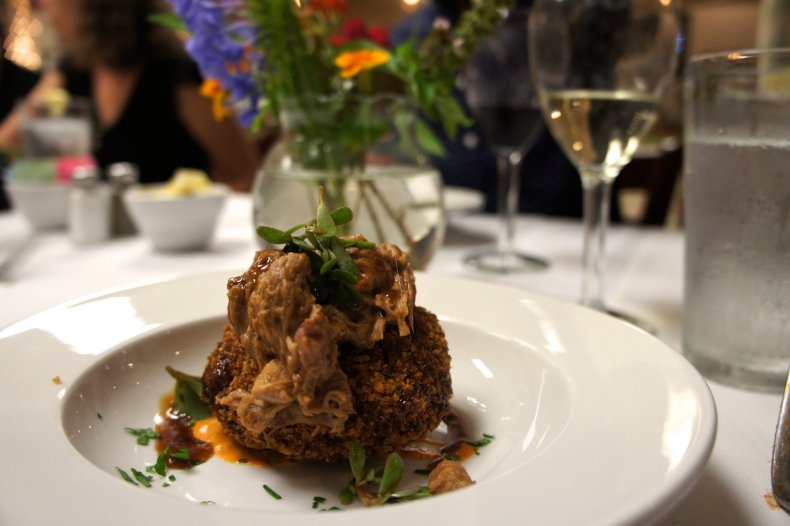 "Can this really be considered wild, in that case?" one journalist inquired, in the interest of thematic accuracy. "At least no one is going to die tonight," Blancher replied, passing around a printed web page about swine brucellosis.
We ate the boar in the form of a traditional Cajun "boudin cake," a crispy ball of boiled pork and rice that's smothered in panko crumbs and deep-fried. The orb was topped with a heap of pulled pork from the same animal, then drizzled with a sweet pepper jelly. A few tufts of purslane, a delicate sprout-like green listed as "invasive and noxious" by the U.S. Department of Agriculture, added some levity to the coma-inducing meat pile.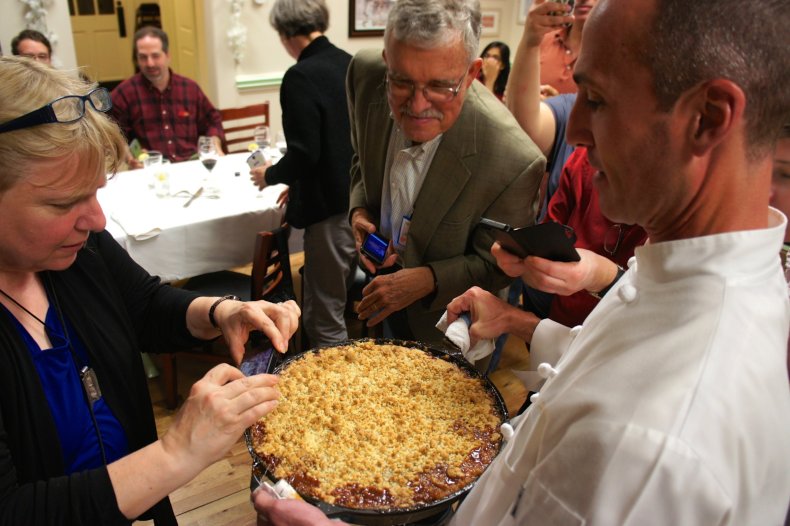 Finally, the termites. Blancher hefted a huge pan of Alabama-peach cobbler, and the diners leaned in to see the tiny termite bodies strewn like sprinkles over the streusel.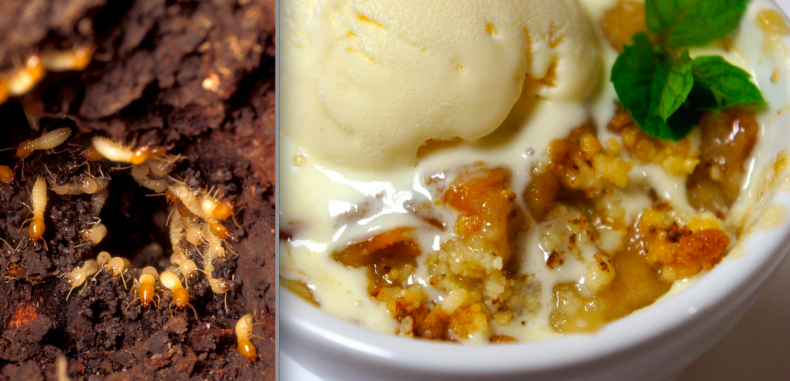 Formosan termites were first found in Louisiana in the 1960s, and now regularly invade New Orleans' live oak trees. Research suggests the tiny destructive insects may have weakened New Orleans' floodwalls, helping Hurricane Katrina wreak devastation on the region.
Blancher said he procured the termites from one of the people employed to monitor the city-owned oak trees, who brought the bugs to his restaurant alive, in two buckets. Blancher froze them before cooking them up, to keep them from "turning to mush."
The aromatic Alabama peaches benevolently masked any flavor that the termites might have bestowed on the dessert, but their crackly exoskeletons added plenty of texture. At this point in the meal, it was acceptable to feel stuffed, and I used that premise to put aside my bowl after one crunchy spoonful.