Invasive Species of Giant Lizard Has Settled in Georgia, Wildlife Authorities Say
An invasive four-foot lizard has established itself in Georgia, posing a threat to local species, state wildlife authorities warn.
The Georgia Department of Natural Resources (DNR) and partners are working to eradicate wild populations of Argentine black and white tegu (Salvator merianae). The reptile is native to South America but has settled in two counties in southeast Georgia: Toombs and Tattnall.
"It has become established as an exotic invasive species in several sites in South Florida and we now believe in the Toombs and Tattnall counties of Georgia," said DNR biologist John Jenson.
"We're trying to remove them from the wild, because they can have a negative impact on our native species."
The Argentine black and white tegu can grow to be up to 4 feet long and weigh 10 pounds or more. The species can be identified by its mottled black-and-white coloring, which is arranged in a banded pattern across its back and tail. Hatchlings also display a bright green color on their heads. This tends to disappear around the time they reach a month old.
"Many of the public that encounter these often report them thinking that they look like a baby alligator well away from the water," said Jenson.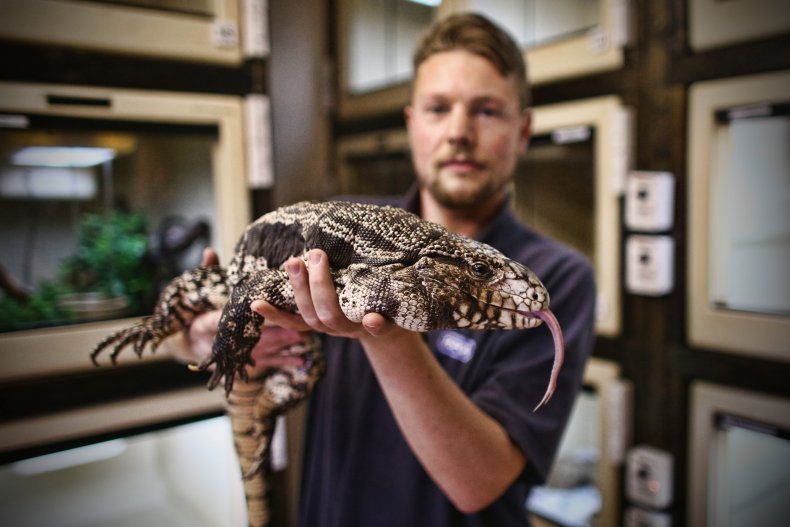 The species is native to Brazil, Paraguay, Uruguay and Argentina. With few natural predators, it can multiply quickly, authorities warn. The only wild populations known to exist in Georgia are in Toombs and Tattnall counties, but conservationists are concerned the species could spread to other regions.
Though the DNR cannot confirm the origin of these wild populations, officials say it is likely they are related to pets that have been released or escaped. It is legal to keep tegus in captivity in the state of Georgia. However, letting them—or any other non-native species—loose is breaking the law.
The Argentine black and white tegu has already established three populations in Florida, where the Florida Fish and Wildlife Commission (FWC) and its partners have removed thousands of the lizards living in the wild.
While the species is known to lash out if threatened, it is not considered aggressive toward people. The biggest problem it presents is towards existing wildlife. The species is notorious for stealing burrows. Tegus also possess an indiscriminate and edacious appetite that can include the eggs and young of other species.
"They eat just about anything they want, plant and animal matter, and one of their favorite foods are eggs from ground-nesting animals such as gopher tortoises—our protected state reptile—birds, including turkeys and quails," said Jenson.
Like all invasive species, there is also a risk that they could spread new diseases and parasites to native wildlife and compete with existing animals for resources, such as food. Authorities say the lizard may be more tolerant of the cold than other species of reptile, an advantage that could help them expand into new regions across the state.
The DNR is currently working with the U.S. Geological Survey and Georgia Southern University to trap tegus and keep an eye on the growing population. Authorities say early detection, rapid response and public involvement are needed to prevent the tegu population from establishing any further.
Wildlife officials have asked members of the public to report any sightings of the tegu, alive or dead, to the DNR, jotting down the location and taking a picture if possible. This, they say, will help the team respond effectively. Sightings can be reported online at www.gainvasives.org/tegus, by email at gainvasives@dnr.ga.gov and over the phone on (478) 994-1438.
Residents in Toombs and Tattnall counties have also been asked to keep pet food indoors, cover holes that could provide the tegu with shelter and clear outside space of debris that could similarly offer the tegu a hideout.
"These are very common in the pet trade, but we ask folks that keep these as pets to be responsible and if you've come to a point where you no longer want this animal, there are reptile adoption groups that may take it and try to find a home," said Jenson.
"Releasing it into the wild is the absolute worst thing to do."