'Inventing Anna' Cast on the Real-Life Inspirations Behind Their Netflix Characters
Inventing Anna, set to be one of the biggest shows of the year, is streaming on Netflix now. The eight-part series brings to the small-screen (at the hands of Bridgerton's Shonda Rhimes), the shocking true story of Anna Delvey, A.K.A Anna Sorokin. From 2013 to 2017, under the name Anna Delvey, Sorokin posed as a German heiress and socialite with a $60 million trust fund and managed to scam the upper elites of New York City, her friends, strangers, banks, and more out of thousands. She was found guilty of eight counts of fraud, including rand larceny, attempted grand larceny, and theft of services in May 2019. She was released from prison in February 2021.
The series is an adaption of Jessica Pressler's New York Magazine article "How Anna Delvey Tricked New York's Party People (How Anna Delvey Fooled New York Revelers)" with many of the key protagonists in Anna's story featuring in the Netflix adaption, as heavily fictionalized versions of themselves or under different names.
The cast of Inventing Anna spoke to Newsweek about their characters, the real people behind them, and the mind-blowing true story.
Inventing Anna Cast on the Real-Life Inspirations Behind Their Netflix Characters
Anna Delvey — Julia Garner
Ozark's Julia Garner portrays the real life, Anna Sorokin, in Netflix's Inventing Anna.
Under the name Anna Delvey, Sorokin posed as a German heiress who scammed banks and investors in an attempt to get them to invest in her private member's club and art foundation, The Anna Delvey Foundation (ADF).
She also scammed hotels, her friends, and businesses out of thousands of dollars.
In reality, Sorokin was Russian born to hard-working parents. She grew up in Germany and later moved to the U.K. and France before settling in New York in 2013.
Speaking to Newsweek, Garner shared she met the real Anna to prepare for the role to get a sense of her "energy and spirit."
Garner also shared she was "surprised" about how "bubbly" and "likable" the real Anna was.
She said: "When I met her, I knew that I wasn't going to get a lot of information because I was a very private person but it was more than I just wanted to get her energy and her spirit and the thing that I was the most surprised about, and at the same time it made the most sense was how bubbly and likable she was and that to me, I was taken aback because it's very intimidating meeting somebody like Anna, but then at the same time, I'm like 'of course, she's likeable that's why she was able to do what she did and she was able to have all those people invest in her and believe in her and she was able to accomplish what she did, bad or good or whatever it is, she did it and it was because she was extremely intelligent.
"It was just wild. It was wild how bubbly she was and that's what I wanted to put in the show too."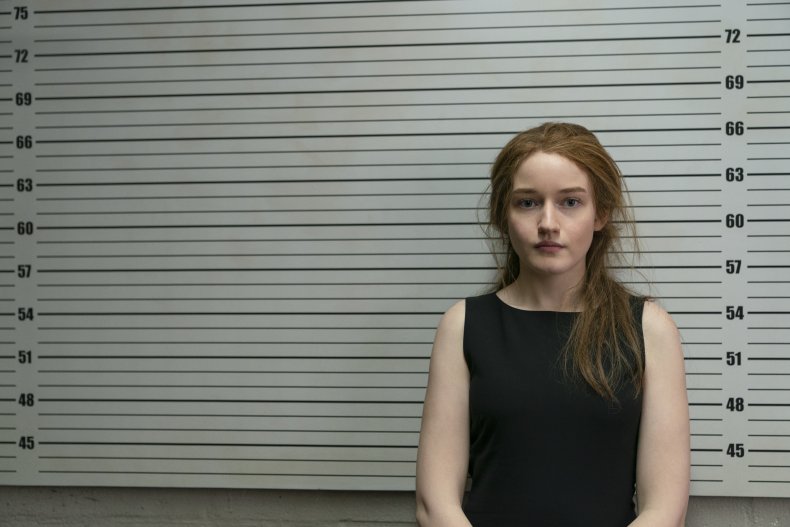 Vivian — Anna Chlumsky
Veep's Anna Chlumsky plays the role of Vivian, a journalist for the fictional Manhattan Magazine doing an investigative journalism piece on Anna Delvey.
Vivian is based on Jessica Pressler, the author of the viral New York Magazine article "How Anna Delvey Tricked New York's Party People (How Anna Delvey Fooled New York Revelers)" which was published in 2018.
Speaking to Newsweek, Chlumsky shared she worked very closely with Pressler's written work to prepare for the role
She said: "Jessica and I know each other, she's credited as a producer on our show, she's given her blessing to every single bit of our show. My character is a fictionalized version of that role and so I didn't have to match her exactly, so the first sort of decision to make was what to borrow and what not to and so what I would say is, I worked very, very closely with her written word, I worked very closely with her notes. I poured through them, I just drank them up. They were like, my vitamins, I read all of her articles, I felt like playing somebody who expresses themselves so well and so clearly in her own voice, that really the written word was giving me the most anchor that I needed. So that was my way in."
Chlumsky continued: "I enjoyed her brain, I really, really do. I love her curiosity, and how she won't let go of an idea. I love playing characters that think they have it all put together and based on what you see in the story [Inventing Anna]. They don't really know how they're coming across, they betray themselves and I really enjoyed that. Because I think that that's a very human experience."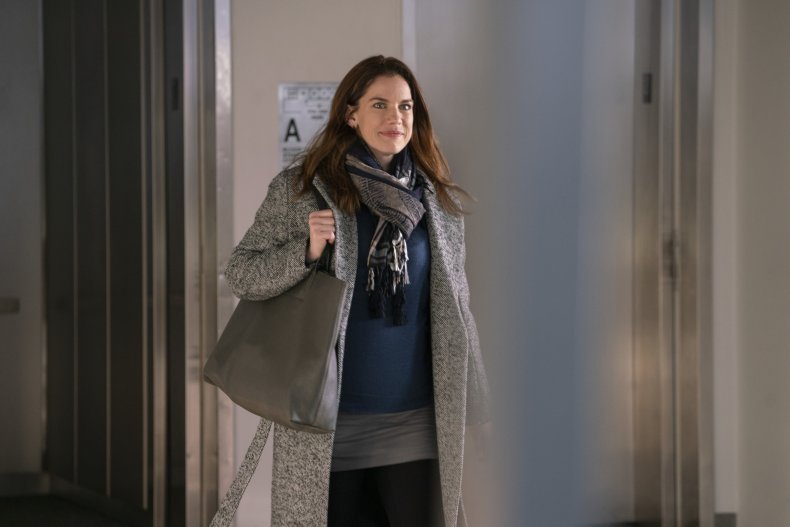 Neff — Alexis Floyd
The Bold Type's Alexis Floyd portrays Neff Davis, the real-life hotel concierge Anna befriended whilst staying (and without paying) at the 11 Howard hotel in New York City in 2017.
Just two weeks ago, the real Neff Davis posted a happy birthday message for Anna on Instagram. Sharing a selection of images and videos of them together, Davis wrote: "Happy Birthday @theannadelvey.
"I could say a lot but I think @inventinganna will cover that for me. You're my favorite Aquarius!
"You're the Thelma to my Louise. And even though I don't agree with all the things you've done in this lifetime, I could never be shady and forget about you."
To prepare for the role of Neff, Floyd and the real Neff Davis met up for dinner, where they discussed her story.
Floyd told Newsweek: "She was very generous and open to sharing her time and her story with me and that stayed true throughout the process. On top of reaching out to her for questions because I was really fascinated by how well she knows herself, so I wanted to get to know her as much as possible, because she just seems like she has this really beautiful kind of graceful self-confidence that I think is so unique, and almost regal and I wanted to celebrate that as much as possible.
"Then I also spent a lot of time just getting to know her sound. I love the way she speaks. She's got this rhythm. She's got this DC and New York blend going on. She loves music, and you can kind of hear it in the way she speaks. And so I spent a lot of time you know, just walking around listening to her speak kind of putting her mouth and body talking out loud to myself on the streets of New York."
Todd— Arian Moayed
Succession's Arian Moayed stars as Todd Spodek, Anna's aspirational and caring defense lawyer.
The character Todd is based on Anna's real-life attorney, Todd Spodek who became a popular figure at the time of her trial, particularly for hiring celebrity stylist Anastasia Walker to work with Anna in her courtroom looks.
He told Insider in 2019 he aimed to convince the jury that Anna's attempts to swindle money were too incompetent to punish her for them.
Speaking to Newsweek, Moayed said he was attracted to the role of Todd because he is "a good guy".
Moayed shared: "In the States, criminal defense attorneys have like, almost like a bad rap, a little bit of like, trying to, like get these criminals off cases. And so when she said that he's a good guy, and that's going to represent Anna Delvey, I really kind of like, latched on to that he's a dad, he's trying to climb up the ladder. In my audition scene, which was the scene in the pilot, where he's like, essentially saying, 'I was a valet for my mom to help pay for the rent', I really relate to that, I'm an immigrant, I grew up in an immigrant family and an immigrant community. And I know those moments where your summer job is really to help pay rent and so that was an easy thing to latch on to."
He added: "I think the journey of Todd is he sees that inside of this case of Anna Delvey, he can potentially tell the world that he is a legitimate lawyer that can do a legitimate good thing by protecting someone that was thrown where the DA [District Attorney] is obviously the broker and threw the book at her. And so I think his journey is of the same as Anna's in a way climbing up the ladder to make sure that they succeed but at low cost, and what cost family for Todd, Anna Delvey is prison. You know, Jessica Pressler is motherhood and her career you know, it's all kind of like expertly woven in."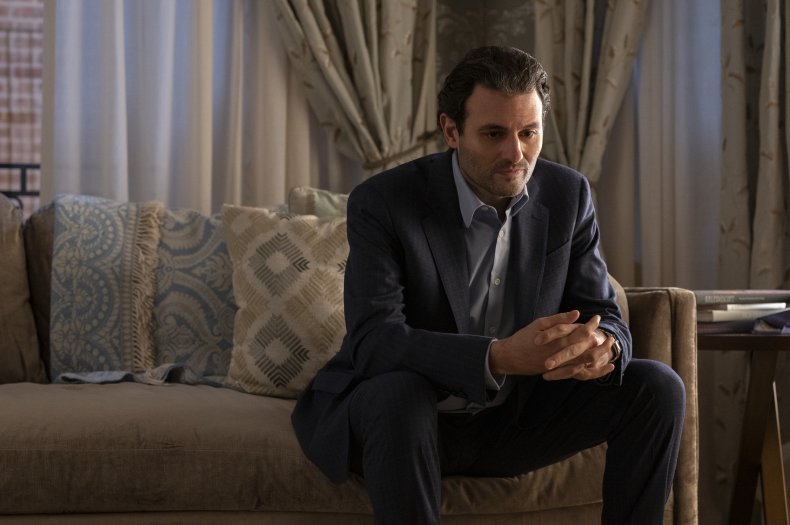 Kacy — Laverne Cox
Orange Is The New Black star Laverne Cox stars as celebrity trainer and wellness coach, Kacy Duke.
Cox's character is based on the real Kacy Duke who became Anna's personal trainer and accompanied Anna on her trip to Morocco with her friend Rachel.
The real Kacy Duke has been sharing her excitement via her Instagram page about Inventing Anna and the fact Cox will be playing her.
In one post she wrote: "It was all Magical Marrakech until it wasn't! @lavernecox giving you a very @kacyduke moment! Consider me a proud twin! Thank you, Queen! Get Ready! Inventing Anna on @netflix February 11th!"
Billy McFarland — Ben Rappaport
Yes, Fyre Festivals Billy McFarland does make an appearance in Inventing Anna... sort of.
Played by Ozark star Ben Rappaport, in Episode 4 of Inventing Anna, Billy is seen telling Anna all about his plans for Fyre Festival, which Anna mocks.
The real Anna and McFarland did know each other. In fact, Anna apparently lived with McFarland and others in the SoHo headquarters of McFarland's (now failed) credit-card company Magnise in 2013.
In October 2018, McFarland was sentenced to six years in prison after pleading guilty to two counts of wire fraud in relation to his failed Fyre Festival in 2017, where he defrauded investors out of $27.4 million. He is expected to be released in 2023.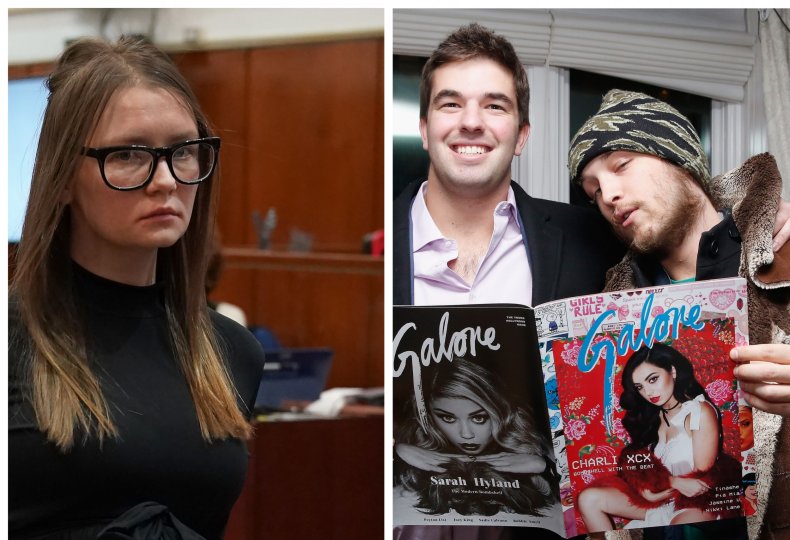 Rachel — Katie Lowes
Scandals Katie Lowes stars as Anna's former friend Rachel in Inventing Anna.
Rachel is based on the real Rachel Deloache Williams, the former photo editor for Vanity Fair, who was scammed by Anna into paying more than $62,000 for their trip to Morocco.
In the end, Williams would ultimately go to the police and the Manhattan District Attorney about her experiences with Anna. Her report would lead the police to investigate Anna's crimes and a sting operation that would lead to her arrest in July 2017.
The real Rachel would go on to publish the book, "My Friend Anna: The True Story Of The Fake Heiress of New York" about her experiences with Anna and her role in the sting operation which lead to arrest. The book is currently being adapted into a series by HBO.
Inventing Anna is streaming on Netflix now.