Invest 94L Tropical Disturbance Map: Trajectory Tracking System Loaded With Moisture Near Bahamas Heading for Florida
The Hurricane Center in Miami has advised that a tropical storm is expected to form today, moving towards Mexico and Florida.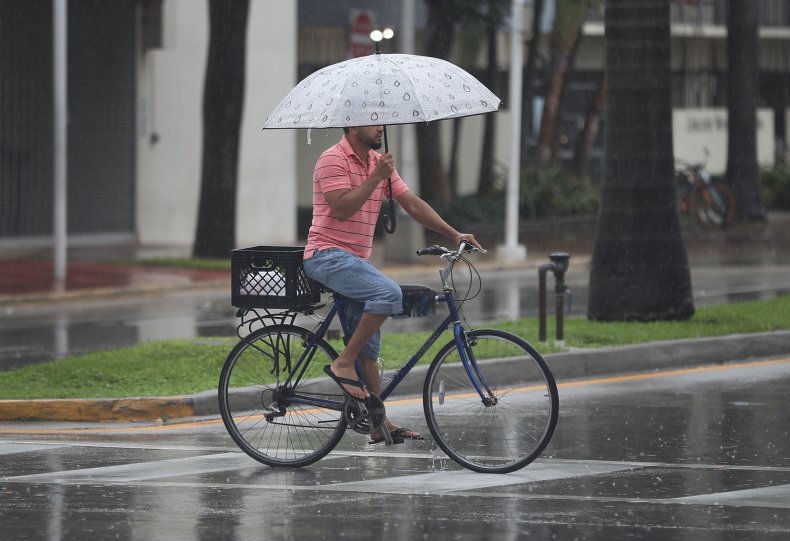 Last night, at 11:00 p.m. PDT, the National Weather Service's (NWS) Hurricane Center in the state published an alert that "thunderstorm activity associated with a low-pressure area" has been located 100 miles south-southwest of the southern tip of Mexico's Baja California. The pressure is expected to continue to show signs of organization creating a tropical depression or storm.
The advice from the hurricane center says that the system will move "generally northwestward," remaining of the coast of Mexico. The chance of formation through the next 48 hours is 90 percent.
While there is no advice on whether this area of low pressure will become a hurricane, NWS advises that the following can also be life-threatening to residents caught in a tropical depression or storm:
Storm surge, the abnormal rise of water generated by a storm's winds, is the "leading cause of hurricane-related deaths in the U.S."
Flooding from heavy rains is the second leading cause of fatalities from landfalling tropical cyclones
Winds from a hurricane can destroy buildings and manufactured homes
Tornadoes can accompany landfalling tropical cyclones
Dangerous waves produced by a tropical cyclone's strong winds can pose a significant hazard to coastal residents and mariners. According to NWS, these waves can cause deadly rip currents, significant beach erosion, and damage to structures along the coastline, even when the storm is more than a 1,000 miles offshore
A flood warning has also been extended for the Manatee River near Myakka Head. According to NWS, additional rainfall yesterday has caused the river to rise and crest. At 08:00 p.m. local time last night, the stage was at 12.4 feet, with minor flooding occurring at 11 feet. It is expected that private roads and bridges will flood one mile downstream, with rural areas of Kibler also prone to flooding.
Florida recently saw its hottest June on record, but has escaped the heatwave that is currently hitting the east coast of the U.S. The soaring temperatures have taken out power in New York City, with Con Edison removing power to repair lines and avoid further blackouts.
The NWS advises that heat illnesses are also possible and that people should drink plenty of fluids, stay in air-conditioned rooms and out of the sun, and check up on relatives and neighbors. Pets should also be kept inside if possible.