On Thursday, New York City Mayor Bill de Blasio announced that city parks will reopen on Monday. This is a sharp about-face for a mayor who opposed reopening parks on Tuesday and wouldn't commit to "Phase II" reopening on Wednesday. New Yorkers should likely thank Brooklyn's Orthodox Jews for the change.
City park closures have inconvenienced families citywide, posing health challenges for kids who need fresh air and playtime. But it's Brooklyn's Orthodox Jews who've been adamant about the urgency of reopening parks, not least because they've seen their neighborhood playgrounds locked and welded shut.
Public parks have become the latest flash point in de Blasio's ongoing struggle with his Jewish constituents. As readers may recall, the mayor publicly blasted Jewish New Yorkers for a Williamsburg funeral in late April. In mid-May, he had the NYPD shut down a yeshiva and a small children's carnival. In June, the NYPD chased Hasidic families out of Brooklyn parks, even as large crowds of New Yorkers protested nearby.
NYC Parks staff welded shut the entrance to Williamsburg's Middleton Playground on Monday. A department spokeswoman explained: "In recent weeks, people have broken the locks and chains at this playground and breached the site multiple times...we plan to unweld this entrance today and replace the locks and chains." Of course, local residents eliminated that lock, too.
Notably, the spokeswoman added, "All playgrounds are closed across the city to keep our children safe." The reality has been more nuanced, though. Brooklyn's McCarron Park and Dyker Beach Park have been open, for example, and Councilman Joe Borelli told me that no playgrounds in his Staten Island district have been locked.
When Mayor de Blasio disregarded Sunday's public call from State Senator Simcha Felder, New York Assemblyman Simcha Eichenstein and City Councilman Kalman Yeger to immediately reopen parks, the trio opened two Brooklyn parks themselves. (Yeger opened a third with Americans Against Antisemitism founder Dov Hikind.)
The three Brooklyn lawmakers asked, "With everything going on in the world, why is our mayor intent on making criminals of mothers and children in need of a safe space to play? If they lock these gates, we will cut them open again tomorrow, because we serve the people. Who do you serve, Mr. Mayor?"
The mayor responded by announcing, "We're not going to allow people to take the law into their own hands." The NYPD, for its part, questioned the three lawmakers at Borough Park's Dome Park after reportedly receiving a "call for trespassing."
City Councilman Joe Borelli messaged, "How can there be such a plain double standard between protestors gathering in massive numbers in parks and a few little Jewish kids hoping to go down the slide?"
Super strict coronavirus lockdown measures would have made better sense earlier on, especially if they were universally applied. Only they haven't been, whether for the Blue Angels flyover, Central Park sunbathers or masking violations in general.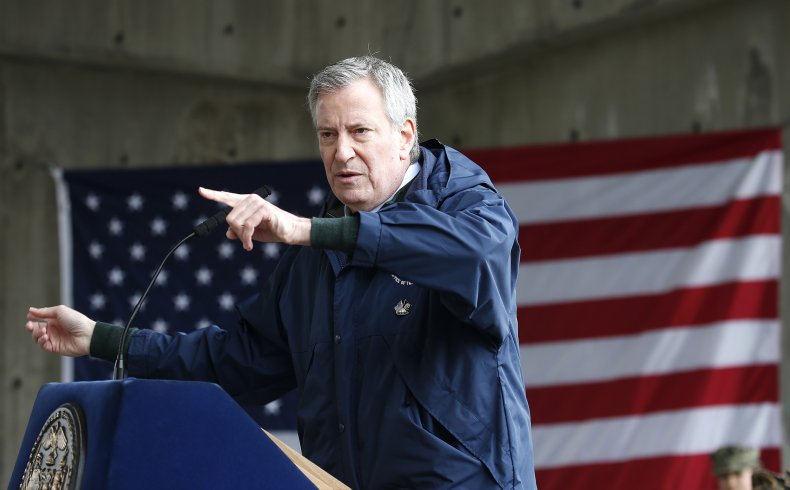 Extra cautious measures also no longer compute. After tens of thousands, including the maskless mayor, spent three weeks marching and rallying for justice in close proximity, it's hard to justify locking kids out of playgrounds.
This episode underscores that de Blasio's New York City has enforced two sets of rules for coronavirus restrictions. However, a functional democracy requires one set for everyone. Since New York's attorney general hasn't acted to correct that, the federal government should.
Brooke Goldstein, executive director of The Lawfare Project, emailed that both the FBI and the Department of Justice's Office of Civil Rights have the authority to investigate, and could do so simultaneously. "Enforcing the law in an unequal way—issuing summonses or complaints to the Jewish community and other minority communities while issuing face masks or ignoring the violations of non-minority New Yorkers is a clear example of discriminatory policing that the [Department of Justice] needs to investigate and address."
Goldstein observed, "Unequal, targeted, enforcement of the law fosters anti-Semitism and racism, and degrades the egalitarian nature of our society." She added, "The American public cannot stay silent when it sees the law being applied unequally. People have the moral obligation to come forward and report these incidents, and we as a society must address issues of misconduct by officials acting under the 'color of law.'" Toward that end, the Department of Justice helpfully introduced a new unified portal for reporting civil rights violations at civilrights.justice.gov on Monday.
So perhaps the next twist in this story should involve more New Yorkers adopting the civil disobedient spirit blooming in Brooklyn. Don't comply with injustice, and don't accept Mayor de Blasio's discrimination. Report it.
Melissa Langsam Braunstein, a former U.S. State Department speechwriter, is now an independent writer in the Washington, D.C., area.
The views expressed in this article are the writer's own.