Investigations Into Unruly Airline Passengers Have More Than Tripled Since 2020
The latest statistics released by the Federal Aviation Administration (FAA) show a startling increase in investigations related to unruly airline passengers over the past year.
According to their data, as of July 13, the agency has received 3,420 reports of unruly passengers, have initiated investigations into 555 of those instances, and has so far proceeded with 80 enforcement cases. The numbers show a dramatic rise compared to 2020's statistics: for the entire year, the agency launched investigations into only 183 unruly passenger reports. In other words, the total number of unruly passenger investigations has more than tripled since last year—and 2021 is only far from over. Previous years appear in line with 2020's data, with 2019 and 2018 seeing 146 and 159 investigations, respectively.
The alarming statistics shed light on the FAA's press release from last week, in which the agency announced they will be fining nine different passengers—all of whom allegedly violated federal regulations—a combined total of $119,000. The civil penalties come as part of the FAA's "Zero Tolerance" campaign, alongside a PSA video of "children explaining how to behave on a plane and expressing their disgust about increased unruly passenger behavior."
The offenses allegedly committed by the nine individuals involve "interfering with flight attendants who instructed passengers to obey cabin crew instructions," with specific incidents including "assaulting the flight crew and other passengers, drinking alcohol brought aboard the plane and refusing to wear facemasks."
Of the over 3,000 reports of unruly passengers recorded by the agency, approximately 2,475 have stemmed from "passengers refusing to comply with the federal facemask mandate"—a statistic that highlights the highly politicized nature of mask-wearing in response to the COVID-19 pandemic.
Newsweek attempted to contact the FAA for further comment but did not receive a response in time for publication.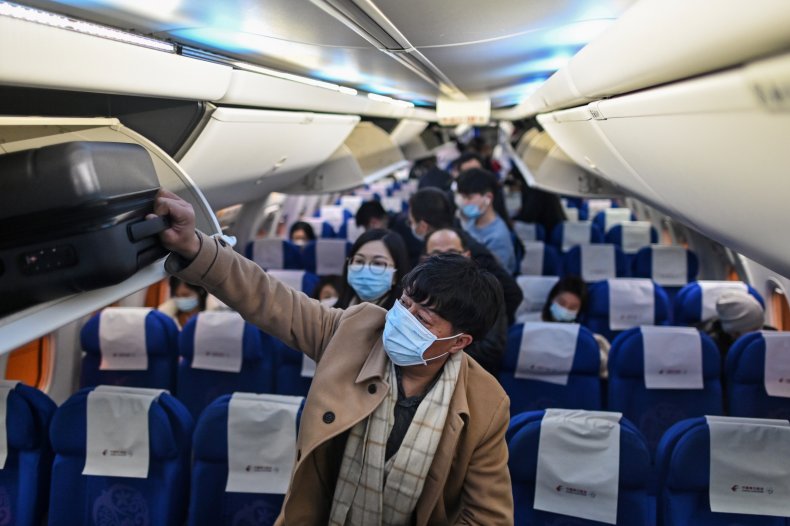 The FAA adopted their Zero Tolerance policy in January, in an effort to curb the striking increase in unruly behavior on flights. "Historically, the agency has addressed unruly-passenger incidents using a variety of methods ranging from warnings and counseling to civil penalties," explained the FAA on their website. "Under the new zero tolerance policy, FAA will not address these cases with warnings or counseling. The agency will pursue legal enforcement action against any passenger who assaults, threatens, intimidates, or interferes with airline crew members."
Instances of these unruly passengers—often documented on smartphones and shared on social media—have sparked larger conversations about in-flight behavior and airline regulations. For example, on an American Airlines flight earlier this week, heading from Texas to North Carolina, a woman was reportedly restrained in her seat using duct tape. The incident, footage of which was shared on TikTok, resulted from the woman allegedly trying to open the plane's door mid-flight.
Just days earlier, a Delta passenger was "forcibly removed" from her flight after refusing to wear a face mask. The woman, who reportedly acted aggressively toward flight crew members and spit at her fellow passengers, was arrested upon landing.