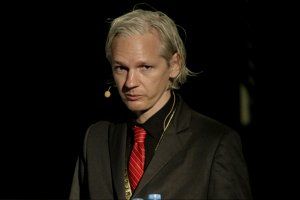 Obama administration officials say they're baffled by a claim in The Guardian that the U.S. government is trying to contact the head of whistle-blower Web site WikiLeaks, hoping to persuade him not to release secret U.S. documents that could threaten national security. Nevertheless, the government does seem concerned about that risk. A senior U.S. official has confirmed to Declassified that the State Department is trying to verify reports that a cache containing 260,000 classified cables, purportedly revealing "abusive" U.S. government activities around the world, was leaked to the Web site.
Word of the alleged leak caused an international uproar when the story first appeared on Wired magazine's Threat Level blog. The report said federal investigators had arrested Bradley Manning, an Army intelligence specialist from Potomac, Md., in connection with the alleged leaking of a huge store of secret State Department documents to WikiLeaks. Manning also allegedly sent WikiLeaks a video of a U.S. helicopter attack that caused numerous civilian deaths in Iraq (released with great fanfare by WikiLeaks earlier this year); a still-unreleased video of a U.S. airstrike in Afghanistan that also killed civilians; and a secret Army document issued earlier this year calling WikiLeaks a security threat. The Wired blog reported that Manning was turned in to U.S. authorities by Adrian Lamo, a former computer hacker with whom he had been communicating online. "Hillary Clinton, and several thousand diplomats around the world are going to have a heart attack when they wake up one morning, and find an entire repository of classified foreign policy is available, in searchable format, to the public," Manning allegedly wrote.
So far WikiLeaks has not published those documents, if it actually received them at all. A senior U.S. official tells Declassified that U.S. Army's Criminal Investigation Division (CID) is leading an investigation into the purported leak. The State Deparment, whose secret cables constitute the substance of the alleged document dump, is "supporting the CID investigation," says the official, requesting anonymity when discussing sensitive information. The first step, the official says, is "trying to determine what was downloaded and if in fact material was moved outside our network." The official says State is also conducting a "potential damage assessment of the impact of the leak, assuming it happened, and how that potentially compromises sources."
Asked whether the State Department has been trying to reach the elusive Julian Assange, WikiLeaks' purported leader and founder, the official says, "All I can tell you is that we are not trying to contact him or them. Our focus is trying to determine what may have passed from the Army specialist to WikiLeaks and what the implications are." CID spokesman Chris Grey confirms that his bureau is the "lead agency" in an investigation of leaks that could "possibly" include classified material. He says that to his knowledge, no charges have been filed in the case. "The State Department is supporting the CID investigation and taking appropriate steps to determine the potential impact of the alleged leak," says chief State Department spokesman P. J. Crowley.
Assange is keeping a low profile, but in a somewhat oddly worded e-mail to his Web site's supporters, he says: "Mr. Manning allegedly also sent us 260,000 classified US Department cables, reporting on the actions of US Embassy's [sic] engaging in abusive actions all over the world. We have denied the allegation, but the US government is acting as if the allegation were true." The e-mail, which was obtained by former New York Times investigative reporter Philip Shenon and described by him on The Daily Beast Web site, also says WikiLeaks is preparing to release video of the deadly U.S. airstrike in Afghanistan. Meanwhile, Declassified's latest information does appear to confirm at the very least that the U.S. government is indeed acting as if a massive cache of leaked documents is still out there somewhere, just waiting to be revealed.