Drug Cartels Blamed for Mass Grave Discovery in Mexico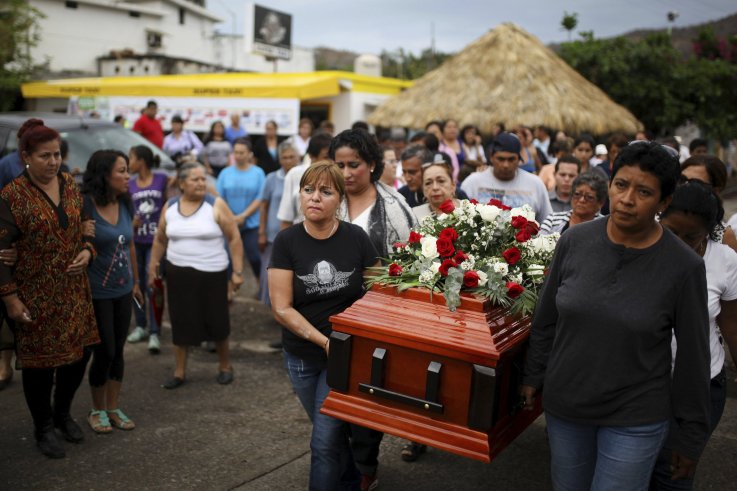 Mexican investigators announced the discovery of more than 250 skulls from unmarked graves hidden along the outskirts of the eastern Gulf state of Veracruz. Authorities anticipate more victims will be uncovered in the months to follow in an area with a reputation for where suspected gang members went to "disappear" people by hiding their murdered bodies.
Prosecutors believe drug cartels are behind a wave of killings amid a surging homicide rate on the nation.
"Veracruz is an enormous grave," State Prosecutor Jorge Winckler said in a statement to local media on March 14. "By the time they're done opening graves in the state it's going to be the biggest grave in Mexico and maybe one of the biggest in the world."
The discovery of the mass grave comes at a time when violence and the murder rate is rising rapidly. Nearly 2,000 murders were recorded in January alone, the highest for any January since the 1990s, according to federal statistics. Statistics are not kept on how many of the murdered are victims of drug violence, but un uptick in cartel activity and violence has led some experts to estimate nearly half could be linked to cartel activities.
Homicide rates reached record numbers in 2011, with 22,852 people killed, prompting an aggressive government effort to crack down on the cartels. The following year saw a drop in murders and it continued to dip until 2015, when the murder rate jumped 35 percent over 2014. The rise continued with a 22 percent increase in 2016 with 20,792 victims.
At the current rate, 2017 is on pace to become the most violent year since then-President Felipe Calderon began Mexico's modern war on drugs nearly a decade ago.
Veracruz in particular has seen some of the worst of the cartel's wrath, dominated by a turf war between the notorious Zetas cartel and the Jalisco New Generation cartel, which is attempting to take over, sparking more violence. On March 1, 11 bodies were found near a tourist area.
"For many years, the drug cartels disappeared people and the authorities were complacent," Winckler told Televisa network, alluding to former governor Javier Duarte, who resigned two months before his term was up and went into hiding in October after charges of money laundering, organized crime, and looting state coffers were brought against him.