First-time Investors Could Be Ultimate Casualties of GameStop Gamble
Individuals who have invested in GameStop shares amid a frenzied bid to prevent short-sellers from profiting in the company's collapse may end up being the ultimate casualties of a price collapse, investment analysts have told Newsweek.
The warnings come as Robinhood, the trading app many individual investors used to buy the company's stock in a bid to inflate its price and thwart the hedge funds in their bid to profit from its demise, came in for renewed scrutiny from regulators and criticism from a number of sides.
Peter Hanks, a DailyFX Strategist, said the GameStop (GME) share price will likely continue its downward trajectory, in response to Robinhood and other apps delisting it yesterday, and warned that first-time investors may be left learning "harsh truths" about investing.
"The next steps for GameStop's share price are hard to predict, but with brokerages limiting, hiding or altogether disallowing their customers from the stock on their platforms, I suspect some air will be let out of the balloon over the coming days," Hanks said.
"GameStop will be an intriguing case study in the years to come and a learning lesson for many. Unfortunately I suspect some harsh truths surrounding investing and risk management will be learned by some of the newest retail traders," he added.
He warned that, as well as sustaining financial losses, traders could be turned off investing for life.
"There may also be a longstanding loss of trust between retail traders and some brokerages that could turn them away from investing altogether," he said.
GameStop's share price dropped by 44 percent from $469.42 to $132 a share in the first hour and a half of trading yesterday, after trading of the stock was suspended by Robinhood and other apps.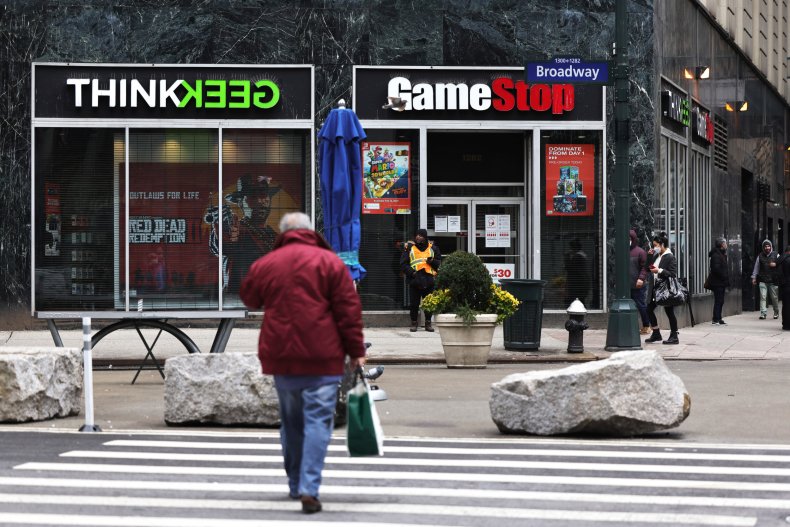 It closed the day at $332.49 after staging a recovery, however dropped again in early trading this morning as markets reopened for the day.
Many market-watchers, and bystanders drawn to the fate of the GME stock price by the David-and-Goliath nature of users of an internet board taking on the established ranks of Wall Street, will wonder whether any rally can sustain.
Ross Gerber, CEO of Gerber Kawasaki Wealth & Investment Management echoed Hanks's concerns that it was individual investors who stood to lose out in any price collapse of GME stock.
After noting that apps such as Robinhood had brought about a welcomed increase in the number of personal investors engaging in the stock market, Gerber outlined the problem with trying to make money from stocks such as GME as being akin to a "gamble."
"Gamblers don't win," he warned. "Investors do. So it's very important the public educate themselves on investing. Gambling on anything can be bad. So that part of this story—greed—is not good."
Gerber was also more explicit than Hanks in predicting a negative future trajectory for the price of GME stock.
"GameStop is a crappy company that's on the way to BK," he said, using an acronym for bankruptcy. "Eventually the market will fix itself and the correct value will be found. This is nothing more than a short squeeze."
However, Matthew Kanterman, a Bloomberg Intelligence analyst, warned against overlooking the inherent value in GameStop as a company, if the share price did drop as speculative investors cashed out and the stock price reconnected with its fundamentals.
"Before this big squeeze, there was a strong argument amongst many investors... that there was unlocked value in GameStop," he said. "We had written, albeit before COVID, that this was a business that, although it's declining, produces a steady stream of cash flows and that there is value in that."
The future of the company, Kanterman added, and trajectory of its share price, will likely rely on the success of the strategy put forward by investor Ryan Cohen to rival Amazon in the e-retail gaming space.
It was this strategy that initially caught the eye of hedge funders, who thought it ill-fated, back in September, triggering the backlash from investors on the r/wallstreetbets subreddit that led to the dramatic price increases in GME stock.
"With Ryan Cohen getting involved, this added another impetus to the thesis that GameStop can continue to carve out a niche in retail and maintain its leadership in physical video game retail," said Kanterman. "Even if this is a shrinking market, while making a more concerted and successful effort on e-commerce."
He added: "We're still waiting to see how the e-commerce strategy takes shape and if it can be successful."
Kanterman was also quick to point out that the usual metrics for predicting the future movement of share prices are not necessarily applicable to the price of GME stock, given the unprecedented forces at play in its price movements to date.
"Obviously we've now reached a point where the market is clearly disconnected from fundamentals, where technicals and flows are affecting the valuation far more than expected future financial performance of the business," he said.
WSB did not respond to Newsweek's request for comment at the time of publication. However, users of the forum remained optimistic, unperturbed by the warnings from leading industry figures of a possible implosion in the stock price.
One posted a screengrab of a tweet from tech entrepreneur Justin Sun, which said he would be buying $1 million of GME stock when markets in Asia opened later.
"Wallstreetbets community know that over 4 billion Asian community & 20 million $TRX community are behind you," the message read, using the shortcode for the TRON cryptocurrency platform of which he is a founder.
Another post showed a message from Ethan Klein, known along with his wife for their YouTube channel h3h3Productions, which read: "I'm buying game stock, I don't care if I lose it all and I will continue to invest in companies being shorter by criminal hedge funds until they are all bankrupt."
It seems that established industry figures, in focussing only on financial loss and gain, could miss the true value of GameStop's shares for this new rash of buyers.