'The Invisible Man' Will Have You Double-Checking That Empty Chair Across The Room
While The Invisible Man was originally a planned part of the imploded "Dark Universe" of movies, begun in 2014's Dracula Untold, the box office collapse of 2017's The Mummy lead Universal to reconsider the shared universe franchise model. The rethink couldn't have paid off more handsomely. Retooled with the help of mid-budget horror label Blumhouse Productions, Invisible Man greatly benefits from its more intimate story. It is as far from a horror-flavored summer action-adventure blockbuster as mainstream Hollywood horror movies are capable of getting.
The Invisible Man begins with Cecilia Kass (Elisabeth Moss, Her Smell) slipping off the repressive hand of her sleeping husband and putting together her escape, pulling a go bag from a loose grate while keeping a close eye on the bedroom security camera feed on her phone. The sepulchral seaside mansion, the crashing waves outside and Cecilia's shaking distress are enough to make mundane shocks—like tripping over a dog bowl—heart-pounding. While making her escape, Cecilia passes through Adrian Griffin's (Oliver Jackson-Cohen, The Haunting of Hill House) basement laboratory, where we see all we need to know about his work, and what he created down there.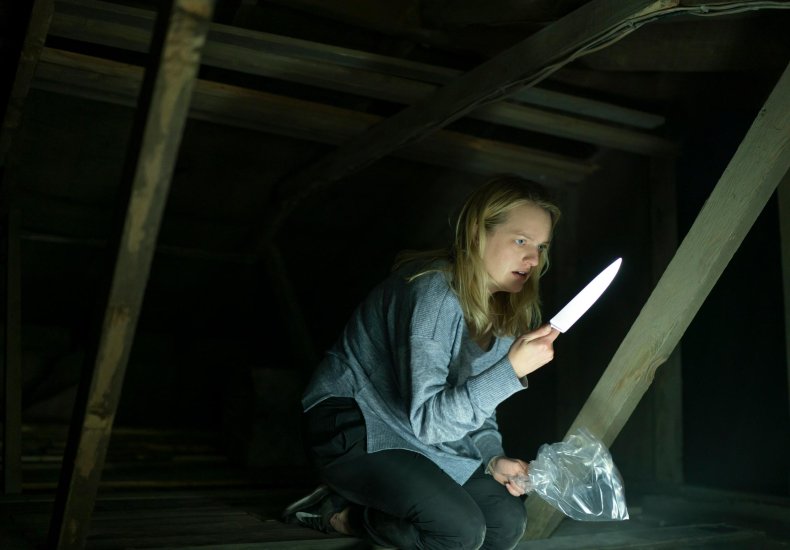 A few weeks later, Cecilia is still traumatized, but safely hidden in the home of James (Aldis Hodge) and his daughter Sydney (Storm Reid) when she learns of Adrian's suicide. He is, of course, not dead, which becomes obvious when a knife falls off the counter, but never clatters on the floor. Adrian is in the house, and he has elaborate torments planned for the woman who refused to submit to his control.
Coming off the action sci-fi indie Upgrade (Our review: "Like putting on one of those unmarketed Netflix Originals and finding a pleasant surprise—something that never actually happens on Netflix"), director Leigh Whannell strips Invisible Man of all but the essentials, just like Griffin's sleek and austere seaside mansion.
Keeping with its unseeable title character, The Invisible Man keeps its story spare, refusing to stop for some scientist to spout about phlebotinum metamaterials (or whatever teched-up update the 2020 version opts for over the 1933 original's monocane chemical cocktail). We are told Adrian is a genius "optics groundbreaker," and that suffices.
The invisibility suit itself is science fiction in fact, but horror in essence, with pentagonal panels inset with whirring camera lenses evoking a fly's compound eye. Rather than human sounds, the invisible man's movements are accompanied by insectoid chittering, like the flitting of cockroach wings. From its minimalist set-up, The Invisible Man escalates steadily, as Adrian dismantles Cecilia's support network and turns to more open acts of violence.
Whannell uses stillness and empty spaces against the audience expertly. But it's Moss who most sells this new, self-consciously serious take on a hammy monster movie premise. As Cecilia, she embodies realistic distress in response to unrealistic circumstances and convinces us of her ability to fight back. Rather than flipping from scream queen to grim-jawed avenger—the typical arc for the tormented women of horror—Moss embodies suffering and defiance together, fighting back through the pain Adrian inflicts.
Whannell's taut script assists by putting her in dangerous situations, then crediting Cecilia with plausibly clever reactions, like spreading a bag of coffee grounds to look for Adrian's footsteps. With its attention to detail, it's often the smallest gestures that become most gratifying, like when Cecilia tosses a blanket over a chair to check for Adrian.
The Invisible Man is about domestic abuse, and mines real-world traumas for horror genre scares, but avoids common pitfalls like exploitation sadism or the thematic generalizing of Cecilia into an avatar for all women—unlike our biggest franchises, which often shortcut the creation of meaningful stories about robust women characters with showy gestures. When the women heroes assemble in Avengers: Endgame it accidentally underlines just how unconnected Marvel's under-developed women are from each other, while the men have been buddying up and butting heads for a decade. But when Invisible Man nods to gaslighting, misogyny and the endless microaggressions within patriarchy, it arises out of Cecilia's specific circumstances, which inform every effective scare and body-tensing sequence.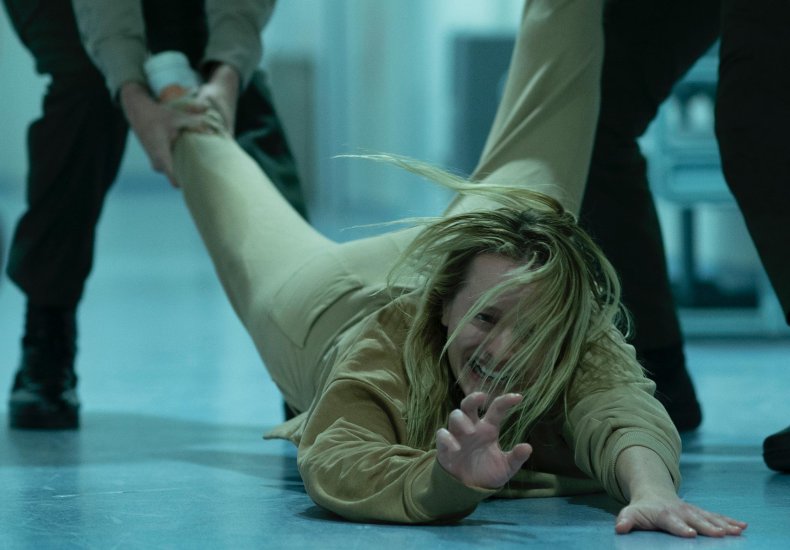 Through its lean story, the specificity of The Invisible Man creates a contrasting universality. While it can be hard to squeeze ourselves into a blown-up blockbuster, keeping the perspective narrowly on Cecilia allows us entry into her feelings, where we are free to find emotional connections to our own circumstances, and the invisible, tormenting forces in our lives.
But most of all, The Invisible Man is a rattling horror-thriller, which doesn't waste a minute or a frame. You'll be checking the corners of your shower and eyeing that empty chair across the room for days after.
The Invisible Man is in theaters Friday.