Invoking Nixon, Pelosi and Schiff Warn Trump that Further Stonewalling is Grounds for Obstruction of Congress
House Speaker Nancy Pelosi (D-Calif.) and House Intelligence Committee Chairman Adam Schiff (D-Calif.), the Democrat now leading the chamber's impeachment inquiry, warned President Donald Trump Wednesday that any attempts to further stonewall their congressional investigations will result in obstruction of Congress—a charge that former President Richard Nixon faced as one of his articles of impeachment.
"Any efforts by [Secretary of State Mike Pompeo], by the president or anyone else to interfere with the Congress' ability to call before it relative witnesses will be considered evidence of obstruction of the lawful functions of Congress," Schiff said. "Of course, that was an article of impeachment against Nixon."
Nixon was charged with three articles of impeachment: obstruction of justice, abuse of power and contempt of Congress. He resigned before he was expected to be impeached by the House.
Pompeo has suggested he will not cooperate with a subpoena for information about Trump's July phone call with Ukrainian President Volodymyr Zelensky, where Trump pressured the foreign leader to investigate a political opponent, former Vice President Joe Biden and his son Hunter, according to a transcript of the call.
The top House Democrats made clear during a roughly 40-minute news conference that while they were methodically moving forward with their impeachment investigations, they were doing so expeditiously and would seek to enforce the administration's compliance when adhering to subpoenas for documents and testimony.
Over the course of the past few months, the White House has refused to comply with nearly all requests and subpoenas, and it has directed current and former officials to do the same.
Pelosi said they "have to be prayerful" and "fair to the president" going forward, but she made it clear her belief that Trump trying to seek foreign help to investigate a political rival was an "assault on the constitution."
It was not yet clear "whether to litigate or how to litigate" and force the Trump administration's compliance with their demands, Schiff said, but emphasized that time is of the essence.
"We are proceeding deliberately but at the same time we feel a real sense of urgency here that this work needs to get done and get done in a responsible period of time," the Intelligence chairman said. "We're not fooling around here though. We don't want this to drag on months and months and months."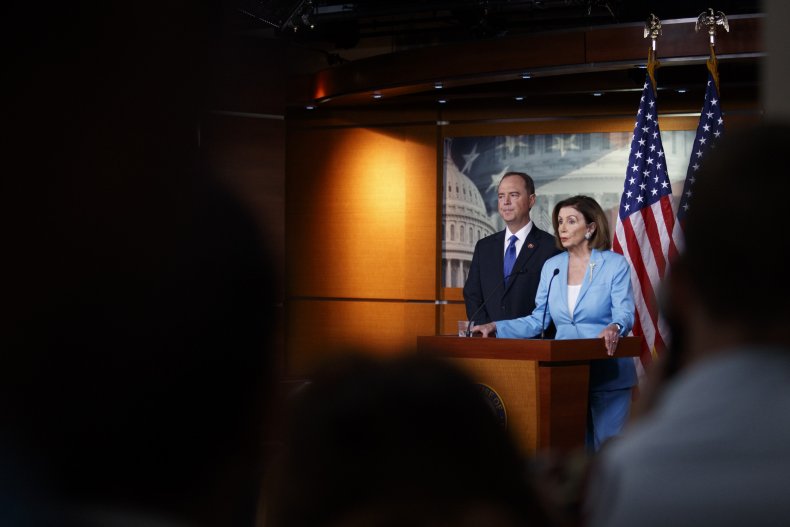 Pompeo was subpoenaed by three House committees last week for documents related to Trump's call with Zelensky. The Democratic-led panels—Intelligence, Oversight and Foreign Affairs—also notified the secretary of state that they planned to have depositions with five current and former State Department officials, private meetings that Schiff said Wednesday had not all been scheduled yet.
The subpoena and depositions were escalations of Democrats' ongoing inquiry. A warning was issued Wednesday morning that, if the White House does not turn over requested information from three weeks ago regarding the Ukraine phone call by Friday, they would issue another subpoena. The White House will almost certainly not comply, allowing Democrats another stonewalling episode they could add to future articles of impeachment involving obstruction of Congress.
Pompeo has signaled he will not cooperate with his subpoena, telling the Democratic-led panels in a letter this week that their requests were "an attempt to intimidate, bully and treat improperly the distinguished professionals of the Department of State, including several career Foreign Service Officers."
"Let me be clear: I will not tolerate such tactics, and I will use all means at my disposal to prevent and expose any attempts to intimidate the dedicated professionals whom I am proud to lead and serve alongside at the Department of State," Pompeo added.
Although politically deflecting when Pompeo was asked in recent days about the whistleblower complaint and Trump's phone call, he conceded to reporters in Rome on Wednesday that was, as reporting suggested, on the call with Trump and Zelensky.
Schiff also said that if Pompeo or others in the administration refuse to cooperate, they would view such refusals to comply as admissions of guilt regarding the anonymous whistleblower's allegations that the president sought a foreign leader's help with interfering in a U.S. election.
"If they are going to prevent witnesses from coming forward to testify on the allegations and the whistleblower complaint, that will create an adverse inference that those allegations are, in fact, correct," Schiff said.
Trump immediately voiced his frustration after the Democrats' press conference Wednesday, deploying his usual tactic of blasting the impeachment inquiry in a series of tweets and accusing House Democrats of frivolously pursuing impeachment.
"The Do Nothing Democrats should be focused on building up our Country, not wasting everyone's time and energy on BULLSHIT, which is what they have been doing ever since I got overwhelmingly elected in 2016, 223-306," he wrote. "Get a better candidate this time, you'll need it!"
On Tuesday, Trump falsely claimed in a tweet that "what is taking place is not an impeachment, it is a COUP."
The president followed up his string of angry social media posts with a roughly 15-minute rant in the Oval Office, while seated beside Finnish President Sauli Niinistö. He repeatedly pivoted to lob personal attacks at Schiff when asked about the whistleblower's safety and credibility.
Schiff, Trump said, was a "lowlife" who "should resign from office in disgrace and, frankly, they should look at him for treason." A crime that is punishable by death, Trump has claimed Schiff should be charged with treason for exaggerating Trump's phone conversation with Zelensky during a congressional hearing last week.
"You know, there's an expression: [Schiff] couldn't carry [Pompeo's] 'blank' strap," Trump continued. "I won't say it, because they'll say it was so terrible to say. But that guy couldn't carry his 'blank' strap. Do you understand that?"