IOC Calls for Worldwide Ban on All Russian, Belarusian Athletes
The International Olympic Committee (IOC) on Monday recommended that all Russian and Belarusian athletes be temporarily barred from competition.
In a statement, the IOC made a recommendation regarding "the dilemma the Olympic Movement is currently facing" due to the Russian invasion of Ukraine. The committee previously told organizations to cancel Russian events.
"In order to protect the integrity of global sports competitions and for the safety of all the participants, the IOC EB recommends that International Sports Federations and sports event organizers not invite or allow the participation of Russian and Belarusian athletes and officials in international competitions," the organization wrote.
In addition to the ban, the IOC showed support for those protesting the invasion.
"The IOC EB welcomes and appreciates the many calls for peace by athletes, sports officials and members of the worldwide Olympic Community," the organization wrote. "The IOC admires and supports, in particular, the calls for peace by Russian athletes."
The IOC also reaffirmed its commitment to maintaining solidarity with Ukraine and the athletes that represent the country. It announced a new fund that helps to finance Ukrainian athletes and their families.
"The IOC EB reaffirms its full solidarity with the Ukrainian Olympic Community. They are in our hearts and thoughts. The IOC EB commits to continue and strengthen its efforts for humanitarian assistance," the IOC wrote.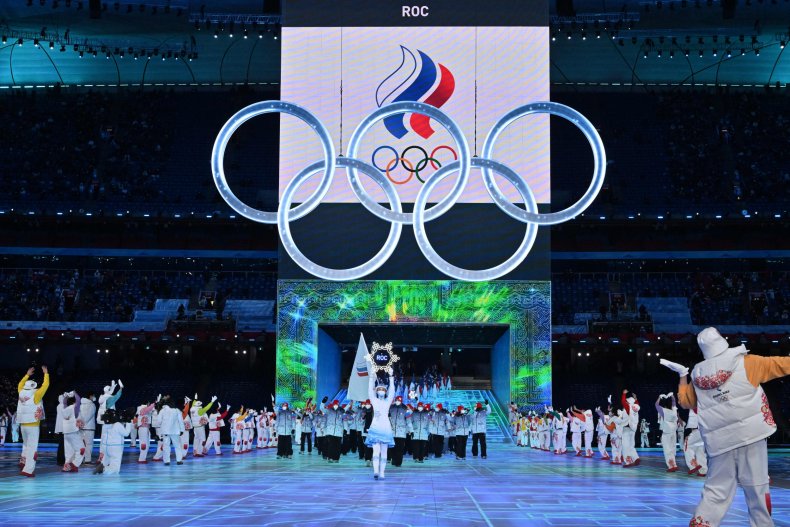 "Therefore, the IOC EB has today established a solidarity fund. In this context, the IOC expresses its gratitude to the National Olympic Committees (NOCs) and International Sports Federations that are already supporting Ukrainian athletes and their families."
Newsweek reported that the IOC has asked global sporting bodies to cancel any event, as well as ban Russian flags from competitions.
The organization explained that the ban as a response to the violation of the Olympic Truce, a measure that bans any conflicts between countries to stop seven days before the Olympics and not resume until seven days afterward. As a result of Russian forces invading Ukraine four days after the conclusion of the Beijing 2022 Winter Olympics, the organization said that Russia violated the Olympic Truce and should face consequences.
"The IOC EB expresses its deep concerns about the safety of the members of the Olympic Community in Ukraine and stands in full solidarity," the organization said. "It notes that the special IOC task force is in contact with the Olympic Community in the country to coordinate humanitarian assistance where possible."
Update 2/28/22, 10:11 a.m. ET: This story has been updated with additional comments from the IOC.