Iota Tracker, Path as Storm Weakens to Tropical Depression, Moves Across El Salvador
Iota has weakened to a tropical depression over El Salvador, but the threat of catastrophic flash flooding and mudslides will continue across portions of Central America, as at least nine people have died across the region.
The storm hit the coast of Nicaragua on Monday as a Category 4 hurricane, flooding villages that had only recently been impacted by Eta. Iota weakened to a tropical storm on Tuesday as wind speeds decreased, though heavy rainfall continued and flooded areas as it moved inland.
Reuters reported that six people had died in Nicaragua, two people had died in Colombia's Providencia island, and one person had died in Panama. Around 100,000 people in Nicaragua and Honduras had been evacuated from their homes, according to Reuters, and nearly all of Providencia's infrastructure has been damaged or destroyed.
Iota is currently around 20 miles northwest of El Papalon, El Salvador, and around 55 miles east of San Salvador, El Salvador, moving west-southwest at 13 miles per hour with maximum sustained winds of 35 miles per hour, according to the National Hurricane Center's 4 a.m. advisory.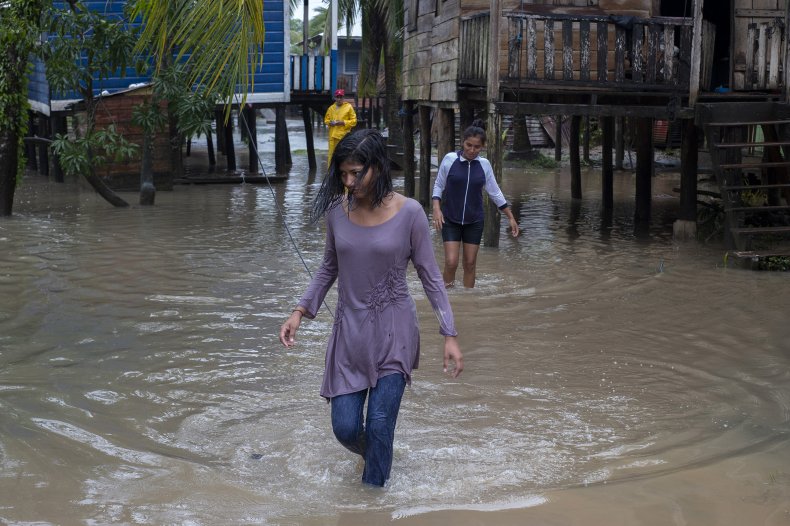 The tropical depression will move across El Salvador before dissipating later today. Iota is expected to weaken and degenerate into a post-tropical remnant low-pressure system later on Wednesday.
The tropical storm warning for the northern coast of Honduras has been discontinued and there are no coastal watches or warnings in effect.
However, forecasters say life-threatening flash flooding and river flooding is expected through Thursday across portions of Central America, due to heavy rainfall from Iota, while flooding and mudslides across portions of Honduras, Nicaragua, and Guatemala could be exacerbated.
Portions of Honduras, Guatemala, and southern Belize could see four to eight inches of rain with isolated maximum totals of 12 inches, while portions of Nicaragua and El Salvador could see two to four inches with isolated maximum totals of six inches.
Swells will affect much of the Central American and Yucatan Peninsula coasts over the next day or so, which are likely to cause life-threatening surf and rip current conditions.
Iota has hit the region only weeks after Hurricane Eta made landfall on November 3 as a category 4 storm which caused landslides and flooding in Nicaragua, Honduras, and Guatemala, affecting millions of people. Thousands were displaced while dozens remain missing.