GOP Senator's Fundraising Highlights Supreme Court Opening Less Than an Hour After Ginsburg's Death
A GOP senator is facing criticism for sending a fundraising campaign email discussing the Supreme Court vacancy less than an hour after Justice Ruth Bader Ginsburg's death was announced.
Iowa Senator Joni Ernst's campaign sent a fundraising email detailing the key SCOTUS opening at 7:08 p.m. with the subject line, "BREAKING: the future of the Supreme Court is on the line," according to a Twitter post by Radio Iowa News Director O. Kay Henderson. Justice Ginsburg's passing was announced roughly around 6:30 p.m., Iowa time.
"The next Supreme Court nominee will shape major decisions for decades to come," the campaign email read. "The decision will come down to YOU. If Conservatives fail to protect the White House and the Senate majority in November, we will place the power of the next nominee into the Left's hands.
"Emergency 5X matching has been activated for ALL donations made to protect the White House, keep the Senate majority in Republican hands and ensure the next Supreme Court nominee is selected by President Trump!"
Ernst will be up for re-election in November. She is currently facing a close election race against Democrat Theresa Greenfield.
Ernst's congressional office issued a statement shortly after Bader Ginsburg's death was announced, calling the Supreme Court Justice a "force to be reckoned with."
"She was an iconic figure who blazed a trail for working moms, graciously balancing her professional life and family," the statement reads. "Justice Ginsburg held deep, philosophical views of the world while maintaining genuine friendships that were blind to politics."
She added: "My heart is with Justice Ginsburg's children — Jane and James — their entire family, and the loved ones she leaves behind. May she rest in peace."
After news of the email broke on social media, users heavily criticized Ernst for the promptness of her fundraising efforts. The GOP senator's campaign released the following statement, according to the Des Moines Register:
"This email never should have gone out," Ernst said. "Though I never saw it, it was sent out under my name and I take responsibility for it. Tonight, my prayers are with the family of Justice Ginsburg."
Ginsburg was a feminist and cultural icon and a staple in the legal fight for women's rights in the 1970s. Serving 27 years on the Supreme Court, Ginsburg died of complications from metastatic cancer of the pancreas at the age of 87.
With just 45 days until the November presidential election, the Supreme Court opening and the potential for a nomination has been a widely debated topic since Ginsburg's passing was announced. In 2016, Senate Republicans blocked then-President Barack Obama's nomination of Merrick Garland. Republican Senate Majority Leader Mitch McConnell argued that, since it was an election year, the voters should get to elect the president and that president will select the next justice.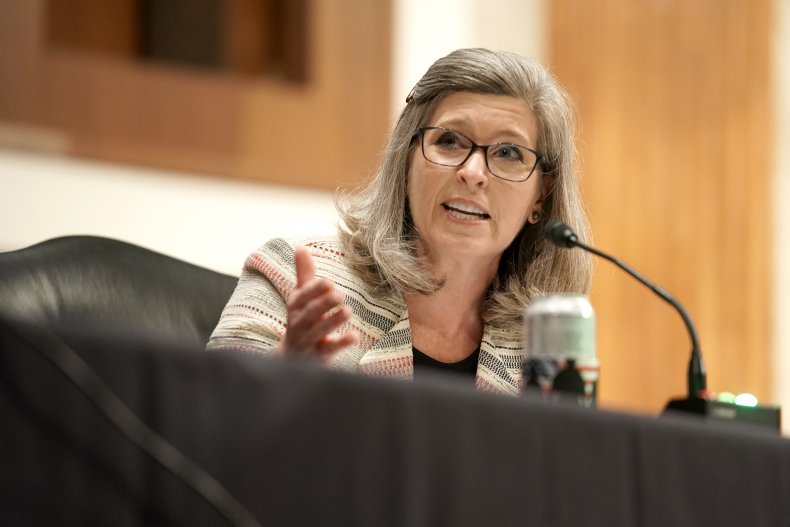 Newsweek reached out to Ernst's campaign, but did not receive a response in time for publication.