Iowa, America's New COVID Hotspot, Eclipses 70K Cases As GOP Gov Ignores WH Mask Recommendation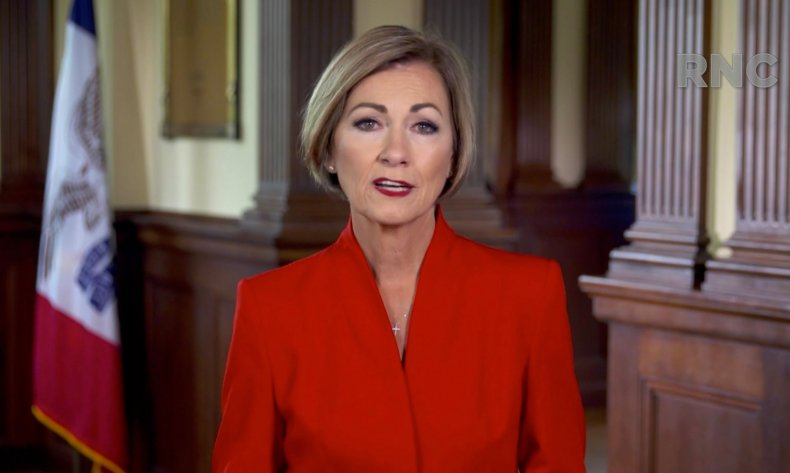 Iowa recently eclipsed 70,000 cases of COVID-19, after failing to implement repeated recommendations from the White House coronavirus task force to adopt face mask mandates.
The state added over 500 new cases to reach the milestone on Monday, with more than 400 additional cases added on Tuesday. Iowa reports 70,859 total cases, including 1,178 related deaths. Of those tested for the virus, an average of 10.6 percent tested positive over the past two weeks.
Iowa Governor Kim Reynolds has refused to implement the mask mandate recommendation from the task force, instead "recommending" that they be worn. The task force also suggested that bars in 61 of the state's counties be closed and restaurant capacity restricted, with Reynolds closing bars in just six counties in late August.
Reynolds was one of five Republican governors to claim early victory over the virus in an opinion article touting their focus on the economy as a "model for success," published by The Washington Post on May 5. At the time, there were around 10,000 COVID-19 cases reported in Iowa. Cases began to steadily increase with the arrival of summer.
The White House task force began recommending that mask mandates be issued in about half of the Iowa's counties in mid-July. In the most recent report on August 30, the task force said that "mask mandates across the state must be in place to decrease transmission," noting that the state was in the "red zone" and had the country's highest number of new cases per population, almost three times the national average.
Although the governor continued to refuse to follow the advice of the public health experts, several cities in Iowa issued their own mask mandates. Reynolds insisted that they were really issuing recommendations since her health declaration stops local governments from imposing stricter measures.
"It's not enforceable and you just see it over and over and over when somebody says that they are issuing a mass mandate almost within the same paragraph, they say that they're not going to enforce it," Reynolds said during a press briefing on August 27. "So, let's just focus on the goal, let's focus on being responsible."
"If it's stronger than what is in the health declaration then it's not enforceable," she added. "So, they know that. They are doing the same thing. They are strongly recommending that people wear face coverings."
When asked during a September 2 briefing why masks were still not mandated despite the task force's continued recommendations, Reynolds said appropriate measures were being taken but that the state would continue to monitor the surge over the following week and could then "take additional steps" if necessary.
Newsweek reached out to Reynolds' office for comment.