Iowa Will Wound Joe Biden If He Finishes Behind Another Moderate—Then New Hampshire and Nevada Become Dangerous
The delay in announcing the Iowa caucus result is frustrating the Democratic 2020 candidates. However, it is also providing fertile ground for campaigns to boost their candidates through speculation and to rally supporters with tantalizing—and potentially misleading—internal data.
The Bernie Sanders campaign released its own internal reporting numbers from what it said were 40 percent of precincts in Iowa as candidates await the official result—delayed because of technical difficulties in results reporting by local officials—on Tuesday.
The Sanders numbers, which are not official or complete and should be taken with a pinch of salt, show the independent senator from Vermont in the lead, which echoes recent polling in Iowa showing him ahead of former vice president Joe Biden.
But the data also puts former mayor of South Bend, Indiana, Pete Buttigieg in strong second place ahead of Democratic Massachusetts Senator Elizabeth Warren in third. Biden is fourth. Not far behind him in fifth place is Democratic Minnesota Senator Amy Klobuchar.
Separately, Buttigieg, a moderate competing in the same space as Biden, gave a speech to his supporters that claimed victory in the state. Buttigieg said Iowa had "shocked the nation" because "by all indications, we are going on to New Hampshire victorious."
Klobuchar, another moderate and another threat to the Biden campaign, also claims to have outperformed expectations in Iowa.
"Big night in Iowa," Klobuchar's campaign manager Justin Buoen tweeted. "With the numbers we've seen internally and publicly, we're running even or ahead of Vice President Biden. Wheels up to New Hampshire!"
There will be red faces on Tuesday in some of the campaigns if these proclamations of success are premature. However, if the internal numbers are more right than wrong, and are borne out by the real results, then it is a bad night for the Biden campaign.
Were Biden to finish in third or fourth place, it would be a serious blow, but not necessarily a fatal one. Spencer Kimball, director of Emerson College Polling, told Newsweek that such a result "opens the door for another candidate to fill the moderate lane."
"The question will be who beats him, I think it becomes a problem if he falls behind Buttigieg or Klobuchar because that would give one of those candidates a boost in New Hampshire, which is a strong state for Sanders and Warren," Kimball said.
"Then Nevada becomes pivotal as [Mike] Bloomberg appears to be on the side waiting to see if Biden falters. We are already seeing his numbers tighten in South Carolina and traditionally that is a key vote to the nomination."
This chart was provided by Statista.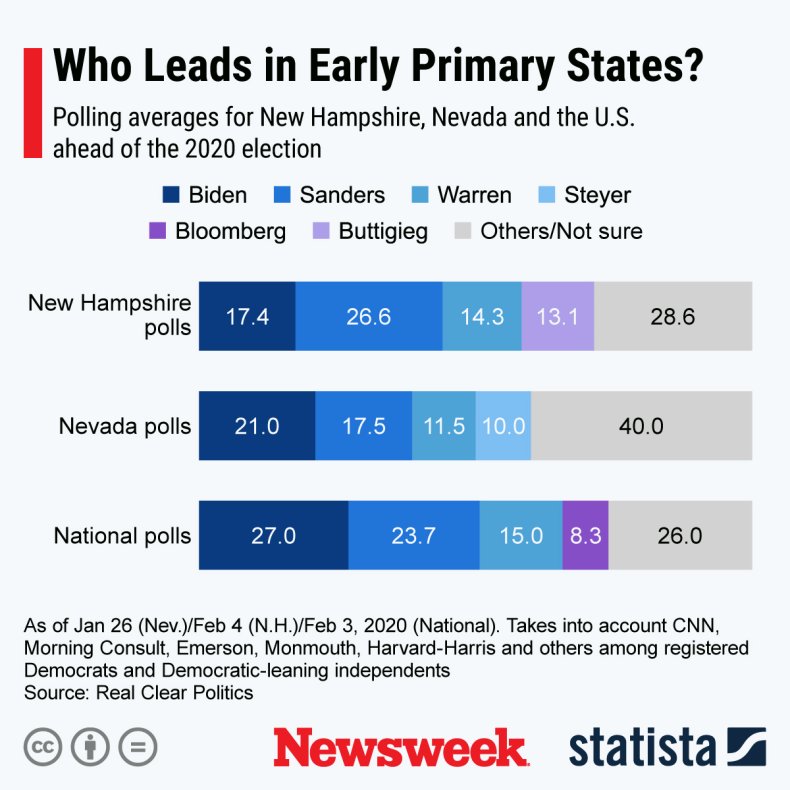 Bloomberg, the media and financial data billionaire, is another moderate to rival Biden. He was not on the ballot in Iowa because he entered the 2020 race late. But if Biden puts in a weak showing, Bloomberg's campaign is hoping to move in and take over as the leading centrist.
Losing Iowa in itself does not necessarily doom Biden's campaign, Professor Daron Shaw of UT Austin's Department of Government told Newsweek. "In my opinion, the real danger is that he loses each of the first three contests," Shaw said.
"Then a win in South Carolina would come after significant proportions of some Super Tuesday states have already voted (60 percent in Texas; 55 percent in California). So the firewall might not be enough, and moderates might have already turned to Bloomberg (for example).
"South Carolina might be enough, but losing Iowa, New Hampshire, and Nevada seems to me a real problem. It creates a very weak image as Super Tuesday voters tune in. I think Nevada becomes extremely important should Biden lose Iowa and New Hampshire."
According to the RealClearPolitics polling average, Sanders is leading in New Hampshire at 26.6 percent and Biden is second at 17.4 percent. In third is Warren at 14.3 percent, fourth Buttigieg at 13.1 percent, and Klobuchar is fifth at 7.1 percent.
In Nevada, Biden is averaging on top at 21 percent, Sanders in second at 17.5 percent, Warren in third at 11.5 percent. The hedge fund billionaire Tom Steyer is at 10 percent, Buttigieg is at 7 percent, the tech entrepreneur Andrew Yang is at 4 percent, and Klobuchar is at 3 percent.
Douglas Rivers, YouGov's chief data scientist, told Newsweek that if Biden finishes third behind Sanders and Warren he is still the top moderate in the race and the other two will be fighting each other for left swing voters.
"People also forget that John McCain in 2008 finished fourth in the Republican caucus in Iowa. So, while on the Democratic side winning the Iowa caucuses has been a pretty good predictor, it hasn't done all that well on the Republican side," Rivers said.
The last time a Democratic candidate lost Iowa but still went on to win the nomination was Bill Clinton in 1992, who came fourth. Clinton's failure in Iowa did not stop him from winning the race and then the presidency at the election later that year.
Rivers said the front-loading of the 2020 race, with delegate-heavy California and Texas both coming on Super Tuesday, will "sort out the field" relatively early.
"The top three, probably top four candidates [in Iowa] are going to New Hampshire no matter what. And the difference in New Hampshire is Biden has been there for quite a while," Rivers told Newsweek.
"He would be a wounded candidate if he were fourth or something like that. But if he is the top vote-getting moderate candidate it's not going to kill him if he's in third place," Rivers said, adding that he thought it was likelier Biden will come first or second.
"Indications are, from our indications, it's going to be close," Biden told his supporters in Des Moines, Iowa, last night.
"We're going to walk out of here with our share of delegates. We don't know exactly what it is yet, but we feel good about where we are. And, look, so it's on to New Hampshire."