Iowa Called for Donald Trump, Giving Him 6 Electoral College Votes
Iowans reaffirmed their support for President Donald Trump, handing him another victory in the Hawkeye State, albeit by what appears to be a slimmer margin than in 2016.
Trump secured six electoral college votes with his victory in Iowa, putting him on a path to victory by the time the state was called. Four years ago, Trump bested then-Democratic candidate Hillary Clinton by nearly 10 percentage points, but going into Tuesday, he had less than a two-point lead on average over Biden.
The president's appeal to Iowans appeared to lessen over the past four years—or Biden's increased from Clinton—and his win in the state was by only about seven points by the time Fox News and the Associated Press made the call. CNN later also called Iowa for Trump. However, Biden's lead could change as the final votes are tabulated.
Preya Samsundar, the GOP's Iowa/Minnesota communications director, told Newsweek that they "never left" Iowa after the 2016 election and continued to build relationships with voters there.
Being able to tap into the enthusiasm "early on" gave the campaign momentum and an advantage that Biden's team didn't have. On Sunday, the president visited Iowa as part of his five-state tour, and on the eve of Election Day, the president's eldest daughter, Ivanka Trump, ventured to Des Moines to campaign for her father.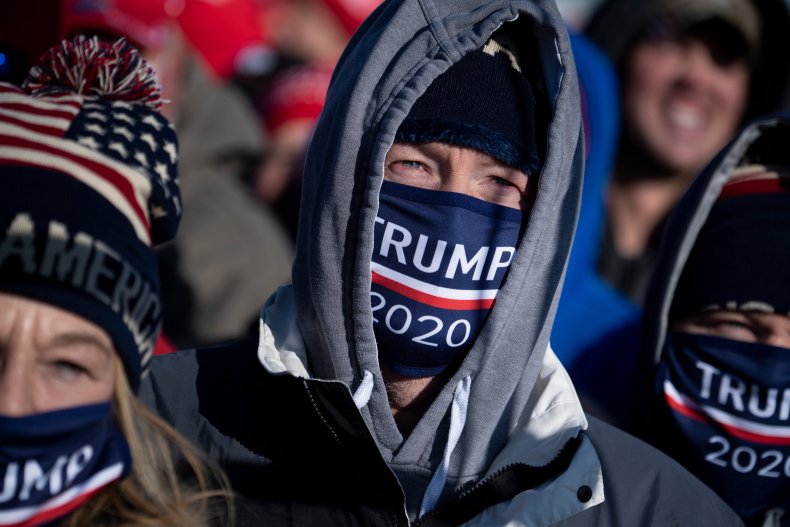 On Friday, Biden, who finished fourth in the Iowa caucuses in February, visited Des Moines and criticized the president for his response to the pandemic and his trade policy with China in an appeal to Iowa's agricultural industry.
By the time Election Day rolled around, more than 95 percent of Iowans who requested a mail-in ballot had returned them, according to the U.S. Elections Project. Democrats had a slight edge over Republicans with mail-in voting, having returned a half-percent more of the ballots that were requested.
A total of 955,975 ballots were returned via mail by Tuesday, the U.S. Elections Project reported. For a mail-in ballot to count in Iowa's election, it must be postmarked by Monday at noon and received in the county auditor's office no later than Monday at noon after the election.
While Democrats had the lead with mail-in ballots cast, registered Republicans outnumber registered Democrats in the state. For at least 20 years, Iowa had more "no party" voters than Democrats or Republicans, but in June, that changed.
In May, there were 703,931 "no party" voters in Iowa, according to a report from the secretary of state, making it a larger contingency of voters than either party had. However, the June report showed that "no party" voters decreased by 64,098 and Democrats and Republicans both saw increases that bumped "no party" down to the third-largest spot.
"They're the ones that will swing one way one election and swing another way another election. They'll also split their ticket," Tim Hagle, a political science professor at the University of Iowa, told Newsweek about "no party" voters. "Since the caucuses when the Dems had a big surge of people that switched to Dem to participate, Republicans have gained back ground."
At the time, Democrats outnumbered Republicans by about 10,000 registered voters, but by the time the numbers from October came out, Republicans had about 20,000 more voters.
Given that Trump took Iowa by about 100,000 more votes than Biden, it seems the Republicans' push to increase the party's registered voters paid off in the form of six electoral college votes.