Iowa Caucuses Go High-Tech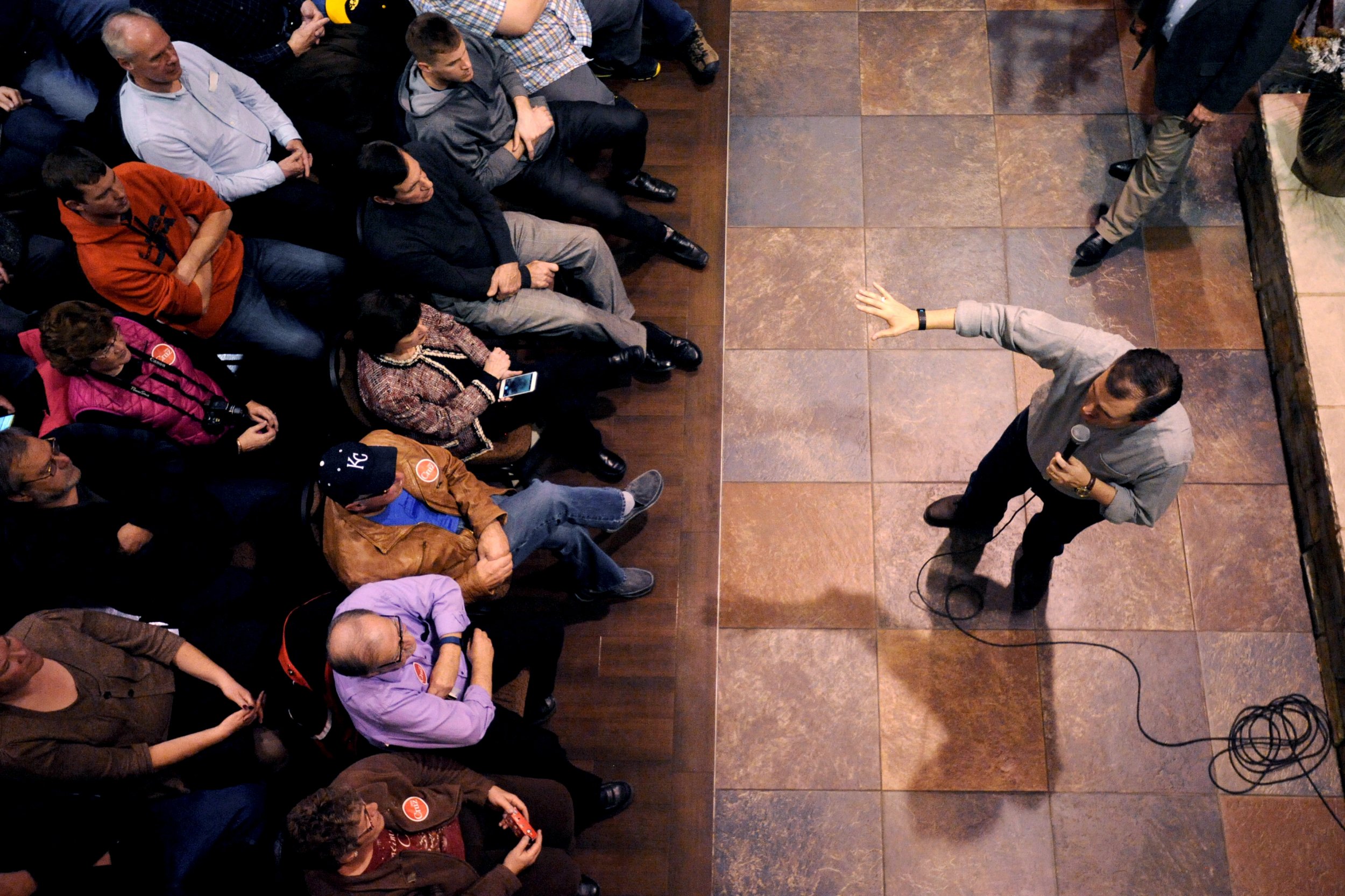 Updated | One of the most anachronistic processes in modern politics is getting a high-tech makeover in 2016. Well, at least parts of it are.
The February 1 Iowa caucuses will still involve voting on scraps of paper on the Republican side and, for Democrats, something resembling a game of musical chairs. But now both parties will use a Microsoft smartphone or tablet app to report the results from each precinct caucus back to the state party on election night. In addition, the Democrats will host a tele-caucus for Iowa residents who are out of the country, allowing them to vote via a conference call system. That should help the state address criticism that has dogged the caucuses in the past, including the high barriers to participation (the caucuses are at set times and can last hours) and problems with accuracy. But it won't necessarily save the parties from nail-biter results like we saw four years ago.
In 2012, the Iowa Republican party initially announced former Massachusetts Governor and eventual nominee Mitt Romney the winner of the caucuses, but days later reversed course after a final count showed former Pennsylvania Senator Rick Santorum won by just 34 votes. "Like any election, we're going to validate and ultimately, in two days after the paper forms come back, then we'll have that validation number," Republican Party of Iowa Chairman Jeff Kaufmann told reporters on a conference call Thursday. "If we have a paper thin margin...I'm not going to announce the results that night."
In the past, both parties in Iowa have reported individual precinct results via phone, with an automated dial-in system to punch in the vote counts. The Microsoft platform is replacing that process with separate apps for Republicans and Democrats to input their results digitally and another app for each party's headquarters to receive those figures and validate the results. The parties can also program their apps to catch potential anomalies or reporting errors. Once the precinct figures are approved by the state party, they'll be posted online in real time for the public to follow. Kaufman says the state GOP has already held more than 200 training sessions with precinct chairs to go over the new system.
Microsoft isn't charging the parties or the state for the technology. "We're providing this to the parties because we think it's an important process the U.S. election process and our democracy," Stan Freck, the company's senior director of Campaign Technology Services, told reporters.
Democrats are also touting their new tele-caucus option as a way to make their caucus more inclusive. Iowans living abroad, including members of the military and students, can register for the caucus online, and once their party registration is confirmed, will receive a pin code that will allow them to call in and join the discussion. Instead of physically lining up behind one candidate like the Democratic caucus-goers at home, voters on the tele-caucus will punch in a number to indicate their support for a certain candidate.
"The caucuses represent democracy at its finest in action, so that's why it's a priority for the Democratic party to make sure that the courageous men and women who serve our country in uniform have the opportunity to participate," Democratic Party Vice Chair Danny Homan told reporters when the party announced the system late last year.
The caucuses are a fiercely guarded tradition among Iowans, who cherish their first-in-the-nation election status and pride their state on its political engagement. Caucusing certainly takes a lot more commitment than simply showing up to vote (Microsoft has a good explainer video here). On election night, voters go to designated precinct locations to show their support for their chosen candidate, listen to speeches from precinct leaders for each campaign and ultimately vote. For Republicans, it's more like a normal secret ballot, but Democrats have to stand in a designated location to mark their vote.
The caucuses privileged position on the calendar has brought Iowa outsized influence in the presidential contest every four years, making the state a platform for candidates to launch their campaigns, even though a victory gives them few delegates and says little about their national viability. Santorum is a prime example—even though he won the GOP caucus, he didn't get the initial boost from the media coverage thanks to the results mix-up and his campaign never really mustered a real challenge to Romney. And ultimately, a third Republican, former Texas Representative Ron Paul, won the most Iowa delegates because they were technically uncommitted coming out of the caucuses (the party has since changed the rules to bind delegates to the caucus results). In the end, it didn't help him.
The Republican caucuses are poised to be even more hotly contested in 2016 with candidates like Texas Senator Ted Cruz, billionaire businessman Donald Trump and Florida Senator Marco Rubio all operating well-funded ground games in Iowa. The Democratic race between former Secretary of State Hillary Clinton, the front-runner, and Vermont Senator Bernie Sanders is also creeping closer. The parties and political observers may have an easier time tracking the caucus result thanks to Microsoft's technology, but that doesn't mean we'll know the Iowa winners on February 1.
This story has been updated to reflect state Republicans' change in party rules binding delegates to the caucus results.