Iowa Democrats Release Statement in Apparent Conflict With Perez Call to Recanvass
In seeking to clarify the devolving situation in Iowa, the state's Democratic Party released a statement on Thursday which appeared to contradict an earlier edict issued by the Democratic National Committee's chairman, Tom Perez.
Perez had called on the Iowa Democrats to conduct a recanvass of caucus worksheets and reporting forms to ensure calculations were performed correctly on caucus night, which was Monday.
"Enough is enough," Perez wrote on Twitter. "In light of the problems that have emerged in the implementation of the delegate selection plan and in order to assure public confidence in the results, I am calling on the Iowa Democratic Party to immediately begin a recanvass."
The Iowa Democratic Party (IDP) released a public statement in response. In a section confusingly labeled as "on background," the state party wrote that it must only respond within 48 hours to a "valid, written" request which has been issued by a "candidate."
This statement further confounded the fallout from Iowa's botched caucus night, suggesting that Perez's request may not be sufficient for the party to act.
Multiple news outlets reported over the past several days on apparent inconsistencies in the calculations scribbled on caucus worksheets, which are used to tabulate how many "state delegate equivalents" each candidate is awarded and, ultimately, the apportionment of national delegates.
"Should any presidential campaign in compliance with the Iowa Delegate Selection Plan request a recanvass, the IDP is prepared," the press release said. "In such a circumstance, the IDP will audit the paper records of report, as provided by the precinct chairs and signed by representatives of presidential campaigns. This is the official record of the Iowa Democratic caucus, and we are committed to ensuring the results accurately reflect the preference of Iowans."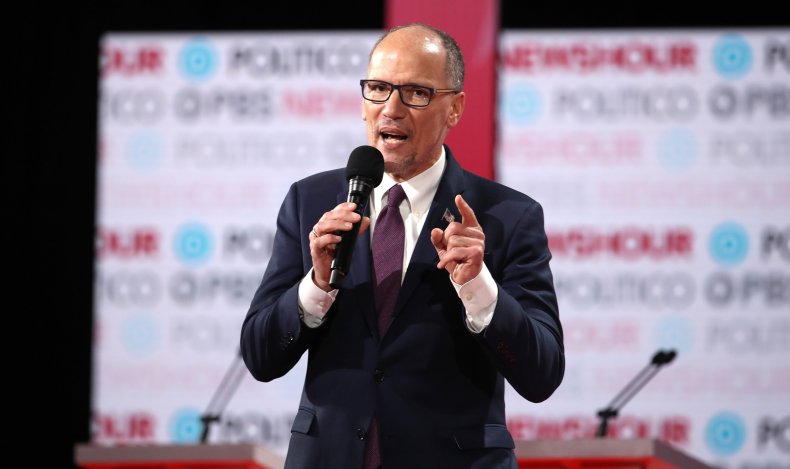 A recanvass is performed by reviewing the caucus-night worksheets and other forms to make sure they are consistent with information reported by individual precincts to party headquarters. As the party's presidential candidates decamped for New Hampshire, results from Monday night started to become clearer, with Senator Bernie Sanders snagging the most individual votes.
Pete Buttigieg, the former mayor of South Bend, Indiana, appears to have beaten Sanders by a fraction of a percent in the number of state delegate equivalents awarded.
The system first began to break down late Monday when it appears individual precincts were unable to transmit the results of their caucuses to the party through a mobile phone app designed especially for the event.
Afterward, a backup phone line was clogged with traffic, leaving some on hold for hours at a time just to report results. Many hung up rather than wait for the party to answer its phone lines.
The Nevada Democratic Party announced after the debacle that it would not use the same app as its Iowa counterpart when conducting caucuses on February 22.