Iowa Democrats Sue After 64,000 Absentee Ballot Requests Are Ruled Invalid by Judges
With two months until the presidential election, Iowa's absentee ballot system is in disarray as requests in three counties are in validation limbo.
Questions over what constitutes a proper absentee ballot request form came after county auditors in Linn, Johnson and Woodbury counties mailed out more than 200,000 absentee ballot requests pre-filled with voter identification information. The ballots violated Iowa Secretary of State Paul Pate's order that forms be left blank, rendering them invalid, according to two district judges.
An estimated 64,000 ballot requests were already returned by the time the judges ruled. On Monday, the Iowa Democratic Party and two other Democratic organizations filed a lawsuit to validate the rejected requests and any others that are signed and returned in the future.
At the heart of the lawsuit is the question as to whether voters have to fill in their own information and if Pate overstepped his bounds in requiring them to be blank. Democrats argue in court filings that using pre-addressed ballot request forms was "entirely lawful" under Iowa's Constitution and that Iowa's code allows for pre-addressed forms as long as it's only delivered to the voter's address. Pate's order also exceeds his authority because under Iowa's Constitution, county auditors' are granted home rule authority to "conduct elections," the lawsuit states.
"At a time when we need to protect the right to vote, we will not tolerate policies that make it hard for anyone to cast their ballots," Democratic Senatorial Campaign Committee Chair Senator Catherine Cortez Masto said in a statement. "This directive should be overturned, the signed absentee ballot requests should be validated and Iowans should have confidence that public officials will fight to ensure eligible voters can make their voices heard in this election."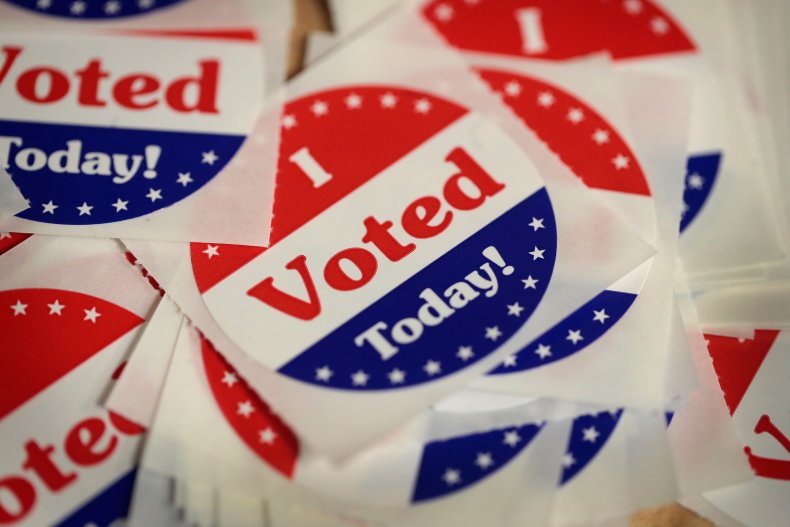 This isn't the first time officials will mail every Iowan voter an absentee ballot request form and Pate said June's primary broke a record for voter turnout with more than 400,000 people voting absentee. After consulting with all 99 county auditors, Pate said in a statement that the best way to have a clean, fair and secure general election during the pandemic was to repeat the process and mail a request form to every registered voter in Iowa. On July 17, Iowa's legislative council approved Pate's petition to send absentee ballots to every voter, and that the forms be blank.
Voters still have the option to cast their ballot in person and Pate, a Republican, said the process of expanding mail-in voting "worked great" during the primary. President Donald Trump's been critical of widespread mail-in voting, as he says it would lead to voter fraud. Drawing a distinction from absentee ballots, a voting method Trump uses to cast his ballot, the president told reporters on August 17 that people need to request ballots, not just receive them in the mail.
In a letter to Pate, the Republican National Committee called the dissemination of pre-addressed forms a "reckless act" that undermines voter privacy and "jeopardizes the integrity of the electoral process." Joined by the Trump campaign, the RNC filed a pair of lawsuits to invalidate the ballots sent out by "rogue" county auditors.
Judge Ian Thornhill ordered Linn County Auditor Joel Miller to notify voters that their pre-filled ballot requests cannot be processed. At the time of Thursday's ruling, about 50,000 of the 140,000 requests that were mailed out had already been returned. A hearing for the lawsuit against Johnson County's auditor is scheduled for September 8. On Friday, Judge Patrick Tott sided with the Trump campaign and ordered Woodbury County to invalidate at least 14,000 absentee ballot requests.
Pate said in a statement the Democrats' lawsuit would prevent his office from mailing absentee ballot request forms statewide and remove flexibility for Iowa's military and healthcare facility voters.
"The Democratic Party has already confused and potentially disenfranchised voters, and wasted taxpayer dollars in Linn, Woodbury and Johnson counties," Pate said. "Now they're doubling down by suing over a lawful emergency directive that the bipartisan Iowa Legislative Council unanimously voted for, including their party's House and Senate leaders."
Mandy McClure, communications director for the Iowa Democratic Party, told Newsweek the lawsuit would have "no impact whatsoever" on Pate's ability to mail blank absentee ballot request forms. McClure said comments to the contrary were "free from a 'factual basis' and the lawsuit directly targeted Pate's "illegal interference with each county auditor's rightful authority" to prefill request forms.
The lawsuit asks a judge to deem pre-addressed absentee ballot requests valid and declare Pate's directive unconstitutional. Iowa Democratic Party Chair Mark Smith said he looks forward to the "court upholding the local authority of county auditors and rightfully validating the absentee ballot requests."
This article has been updated with comment from Mandy McLure, communications director for the Iowa Democratic Party.