Iowa Man Arrested After Using Fake 'McLovin' ID Card to Access Bar While Underage
A 20-year-old Iowa man was taken into custody last week after allegedly using a fake Hawaii ID with the name "McLovin" to access a city bar.
Daniel Alfredo Burleson, 20, of Des Moines, was arrested by Johnson County Sheriff's Office deputies on the morning of October 11, the Iowa City Press-Citizen first reported.
When he was approached, he was holding an alcoholic drink in his hand and admitted to consuming a "mixed drink containing vodka," an arrest report says.
A seemingly intoxicated Burleson was confronted inside the Airliner Bar at about 1: 30 a.m., deputies said.
The Hawaii driver's license ID card bore the single name "McLovin," a sobriquet made famous by the 2007 comedy movie Superbad. In the film a character named Fogell, played by actor Christopher Mintz-Plasse, uses it to purchase alcohol from a liquor store. The cards can easily be bought on Amazon for roughly $10.
That website was exactly where Burleson claimed to have bought the fake ID, according to a copy of the police arrest report obtained and published online by The Smoking Gun.
Deputies said that Burleson initially refused to provide deputies with his real ID, but eventually handed it over after being removed from the bar. It showed he was under 21, which is the legal drinking age in the state. A query for "McLovin" ran by dispatch returned zero results.
"When officers asked for the def's [Burleson's] fake ID the def stated the did not have one. [He] then pulled out his wallet and began shuffling through the wallet and police would see the def's fake Hawaii ID with the name "McLovin DOB 06/03/1961," the report stated.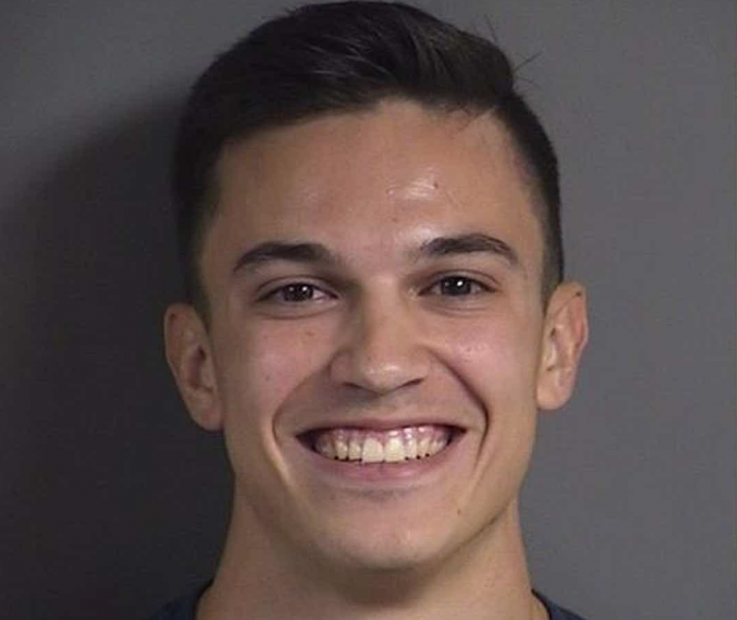 Daniel Alfredo Burleson, 20, of Des Moines, was arrested in the morning of October 11 after police said he had a fake "McLovin" ID card.
Johnson County Sheriff's Office
Deputies noted the suspect "smelled strongly of ingested alcohol and had slurred speech and bloodshot watery eyes."
He was wearing a wristband for the Airliner Bar at the time. Burleson was charged with possession of a fictitious license and taken to the Johnson County jail.
He declined to take a breathalyzer test after being detained, officers noted.
According to Fox10, the suspect faced additional charges including possessing alcohol while underage, public intoxication and being under the legal age in a bar.
KCRG reported Burleson is set to appear in court for the possession of a fictitious license charged on October 21.
The ID possession charge is considered a serious misdemeanor. "Possible consequences include up to a year in jail, a fine of up to $1,875, driver's license suspension, and higher insurance premiums," according to the Iowa City law firm Keegan, Tindal & Mason.
"Mere possession of this type of ID is a crime," the website for Thompson Law Office, a second Iowa City legal outfit, explains. "More than likely the actual penalty would be no jail time and a fine of around $315, plus costs and court costs making the total closer to $500."