Iowa Dumps Public Health Department Spokeswoman During Coronavirus Pandemic
Iowa Department of Public Health spokesperson Polly Carver-Kimm resigned on Wednesday, allegedly because she attempted to reveal too much information about the coronavirus pandemic to media outlets.
Some state governments have been accused of withholding coronavirus statistics during the pandemic. Florida Governor Ron DeSantis came under criticism in May for allegations that Florida's health department was keeping the accurate number of coronavirus cases and fatalities hidden from the public. On Wednesday, hospitals began sending coronavirus information to the Department of Health and Human Services (HHS) instead of the Centers for Disease Control and Prevention (CDC).
Carver-Kimm said she was "embarrassed and saddened by the way the media has been treated during COVID," in a Wednesday email to the Des Moines Register. "You are not receiving timely answers and you are getting scripted talking points when you do get an answer."
Allegedly, Carver-Kimm received the ultimatum of leaving her position voluntarily or being fired by Iowa Department of Public Health (IDPH) Director Gerd Clabaugh. Clabaugh said the IDPH was undergoing restructuring which precipitated the removal of Carver-Kimm's position. Carver-Kimm chose to resign in order to use money from paid time off to pay for health insurance.
In June, Clabaugh announced his retirement from the IDPH, expected to be effective in July.
Carver-Kimm said most media requests about the virus had been redirected to the office of Iowa Governor Kim Reynolds. "I have never had something like that happen before in any of the administrations I've worked for," Carver-Kimm said.
Newsweek reached out to Governor Reynolds' office for comment.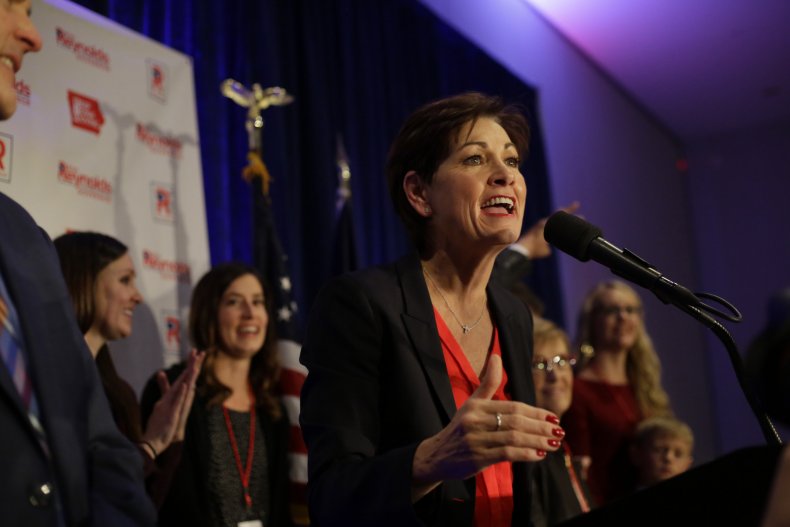 In July, Reynolds announced that Iowa was changing the way it counted individuals who had recovered from COVID-19. Instead of contacting people who had tested positive for the virus after 10 days, Reynolds said public health officials would count people as recovered after 28 days, unless they received information that the person was still receiving hospital care or had died.
"The time frame equates to two incubation periods," Reynolds said at a press briefing, "and it aligns with our process to remove long-term care facilities from outbreak status and processes that are followed similar to what other states are doing."
Florida has not been updating its public coronavirus statistics website with recovery numbers because, according to the Florida Department of Public Health (FDPH), there is no national standard for recovering from the virus.
"The very definition of recovery is a contested issue," read an April statement from the FDPH. "Are you recovered once you're no longer symptomatic, or contagious, once you get a negative test result, or no longer require hospitalization?"
"Until some of these issues and definitions are worked out at the local, state and national level, we will not be providing a metric for recovery," the statement added.
In June, Florida Department of Health scientist Rebekah Jones was fired from her position releasing information on the state's public COVID-19 portal. Jones claimed she was fired for refusing to post inaccurate data. Jones also alleged to be the creator of the state's coronavirus dashboard. Florida Governor DeSantis said Jones was let go for insubordination.
"She is not the chief architect of our Web portal," DeSantis said in May. "That is another false statement, and what she was doing was she was putting data on the portal, which the scientists didn't believe was valid data."
In response, Jones launched her own coronavirus statistics website which offers information that may differ from the data that appears on Florida's official COVID-19 dashboard.
Hospitals and labs across the country started sending vital coronavirus information to the HHS Wednesday in an attempt to streamline data collection processes.
"As information is received on a complete, and daily basis, HHS and the Administration can turn to moving away from a manual entry process and toward an automated on to ultimately reduce the burden on data collection," read an FAQ sheet on the HHS website.
Vice President Mike Pence said in a statement that the decision has "nothing to do with the CDC or any other agency." However, some scientists have criticized the change in reporting.
In a Tuesday statement, President of the Infectious Diseases Society of America Dr. Thomas M. File, Jr. said the decision would "undermine our nation's public health experts."
"At this critical time when many states are experiencing surges, reliable comprehensive data are essential to inform the distribution of supplies and treatment," File added.