Iowa GOP Congressman Steve King Won't Apologize for Retweeting British Neo-Nazi
Republican Iowa congressman Steve King has refused to apologize for retweeting a British neo-Nazi.
King, who represents Iowa's 4th district, was challenged in an appearance on CNN Tuesday over why he hadn't deleted the June 12 retweet of an anti-immigration message by Mark Collett. Collett is a former chairman of the youth wing of the far-right British National Party and associate of former KKK Grand Wizard David Duke.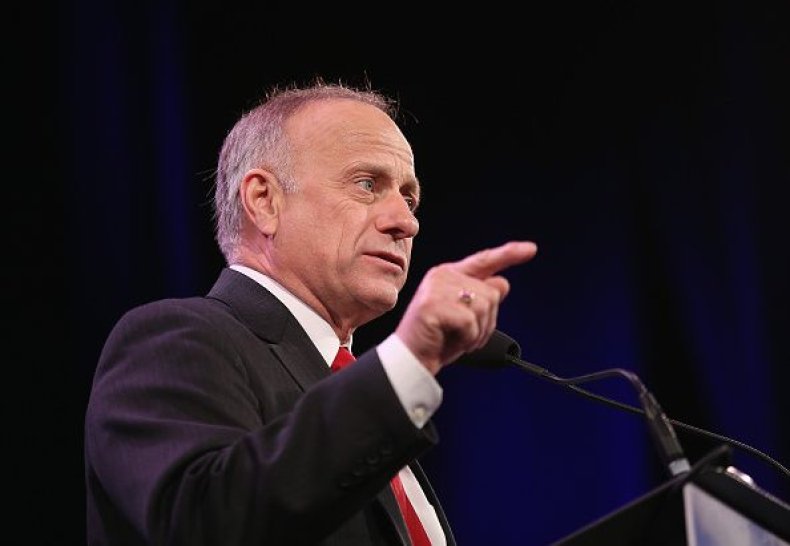 The congressman, who has served eight terms, told CNN's Chris Cuomo he was not aware of Collett's identity and would not delete the message, saying "because then it'd be like I'm admitting that I did something."
"I'm not sorry," he added. "I'm human." He went on to claim he believed that he was sharing a screenshot of a Breitbart article.
"I think it's really unjust for anyone to assign the beliefs of someone else because there's a message there among all of that. I mean it's the message, not the messenger," said King.
The message King retweeted read "65% of Italians under the age of 35 now oppose mass immigration. Europe is waking up." King captioned his retweet, "Europe is waking up…Will America…in time?"
Collett is a longstanding member of the U.K's neo-Nazi subculture. He has expressed admiration for Adolf Hitler and described Aids as a "friendly disease because blacks, drug users and gays have it."
After refusing for weeks to address any criticism, on Tuesday King expressed sympathy for the content of Collett's message and said he was not aware of his identity before sharing the message.
"It's unjust to simply put a politically correct bridle on someone and say, 'you've got to do a background check on everybody that ever tweets something out before you can ever agree with a single sentence that they might put out,'" he said. "And by the way, I didn't even know it was his message."
He went on to expand on his hardline anti-immigration views, and said he believes he believes people who come to the U.S. need to embrace "Americanism" as the U.S. is a "Judeo-Christian country."
"I want to see the American civilization strengthened," he said. "That means we are a Judeo-Christian country, and we could not have succeeded without our Founding Fathers [knowing] that."
He is not the first prominent conservative in the U.S. to share a tweet by Collett, a prominent disseminator of white nationalist propaganda on Twitter. Last year Fox News host Laura Ingraham refused to apologize after sharing a tweet by him.
House speaker Paul Ryan condemned King for sharing the message in a statement.
"The Speaker has said many times that Nazis have no place in our politics," the statement from his office said, "and clearly members should not engage with anyone promoting hate."
King has a long history of hardline anti-Muslim and anti-immigrant rhetoric. In an interview with Breitbart Radio King said he opposed Muslim immigrants working in his district's meat packing plants because they want pork eaters to go to hell.