Iowa Governor Kim Reynolds' campaign raised nearly $3.8 million in 2021 for a total of almost $4.8 million in cash on hand, according to a state fundraising report released Wednesday. That amount is a record for an Iowa statewide campaign, according to the GOP leader's campaign.
The report filed with the Iowa Ethics and Campaign Disclosure Board showed that the nearly $3.8 million is 13 times more than the amount raised by the front-runner for the Democratic nomination, Deidre DeJear.
Around 80 percent of all contributions to Reynolds' campaign were contributions of $50 or under, and the Kim Reynolds for Iowa Committee reported she received donations from all of the state's 99 counties.
"In 2022, we will continue to fight to protect the health, safety and freedom of Iowans," Reynolds said in a statement announcing the fundraising news. "This year, we will enact a bold agenda that grows our state, cuts taxes, and promotes choice and transparency in education."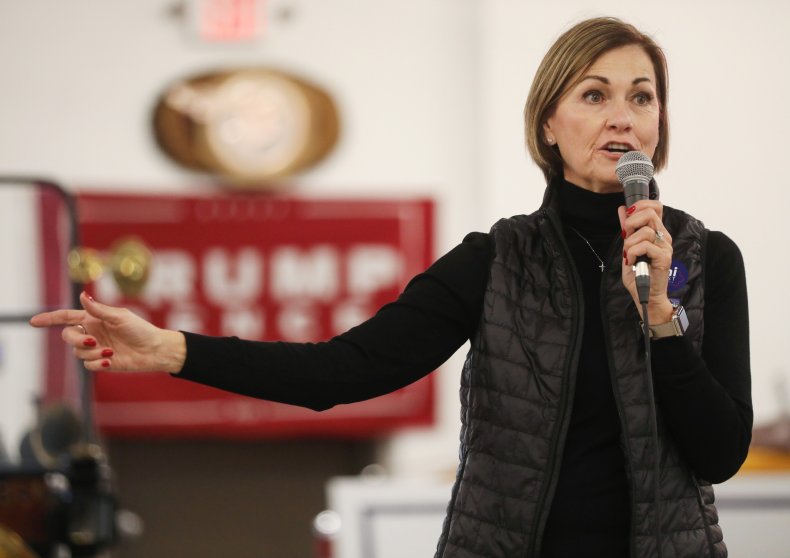 DeJear raised almost $280,000 in 2021, but her campaign also spent nearly $271,000 during that time, according to state records. Her campaign's financial disclosure showed she had $8,547.28 in cash on hand.
The previous fundraising record in Iowa was set by then-Governor Terry Branstad, who reported $4.69 million cash on hand in 2014. Reynolds served as lieutenant governor under Branstad until she assumed the governorship in 2017 after Branstad resigned to become U.S. ambassador to China.
In 2018, Reynolds defeated Democrat Fred Hubbell in a close gubernatorial race to become Iowa's state's first elected female governor.
Reynolds has not officially announced that she is running for reelection. DeJear, a Des Moines businesswoman, ran for Iowa's secretary of state in 2018 on the Democratic ticket but lost to Republican Paul Pate.
Reynolds also made news last week with a new tax plan for Iowa. During her Condition of the State address on January 11, she proposed a plan to move to a 4 percent flat income tax over four years. That rate would be the fifth lowest among all states in the U.S. that charge income tax. Reynolds' office said projections show the rate would save taxpayers more than $1.58 billion by tax year 2026.
Some critics charge her tax plan would lower taxes on the rich while raising it on the poor. University of Iowa Professor David Cooper told Cedar Rapids TV station KGAN that Iowans who are low income and currently have a tax rate under 4 percent would face a tax increase.
"If you are a higher-income person in Iowa, you are going to see your taxes go down," he told KGAN. "If you are a lower-income person in Iowa, you quite likely could see your taxes go up."
Newsweek contacted Reynolds' campaign for further comment but did not hear back in time for publication.