Iowa House Says Abortion Is Not a Fundamental Right in Constitutional Amendment
Iowa House lawmakers have passed a constitutional amendment that says women in the state do not have the fundamental right to abortion or the public funding for it.
The approval passed with a 55-44 vote in the Republican-controlled chamber on Wednesday night after more than two hours of debate, according to a House of Representatives Voting Report.
The vote follows a similar proposal made by Republicans last year that argued there is no right to an abortion in the Iowa constitution. The amendment will now go to a Senate subcommittee, which is expected to take it up next week, before a statewide vote would determine if it becomes law.
"To defend and protect unborn children, we the people of the state of Iowa declare that this Constitution does not recognize, grant or secure a right to abortion or require the public funding of abortion," the proposed constitutional amendment under House Joint Resolution 5 reads.
Republican Representatives Jane Bloomingdale, Lee Hein and David Maxwell joined every Democrat in voting against the measure.
The measure is likely to pass the Iowa Senate later this year where Republicans hold a 32-18 majority.
However, if the Senate does approve the vote the legislature would still need to approve the language of the amendment again in 2023 or 2024 before it would be up for a vote in the 2024 election.
In order for the Iowa Constitution to be amended, the bill must be passed through the legislature twice and be approved by Iowa voters in an election.
The constitutional amendment aims to nullify a 2018 Iowa Supreme Court decision that found there is a fundamental right to abortion in the Iowa Constitution.
House Judiciary Committee Chairman Steve Holt, R-Denison, said in his opening comment the amendment is necessary to correct "judicial overreach" by the Iowa Supreme Court, which found a right to an abortion in the state Constitution.
"This amendment is needed to respond to the judicial overreach of the Iowa Supreme Court. The Legislature makes laws, the court interprets laws," said Rep. Steven Holt, R-Denison, the measure's sponsor, as quoted by The Des Moines Register newspaper.
Democrats argue that without state constitutional protections for abortion, Republicans would be emboldened to try to ban the procedure after years of attempting to enact more state-wide restrictions.
"Right now the general assembly knows that a total ban on abortion would violate our state Constitution, so they don't do it. But if HJR 5 is ratified, all bets are off," Representative Mary Wolfe, D-Clinton, said.
Representative Beth Wessel-Kroeschell (D-Ames) agreed. "Rep. Holt, in each of his objections to these amendments, is saying that this will remain legal under federal law. But we all know that Roe v. Wade is on rocky territory right now. We all know that," she said said.
Planned Parenthood Advocates of Iowa said they would fight the amendment, calling the proposal the "most serious threat to reproductive freedom" in Iowa in recent history.
"For the first time in our state's history, this constitutional amendment would take away Iowans' rights instead of protecting them," Jamie Burch Elliott, Director of Public Policy for Planned Parenthood Advocates of Iowa, told Newsweek.
Elliott described the amendment as "nothing more than an attempt to ban abortion", arguing politicians "should not interfere in the personal health care decisions of their constituents."
"These conversations belong between a person, their health care provider, family and faith. Not politicians" she said.
Mark Stringer, ACLU of Iowa Executive Director, called the legislation "the most serious threat to reproductive freedom in Iowa in recent history", arguing that politicians are "are laying the groundwork to completely ban abortion in Iowa, in all cases."
"We've seen them try to block access to abortion in Iowa year after year, whether it's to deny access to medication abortion through telemedicine, to require medically unnecessary trips to clinics and impose minimum waiting period laws, to try to create a six-week ban, or to take advantage of the COVID-19 crisis to limit abortion access," Stringer said. "Each of these attempts has been struck down by the courts, so now they're trying to do an end-run by targeting the very constitutional rights themselves."
Women in the United States have the right under the Constitution to end a pregnancy since the Supreme Court handed down its 1973 decisions in Roe v. Wade and Doe v. Bolton.
However, states have their own separate regulations surrounding abortion law, and regulate and limit whether, when and under what circumstances a woman may obtain an abortion.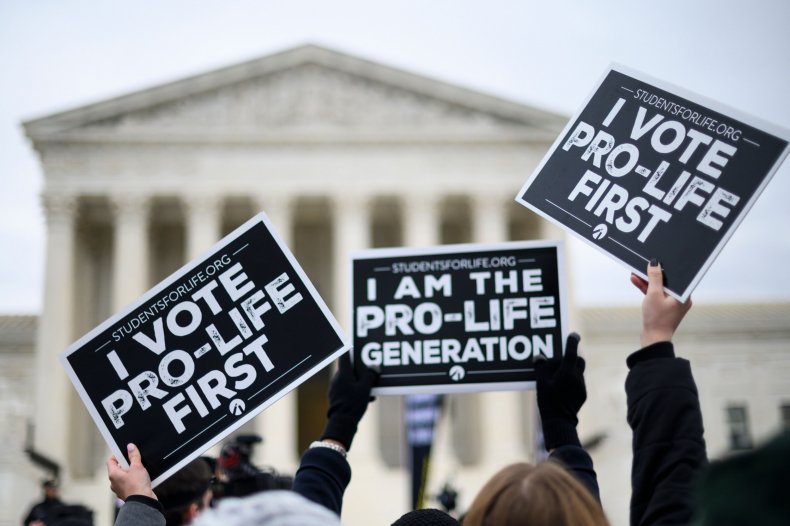 In 2018, Iowa Republican Governor Kim Reynolds signed the country's most restrictive abortion bill into law, prohibiting the procedure once a fetal heartbeat is detected, often at six weeks. "This is bigger than just a law. This is about life," Reynolds said at the time.
This attempt was later struck down by the Iowa Supreme Court.
Reynolds, again, made attempts to amend state abortion regulations in June of 2020 when she signed a bill into law that requires women to wait 24 hours before getting the procedure in the state.
"I am proud to stand up for the sanctity of every human life," Reynolds said in a statement to the Associated Press at the time. "I applaud the Iowa lawmakers who had the courage to stand strong and take action to protect the unborn child."
Current legislation in Iowa states that all abortions must be performed by a licensed physician and abortions are prohibited after 20 weeks, except in cases of life or health endagerrment. State funding is limited and only available when abortion is needed in cases of life endangerment, rape and incest.
Most abortions in the state are performed during the first 13 weeks of a pregnancy, according to the Iowa Department of Public Health.
Abortion opponents have recently pushed for tougher regulations, particularly in conservative states. More states are expected to challenge the protections of Roe v. Wade by limiting abortion at earlier stages of pregnancy.
According to the Guttmacher Institute, a leading research group that backs legal abortion, 43 states prohibit abortions generally, except when "necessary to protect the woman's life or health, after a specified point in pregnancy." Additionally, 21 states prohibit "partial-birth" abortions.
More than a third of states have successfully implemented what are termed "20-week abortion bans."
As of September 1, 2019, 29 states were considered hostile toward abortion­­ rights, 14 states were considered supportive and seven states were somewhere in between, according to the institute.
Newsweek has contacted Iowa Governor Kim Reynolds and the American Civil Liberties Union (ACLU) of Iowa for comment.