Iowa HS Teacher Under Fire for 'Pretend You Are a Black Slave' Assignment
An Iowa City teacher has been placed on administrative leave after assigning students a writing task that reads, "Pretend you are a Black slave."
Ninth grade students in the Iowa City Community School District's Online Learning Program were assigned this writing task on Monday as part of their coursework. The assignment included the following directions: "Pretend you are a Black slave and you just found out that President Lincoln just freed you with the 13th amendment... Think about what would happen today if just the state of Iowa, Illinois, Wisconsin and Minnesota would free 1 million slaves! Would there be jobs? Where would you go? etc."
"Think very, very carefully about what your life would be like as a slave in 1865," the directions read. "You can't read or write and you have never been off the plantation you work on. What would you do when you hear the news you are free? What factors would play into the decision you make?"
Dibny Gamez, the parent of a student at Liberty High School participating in the district's Online Learning Program, told Newsweek that she was completely taken aback when she saw the assignment.
"My daughter came running in the room in tears and said, 'Mommy, I don't want to do this, I can't do this assignment,'" Gamez said. "I snatched up the laptop and the first thing I see is, 'Pretend to be a Black slave.' I thought it was ridiculous."
She added: "Can you really tell a white kid to pretend to be a slave? Did they go through the racism that is brought on to you by the color of your skin? You can't!"
Gamez said that previous incidents with the teacher, including the way that she spoke about Black History during class, was already an issue for her and her daughter. According to Gamez, her daughter said that the other kids in the class would laugh when the teacher explained Black History or the assignment about Black slaves. Before the assignment was released, Gamez said that she instructed her daughter to email the teacher to discuss her concerns about the way she was approaching Black History topics. Gamez said that she never received a response.
Once the controversial assignment was sent out to students, she told her daughter to email the teacher again, this time to notify her that she will not be completing the work.
"If you don't feel comfortable, you don't have to do it," she recalls telling her 14-year-old.
Her daughter, who is of Honduran and African descent, was just one of three Black students in the class. According to Gamez, it wasn't until the other two parents got involved that the teacher chose to delete the assignment. She said that she sought out to speak with the teacher multiple times, but neither a response nor an apology came.
"If she would have been woman enough to say, 'I made a mistake. I'm sorry if your child took it like that, if you took it like that, I apologize. I'm gonna try to do better.' That could have ended right there," said Gamez.
After multiple attempts to communicate with the teacher and a brief phone conversation with the principal of Liberty High School, Gamez took to social media.
"She [my daughter] didn't want me posting on Facebook because she's like, 'Mom, now this teacher is really going to give me an F,'" she said. "And some teachers do that. Because they think that nobody's gonna speak. They think that somebody's just gonna keep quiet and they're gonna laugh about it."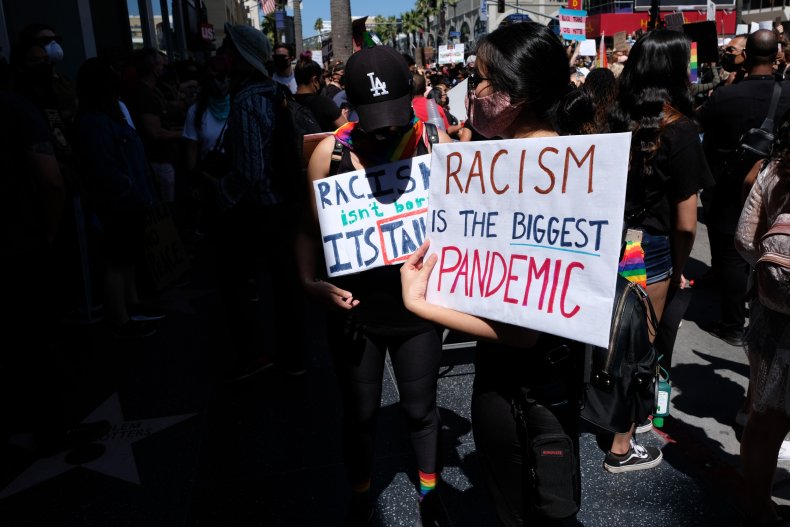 At the core of the incident, Gamez said she felt that her kids were experiencing the same racist and prejudiced system that she, her friends, and her daughter's father went through and still go through every day. The assignment, she stressed, only highlighted the injustice, the discomfort, that she and her kids have gone through as People of Color.
"As a mom, you try to protect them so your child's not going to go through any of that. You want to protect them from the world, but sometimes you just can't," she said. "And we're so busy and wrapped up in our grown-up life, that we let little things like that slide. It shouldn't be like that."
Justin Colbert, the principal at Liberty High School, told Newsweek in an email that the teacher "was not a Liberty High teacher, nor was it a Liberty High class where this assignment was assigned." He explained that the Online Learning Program is "a stand-alone online school" within the district.
The assignment has been removed and the teacher is currently placed on administrative leave.
"The District believes this assignment was inappropriate. The District does not support and will not tolerate this type of instruction," said Kristin Pederson, a spokesperson for Iowa City Community School District. "The situation is being reviewed using the District's internal HR processes. As this is now an internal personnel matter, the District has no additional information to share at this point."
Newsweek reached out to the teacher for comment but did not receive a response.