Iowa Man Accused of Coughing on Police Officer in Attempt to Give Him COVID
A man from Waukee, Iowa, allegedly tried to give a police officer the coronavirus by coughing in the officer's face. CBS News affiliate KCCI Des Moines reported that Mark Bishop, a 61-year-old man, coughed several times at an officer while his house was being searched. He was arrested on Tuesday on a Dallas County warrant for assault while displaying a dangerous weapon, as per The Perry News, and could be charged with attempt to inflict serious injury.
Waukee Police Department Officer Dace Richardson claimed that Bishop looked his direction and coughed "several times" in his face. "Last week, Mark advised myself and Dallas County Jail that he had COVID-19," Richardson said according to court records, via The Perry News. "COVID-19 has killed many people in this country, and we do not understand how it reacts to different individuals."
He added that Bishop "knowingly tried to spread the virus" and put Richardson in fear for his health.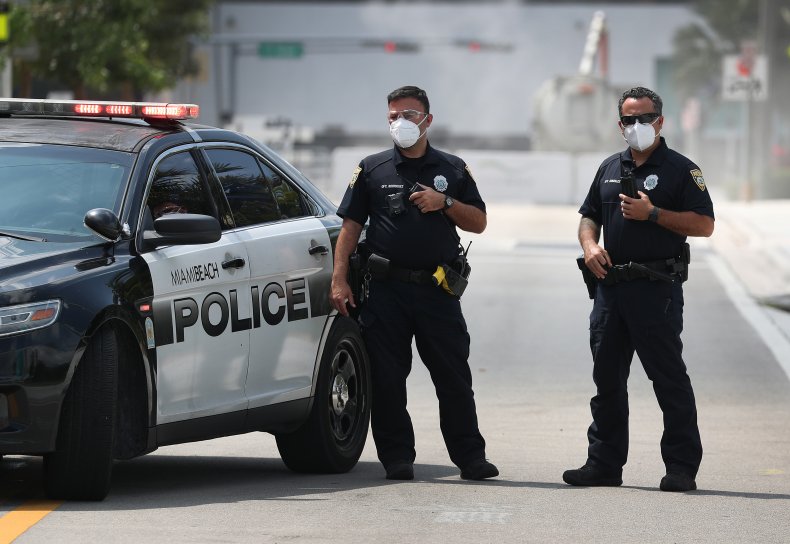 The arrest warrant for Bishop was issued earlier this month after an incident in which a neighbor claimed he answered the door holding "a black .380 Ruger handgun in his hands" and reportedly "pointed it in her direction." Bishop has denied this allegation, despite others claiming to see the interaction.
Bishop is currently being held without bond at the Dallas County Jail. He is slated to appear at the Dallas County District Court at a later date.
Bishop was previously convicted by Dallas County District Court of an incident that occurred over the summer. The Perry News wrote that he "removed a firearm from his gun safe in his residence," but the round ultimately discharged and went through the wall into the "adjoining residence." Bishop was charged $327.05 in restitution from this incident.
According to the Centers for Disease Control and Prevention, the coronavirus is most commonly spread "between people who are in close contact with one another (within about six feet, or two arm lengths)." COVID-19 spreads through "respiratory droplets or small particles, such as those in aerosols, produced when an infected person coughs, sneezes, sings, talks or breathes."
In the incident between Bishop and Richardson, it is likely that the disease could have been transmitted from Bishop to the police officer.
In order to prevent the spread, people are strongly encouraged to wear protective masks, wash their hands frequently, maintain social distance, and stay home if you're sick or feeling sick.