Iowa Man Faces New Charges Over Shooting Black Teen At Trump Rally
An Iowa man faces fresh charges which could see him languish behind bars for decades over the shooting of a 15-year-old Black teenager at Trump rally.
Michael McKinney, 25, was charged last month with attempted murder after he fired his gun into a car carrying four Black teen girls outisde a Trump rally in Des Moines on December 6.
Officers arrested McKinney later that evening after finding he "intentionally fired a handgun at a vehicle driving through the parking lot of the Lucas State Office Building which resulted in the victim suffering her injuries", a news release from the Iowa Department of Public Safety reads.
The initial report indicated the shooting was traffic-related and did not mention the Trump car rally, or whether the incident was a racially-motivated attack.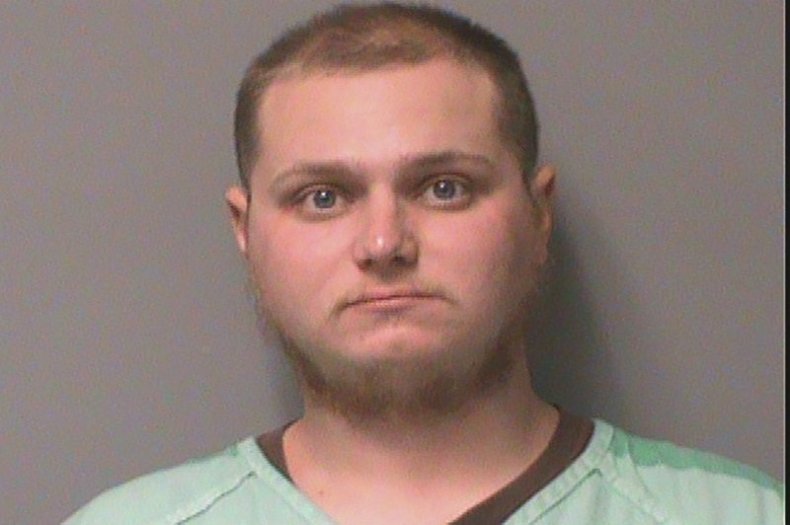 However, a review by the Associated Press revealed the shooting occurred after a confrontation broke out between the girls and a group of Trump supporters
Danielle Gross, the teen driver's mother, told the news agency the girls argued with Trump supporters about politics and were subjected to racial slurs when the situation quickly escalated. However, rallygoers said the teens started the confrontation and were harassing and threatening the crowd.
"They were saying some racist slurs and the girls argued with them and it went from there," Gross said.
Rallygoer Bob Brekke Jr. said the girls had been yelling anti-Trump epithets and he and the crowd "were having fun" taunting the girls.
Reports indicate the girls' car was surrounded by Trump supporters who were "yelling and honking horns" before the girls' vehicle reversed and struck Brekke Jr.'s pickup truck. It's unclear whether the collision was accidental.
A video taken by a bystander and broadcast on social media reportedly shows McKinney approaching the girls' car, pulling a handgun from his waistband, and firing one shot into the vehicle from 15 feet away. The video was shared with police, according to court documents seen by AP.
The bullet struck the leg of a 15-year-old girl in the passenger seat who was arguing with Trump supporters through the sunroof.
McKinney, a military veteran who was heavily armed and wearing body armor at the time, told police he fired the shot in self-defense. He argued that his shot protected rallygoers and was fired because he feared for his safety when the car reversed.
The 25-year-old was charged with attempted murder and taken to the Polk County Jail.
McKinney now faces five additional felony and assault charges, including intimidation with a dangerous weapon, willful injury, assault while participating in a felony, reckless use of a firearm and going armed with intent, according to a formal charging document from the Polk County Attorney's Office filed on Friday, January 15.
The Army veteran and former Iowa National Guard member is already behind bars for the December 6 shooting but could face decades in prison if found guilty of the new charges.
"They're throwing the kitchen sink at him," McKinney's attorney Kent Balduchi said.
Authorities have declined to comment on whether the shooting may have been motivated by race, however the new charges do not include any allegations of a hate crime.
Polk County Attorney John Sarcone noted that McKinney's attempted murder charge carries far more prison time than a hate crime charge.
Although police initially characterized the shooting as a traffic incident, some have questioned whether the shooting was racially motivated. McKinney has posted on Facebook in support of the far-right Proud Boys, a group linked to political violence, and criticized Black Lives Matter activists, an AP investigation revealed.
Sarcone said that the strongest hate crime charge available under Iowa law carries only five years in prison. By contrast, each of the six charges that McKinney faces carry 10 or 25 years.
McKinney remains jailed on a $500,000 bond, according to Iowa District Court documents.
Newsweek has contacted the Polk County Attorney's Office for comment.
The December 6 rally was attended by Trump supporters who claimed the election won by Joe Biden was stolen. It was sponsored by Women for America First, the group that hosted the January 6 rally in Washington, D.C. that preceded the Capitol riots which left five people dead, including a Capitol police officer.
In attendance on January 6 were many recognised Trump allies including MyPillow CEO Mike Lindell who has continued to make public and unfounded claims that voting machines allowed widespread fraud in the 2020 presidential elections and helped steal the election in favor of President-elect Joe Biden.